It's the most wonderful time of the year. Or, you know, December. Time for fancy parties, sugar cookies, and gallons of glogg! While there's nothing wrong with spending the entire month kicking back by the fire while feasting on gingerbread and sipping on eggnog, there are also plenty of reasons to leave the warmth of your home. We've found the best ways to get into the holiday spirit, with events that include adorable puppies, free carriage rides, and even a reindeer (or two!).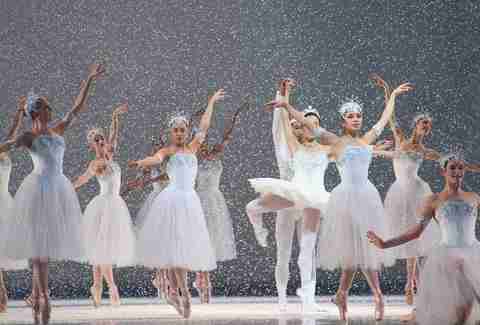 Take in all of the holiday performances
There's nothing more quintessentially Christmas than The Nutcracker, a ballet about a broken wooden nutcracker, toy soldiers who battle a Mouse King, and a Land of Sweets ruled by a Sugar Plum Fairy (apparently Tchaikovsky enjoyed hallucinogens?). You should still definitely go see the SF Ballet's performance Dec. 10th-29th.
Make merry and bright with holiday lights
Department stores put out Christmas displays, radio stations play carols, but it isn't officially the holidays until all of the twinkling lights brighten the streets and houses. Knowing where to go is a must, but there are a handful of light displays you shouldn't miss:
The Path of Gold lights that run along Market St from Steuart to Castro.
All of the Festival of Light installations. There are 35 in 12 neighborhoods, plus light-filled special events throughout the month.
Union Square, duh.
The Tom and Jerry House at 3650 21st St in San Francisco.
Union Street, between Van Ness and Steiner.
See the San Francisco Zoo zoo light up in a whole new way from Dec. 16th-30th. There will be bright lights, visits from Santa, carolers, and a holiday marketplace with food.
And, if you're up for a trip to Alameda, be sure to check out Christmas Tree Lane, 3200-3299 Thompson Ave, where all of the residents deck out their homes and take turns dressing up like Santa and his elves. (Sorry if we just ruined the whole Santa isn't real thing... )
Ice skate outside in a T-shirt
You're not going to find any frozen ponds around these parts, but you will find a couple of ice skating rinks where you can listen to holiday music, glide along the ice, and hopefully not end up in the hospital with a broken butt or collarbone.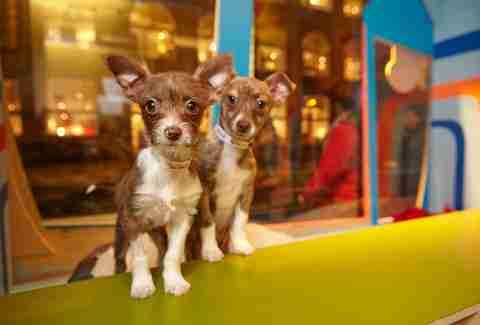 Fawn over the puppies and kittens in the Macy's windows
How much is that doggy in the window? Practically free! Every year during the holiday season, the SPCA fills the Macy's holiday windows with adoptable cats and dogs. More than 8,500 animals have found forever homes during the event's 30 year run. Go by just to say hi to the adorable pups, but don't be surprised if you bring home a new furry friend.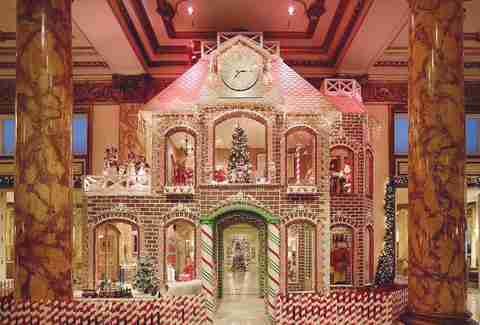 Chow down on a two-story gingerbread house
The folks in charge of the Fairmont Hotel's famous two-story gingerbread house have to regularly replace all of the candy canes and gumdrops that people pull off and eat. But even though you're not technically supposed to devour the 22ft-tall gingerbread house made with nearly 8,000 pieces of gingerbread, 1,200lbs of icing, and 650lbs of candy, it's still worth a trip to the hotel to walk through the house, take a selfie or five, and maybe enjoy some holiday tea.
Have a very Dickens holiday
Thanks to that whole Scrooge and Tiny Tim thing, Charles Dickens has become an important part of Christmas. And while you could just go see A Christmas Carol, you could also take it a step further and enter the world of Charles Dickens' Victorian London at the Cow Palace. There are over three acres of exhibition halls, complete with costumed performers, lamp-lit streets, music halls, tearooms, lots of shops (of course), and, most important: pubs. The festivities take place every weekend through Dec. 18th.
Pet some real life reindeer
Just like how you're not allowed to actually eat the gingerbread house, you're also not supposed to pet the real life reindeer who are on sabbatical from Santa and staying in the East Garden at the Academy of Sciences' 'Tis the Season for Science holiday exhibit. The interactive exhibit will teach you all about how reindeer adapt, plus there's a "Snowman Theater" where you can learn about the Northern Lights, as well as lots of festive performances.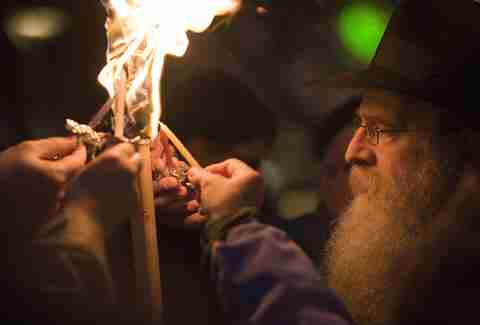 Light the menorah in Union Square
The Bill Graham Menorah Project brings people together every night during Hanukkah to witness the lighting of a 25ft x 15ft menorah in Union Square. The first candle lighting is at 7:30pm on Dec. 24th and then at 5pm and 3pm thereafter. Each lighting is followed by musical performances and games. BYO-Dreidel.
Get festive with Hornitos® Black Barrel® Tequila
If experimenting with your cold-weather cocktail lineup is your idea of festive good times, try mixing in this premium aged Añejo further matured in deep charred oak barrels for four months to get a rich smoky flavor, and another two months in specially toasted barrels that add more depth and distinct complexity.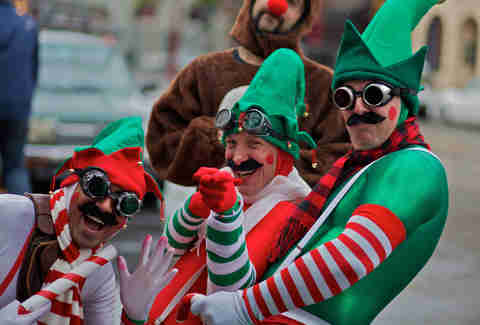 Dress up like Santa and drink
On Dec. 10th, the streets and bars of San Francisco will be flooded with people dressed like Santa, his elves, Jesus, Mrs. Claus, and pretty much any other Christmas character you can think of. Also, they'll be drinking. Heavily. That's because it's SantaCon, a tradition that is both beloved and loathed by the citizens of San Francisco, but that just won't die. And if you can't beat 'em... join 'em? Or leave town for a bit.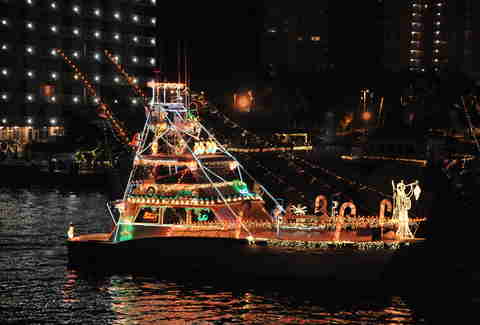 Get a free carriage ride and watch a boat parade
Even if you don't like going to Union St or Fisherman's Wharf, there are two great reasons to visit both this December. The Union Street Fantasy of Lights holiday celebration on Dec. 3rd offers free horse-drawn carriage rides, a Santa sighting, and a bar hop (OK, that's not officially part of it, but if you're going to be walking down the street, might as well). The Lighted Boat Parade, the oldest and largest lighted boat parade on the San Francisco Bay, sets sail on Dec. 16th. You can spot the spectacle from Pier 39 to the Marina.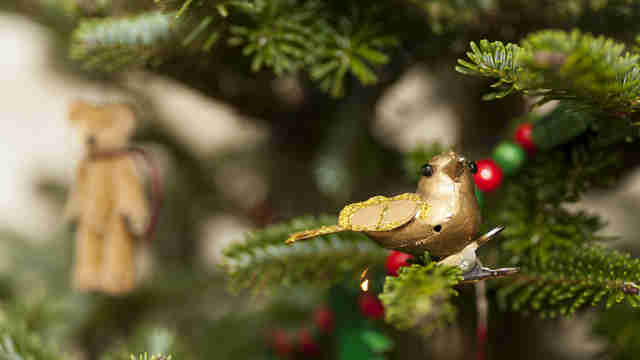 Buy and decorate a Christmas tree
There's nothing quite like a live Christmas tree to make your home smell amazing... and to drop pine needles in every single place so that you're seriously still finding them in July. All we ask is that you get rid of your tree immediately after New Year's because, seriously, if we see one more tree on the curb in March, we're going to... Instagram it with a strongly worded caption.
Here are a few places with great trees that are locally owned or benefit a good cause:
Sign up here for our daily San Francisco email and be the first to get all the food/drink/fun SF has to offer.