The 20 Most Instagrammed Places In San Francisco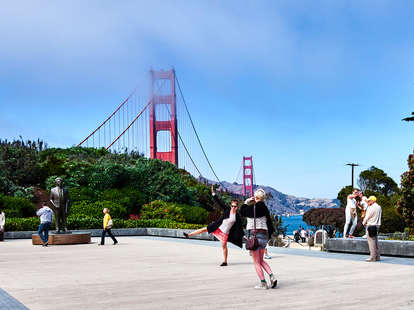 <a href="https://www.flickr.com/photos/janitors/15609063760" target="_blank">Karlis Dambrans/Flickr</a>
<a href="https://www.flickr.com/photos/janitors/15609063760" target="_blank">Karlis Dambrans/Flickr</a>
What's your favorite Instagramm-able location in San Francisco, and why is it the Golden Gate Bridge? No, it's true. We ran the numbers on where exactly those "likes" are coming from based on where people have geotagged themselves around the city, and compiled a list of the top 20 most popular spots (scroll down for a quick synopsis of the top 100). Snap these.
1. The Golden Gate Bridge
You can't take a bad photo of the Golden Gate Bridge… well, unless the fog rolls in. It doesn't count if it's invisible, right?

2. AT&T Park
We wonder what the scene would have been during the 2014 World Series if the Giants had their bus-turning, riot inducing win here instead.
3. Union Square
You've got to snap a photo of one of the Hearts of San Francisco sculptures at least once.
4. Ocean Beach
How many bonfire parties have you crashed on this beach?

5. Dolores Park
Enjoy drinking and eating bi-rite creamery ice cream and praying the dude with the devil sticks doesn't stumble into your burrito.
6. The deYoung Museum
If you find you're constantly bodyslammed by museum guards in every other gallery for taking a photo when you shouldn't have, the Osher Sculpture Garden outside will look just as good in Valencia.
7. Pier 39/Fisherman's Wharf
If only the sealions outnumbered the people. Sealions are awesome.
8. Palace of Fine Arts
It looks like a slice of Europe was plopped down in San Francisco, except you don't have to deal with the exchange rate or the fact that more delicious Nutella exists in a place you do not live.
9. California Academy of Sciences
No one cares how old you are -- it will always be okay to geek out over a T-Rex skeleton.

10. Alcatraz Island
The worst part of doing time in Alcatraz must have been having to stare daily at the vistas of the city and the bay. Freedom was so close… yet so far away.
11. Golden Gate Park
No matter how big this behemoth park may be and no matter how many stops you may make, please never stoop to using a segway.
12. Twin Peaks Viewpoint
This one's a no brainer; it's actually surprising this wasn't higher up on the list. It's the best view of the city.
13. The Ferry Building
Sure, the outside facade is impressive, but have you ever gotten a cone of blooming salume from Boccalone inside? It's just as photogenic with the added bonus of being delicious.
14. Haight Street
Funky storefronts and the artsy-cool-kid vibe left over from the Haight's flower-child days is probably why this area is so popular on the 'gram.

15. Painted Ladies
We wonder if anyone's ever had the gall to photograph these pastel houses in black and white.

16. San Francisco City Hall
Peep that dome -- it's the fifth largest in the world, and dwarfs the one in our nation's capitol by 42ft.

17. Lombard Street
Does one have to worry about photographic orientation when taking a shot of the crookedest street in San Francisco?

18. The Independent
At the best place in the city for live music, phones should be kept in pockets and feet should be in dance mode. (Or moody swaying, depending on the show.)

19. The New Castro Theater
Sure the baroque facade is iconic but if you want to be impressed, go inside and look at the art deco chandelier and leatherette ceiling -- the last of its kind in the US.
20. Alamo Square
Kind of a cop out because it's across from the Painted Ladies, but now's your chance to recreate that shot in the Full House opening credits.
#nofilter every time
In this great flood of selfies and heavy duty filters, it takes an extra something to top these shots of iconic SF scenes. Grab a camera from the Best Buy Camera Experience Shop and be ready for people to actually tell you how much they love your photo -- instead of just clicking a heart.

Did your favorite spot make the cut?
Skim through this list of the 100 most geotagged locations on Instagram, and if you don't see your happy place, well, you know what to do. Get to 'grammin!