Our Weekend Plans: A Bill Murray Art Exhibition and Golf Party
Whether you're caught in a fanboy loop watching Groundhog Day, have spent years championing Dr. Peter Venkman as the best member of the Ghostbusters team, really enjoy Bill Murray's roles in Wes Anderson's films, or you just love reading about the beloved actor inexplicably showing up to everything from karaoke nights to random bachelor parties -- not that you have to choose, of course – every Murray iteration will get its due at The Murray Invitational. A Bill Murray Art Exhibition and Golf Party.
The event (which will be held on Saturday, July 23rd at Public Works) is pretty much what it sounds like: hundreds of art pieces featuring Bill Murray, all of which will be honoring The Murricane. Organizer Ezra Croft said he expects to show the work of 120 artists, most of whom are painters... and as a nod to Murray's role in Caddyshack, there will also be mini-golf (yay).
"I'm a colossal Bill Murray fan, so I think this is a subject a lot of people can get behind. He's just one man but there's a thousand facets," Croft said, adding that Ghostbusters may be his favorite Murray film.
Croft, who lives in LA and owns Oddville Studios, has curated art shows in the Bay for years with his wife Julia, and has solicited work for the show from artists through Craigslist, Tumblr, and Reddit.
"We tried to spread it out to every part of the globe. We're getting stuff from Vienna, from the UK, and are trying to get art from countries where Bill Murray is an obscure American actor," Croft said.
Jon Schnepp, a producer and cartoonist on Metalocalypse and The Venture Bros, will make a piece for the Bill Murray event. The show will also feature artists from the Bay and closer to home. Reno-based artist Heather Carpenter is making a piece specifically for the show.
"I think it's the largest portrait I've attempted so far. I've already spent over 16 hours on the piece and I'm still working on it," she said. "It's acrylic on canvas, though I may add other elements as it develops. My process is exploratory, and I go with what feels right at the time."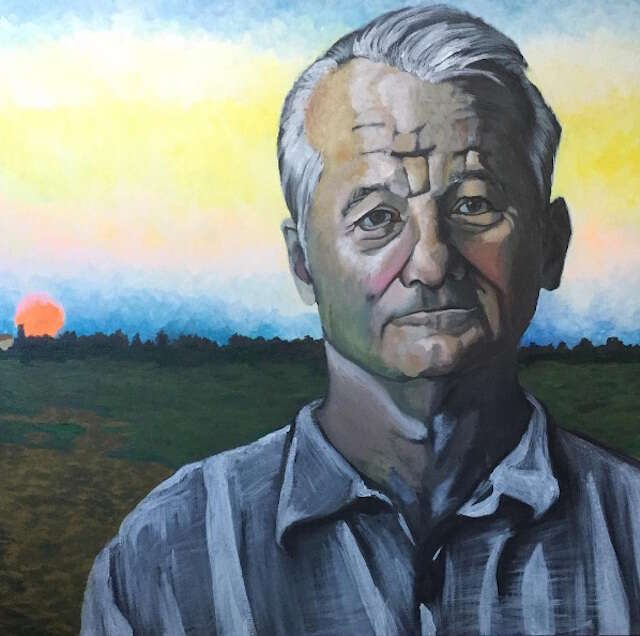 Never a single-note actor, in honor of Murray the Crofts have a bunch of other events planned. Glam rock cabaret act and The Voice finalist Kat Robichaud and The Darling Misfits will perform, four DJs are set to spin, and the Bay Area Ghostbusters will park their Ecto-1 car outside the event.
Although Public Works hasn't been traditionally used as a gallery, Croft said he's excited to bring art to the warehouse/club space. Past the club's entrance, there's a huge dance floor with a mezzanine, which will be covered with art. Astroturf will be laid in the greenroom for mini-golf, and there will also be a dance floor surrounded by more art.
"I think art needs to be interesting, and it needs to be thought-provoking," Croft said, adding that admission to the event is $10. "The arts are struggling in the Bay Area; it's the most expensive city in America. People are stopping making art to pay rent. I'm trying to push back on that, and I want people to start making art."
For the uninitiated, you may be asking why so many people are obsessed with this actor in particular.
"He's an amazing entertainer. It's like he's always ready for a laugh and he wants to let everyone in on the joke, too. He also seems to possess a great depth of character that we, the audience, only get to glimpse through his performance. I think what it all comes down to, though, is that he seems like the kind of guy you'd like to have a beer with," Carpenter said.
"Bill Murray has a pretty recognizable face. It's a challenge, but I think it's kind of fun, because he's got so many characters; he's played so many bad guys," Croft said. "You can do a lot of things with this subject."
And Bill himself? He knows about the show, Croft said excitedly. Everyone has their fingers crossed for an in-person visit -- after all, The Murricane has been known to crash a party from time to time.
Sign up here for our daily San Francisco email and be the first to get all the food/drink/fun SF has to offer.
Jessica Lipsky called in sick to work today, but she's really desperately searching for a copy of Bill Murray's
Shame of the Jungle
. Link her at https://twitter.com/jessicalipsky