One-day Excursions for Every Type of San Franciscan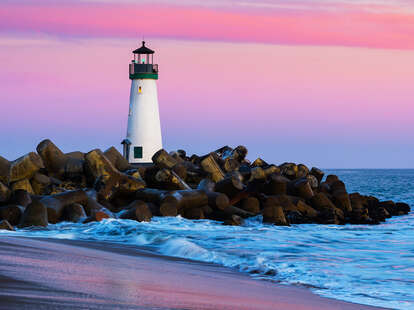 Shutterstock
Shutterstock
If you're hoarding those vacation days with everything you've got, we don't blame you. But worry not; there's really no reason to jet set for days at a time when you've got some seriously cool locales just within reach. Whatever your pleasure -- mountain biking or art galleries, Michelin-starred restaurants or boardwalk hotdog stands, we've rounded up a few day trips you can take this weekend guaranteed to please nearly any type of San Franciscan out there.
The art lover
Carmel
Distance from SF: 122 miles; 2 hours
Carmel-by-the-Sea – sounds like a kingdom in a fairy tale, right? Well, it's not – but it sure looks like one. This small, seaside town on the Monterey Peninsula is known for its English-style cottages, complete with rolled eaves and chimneys. But there's more to this place than its European architecture. If you're an artist, or at least one who chooses to appreciate art, there are 80 art galleries all housed in one square mile in Carmel. Nostalgic for your childhood? Head to the Dr. Seuss gallery. Feelin' some 20th century fine art? Check out The Classic Art Gallery. How about photography? Try the Weston Gallery. And for viewing works of art that are open past 5pm, take a sunset walk on the white sands of Carmel Beach. Gratuitous fun fact: Clint Eastwood was Carmel's mayor for two years.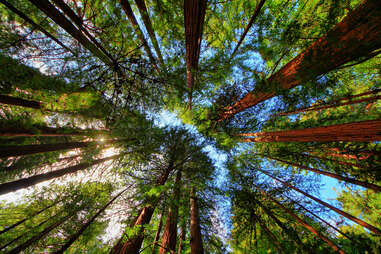 The outdoor enthusiast
Muir Woods
Distance from SF: 16 miles; 37 minutes
If you didn't already know by now, there's a forest in your proverbial backyard filled with 800-year-old redwoods, paved trails, wildlife, and plenty of fresh air just across the Golden Gate Bridge. Hike through the Muir Woods' two-mile loop of a main trail through huge redwood and sequoia canopies, an easy enough trek for nature buffs of any fitness level. Bonus: the Muir Woods Trading Co., located at the park's entrance, is home of the Marin Melt grilled cheese sandwich, as seen on Best Thing I Ever Ate. Don't miss out on your chance to say the same.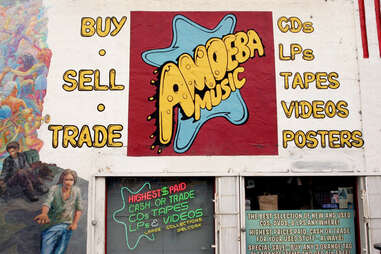 The laid-back hippie
Berkeley
Distance from SF: 14 miles; 30 minutes
While home to U.C. Berkeley, the Free Speech Movement of the '60s, bohemian vibes, and hippy paraphernalia-laden shopping, this East Bay city may surprise those expecting a more... let's say, herb-friendly culture. Walk along Telegraph Ave through vintage boutiques, classic music stores like Amoeba Music and Rasputin Music, bookstores that include Moe's Books (since 1959), cafes, and smoke shops. Explore the Downtown Arts District while keeping an eye out for street murals, live music, art galleries, dance performances, and bicyclists (watch out – they're everywhere). A trip to 'Beserkley' is guaranteed to be, well, a trip.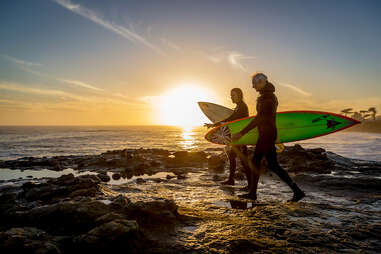 The beach bum
Santa Cruz
Distance from SF: 73 miles; 1 hour and 30 minutes
If you're on the hunt for sun-soaked beach vibes, head over to Santa Cruz where you can explore over 29mi of beachy splendor. From views of mammoth sea-side cliffs and tide pools to beach camping, surfing, and vibrant sunsets, you can basically take your pick of shoreline activities. And of course, if you're craving cotton candy, corn dogs, and perhaps a touch of nausea-inducing thrill rides, be sure to visit the popular Santa Cruz Beach Boardwalk. Don't leave without checking out the seaside amusement park that features over 34 rides and attractions (bumper cars, anyone?) and two National Historic Landmarks: the famous 1924 Giant Dipper wooden roller coaster and the 1911 Looff Carousel. (Maybe save the corn dogs until after Giant Dipper.)
The ambitious athlete
Mount Tamalpais
Distance from SF: 20 miles; 44 minutes
For the athlete looking for rugged terrain to get his or her sweat on, the windy (though scenic) ride up to Mount Tamalpais is exactly where to start. Plan accordingly (as in, bring water and power bars!) because not only does Mt. Tam boast 200mi of both hiking and biking trails which range from moderate to very strenuous, but at 2,571ft, it's Marin County's tallest summit. Depending on your agenda, you can find yourself surrounded by 360-degree views of Marin, San Francisco Bay, and ocean; admiring a blanket of coastal fog, redwoods, or Cataract Falls; or feeling the intense burn in your legs during a bike ride through the rolling hills and steep terrain.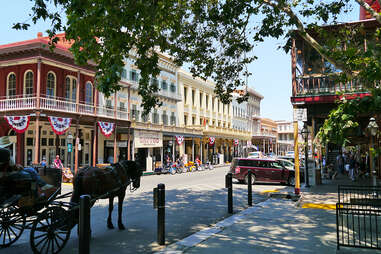 The history buff
Old Sacramento
Distance from SF: 88 miles; 1 hour and 23 minutes
Drive to the state capitol to experience a look at the California of yesterday -- Gold Rush, railroads, and all. Established in 1849, this 28-acre National Historic Landmark district located along the scenic Sacramento River is the best place for historical attractions and museums set within the time of the Gold Rush. Think river boats, horse drawn carriages, and riverside bike treks. Take one of many guided tours that include ghost tours, underground tours, and a detailed Gold Rush tour complete with stories about the miners, prospectors, and merchants.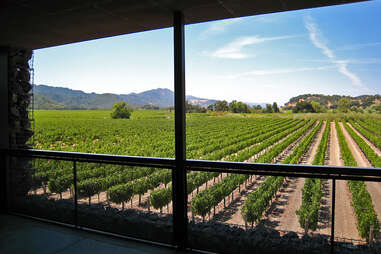 The discerning foodie
Yountville
Distance from SF: 56 miles; 1 hour and 2 minutes
Do you feel like having a treat-yo-self day? Drive through Napa (which is a treat in and of itself!) to the bougie-in-the-best-ways town of Yountville. Food enthusiasts will have a tough time picking which Michelin-starred restaurant to choose from with options that include The French Laundry and Bouchon, Bistro Jeanty, Ad Hoc, and Redd. Be sure to swing by Thomas Kellers' pristine culinary garden while in the area to get a glimpse of the most pampered produce around. For desserts, you can't beat the classic French boulangerie, Bouchon Bakery, which features a wide variety of artisanal breads and French desserts, confections, pastries, tarts and cookies, and an array of café beverages to choose from.
The social [media] butterfly
Big Sur
Distance from SF: 140 miles; 2 hours and 38 minutes
For the thrill-seeking "influencer" doing it for the 'Gram, head down one of the most iconic California coastlines via the Pacific Coast Highway to the untouched wilderness of Big Sur, and don't forget your DSLR. On the drive you'll literally be surrounded by National Geographic-worthy panoramic vistas that include expanses of ocean, jagged cliffs, and the famous Bixby Bridge, known as one of the world's highest single-span bridges. From beaches so untouched they can't be reached without a hike to wildlife that includes condors, elephant seals, and migrating whales, this destination is a treasure trove of Instagrammable moments.
The chill introvert
Sausalito
Distance from SF: 11 miles; 22 minutes
Need space and time to enjoy your own company? Take a short trip across the Golden Gate Bridge to the small town of Sausalito. With gorgeous views of San Francisco and the Bay, famously photographable houseboats, and countless art galleries perfect for silent contemplation, this other city-by-the-bay is a great place to unwind. Get away from it all and stroll along the tranquil Marin Headlands or post-up at one of the many quiet, secluded areas to clear your head while enjoying unparalleled views.
For the couple
Calistoga
Distance from SF: 74 miles; 1 hour and 25 minutes
In love? Celebrating an anniversary? Just want to get away with your SO? Then make your escape through the vineyards of Napa Valley to the town of Calistoga. Get pampered at one of the many upscale spas which feature mineral bath treatments, massages, and dips in the famed Calistoga hot springs to get your skin feeling baby-butt smooth for your special someone. Rent pastel-colored cruisers and explore the distinctive main street that's lined with cozy restaurants and cafés, antique shops, and boutiques to peruse. Tip: if the day goes well, plan a night at one of the many romantic bed and breakfasts in the area. You won't regret waking up to the tranquil environment of Calistoga and neither will your date.