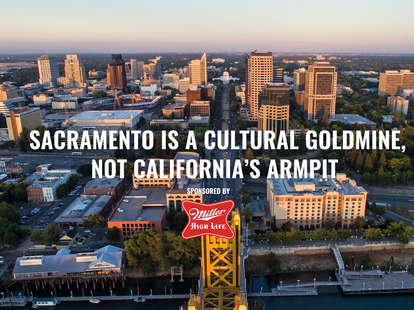 Sacramento Is a Cultural Goldmine, Not California's Armpit
Sactown. Sucktown. Sacratomato. Or, simply (super unappealingly): Sac. Eyesore is the general perception of my hometown, especially among Californians -- a reputation not necessarily unwarranted. Smack dab in the center of a state otherwise punctuated by extreme natural beauty and encased in convoluted freeways, the sprawling small-town metropolis has never quite shed its mining camp vestiges, slowpoke agricultural sensibility or the scrim of political innuendo that hangs over it. Still, there's a rough-and-tumble authenticity to Sacramento's downtown. Waterfront and walkable, the district is laced (if you know where to look) with cultural gems, on the verge of change, and (not yet) overtaken by the high-rise, high-rent, condominium monstrosities so ubiquitous in California's other major cities.
I can never quite bring myself to say so. The truth is: I'm a Sacramentan. Elsewhere in California, the trademark sunny mindset is informed by a blind faith in the future -- sunglasses on, convertible top down (IPO shares up). In Los Angeles, everyone is always looking forward to the next big thing. Just ask another born-and-raised Sacramentan, Joan Didion. In Where I Was From, Didion's documentation of her love-hate affair with her home state, she writes on Orange County: "Good times today and better times tomorrow were supposed to come with the territory, roll in with the breakers." Granted, Didion's penned more pages documenting her place-of-origin's pitfalls than singing its praises. In her telling, Sacramento isn't spared Orange County's brand of good-luck optimism, although its particular blend is rooted in its scrappy, Gold Rush boomtown past.
In 1848, a glimmer in the shallows of a stream caught the eye of a pioneer who was inspecting Sutter's Mill, forty miles east of its accompanying fort in Sacramento, on the confluence of two rivers -- the Sacramento and the American. In the next breath that pioneer, John Marshall, coined the state's fateful slogan: "Eureka, I have found it!" He'd also branded California. Ever since, the state has been a beacon for hopefuls longing to reinvent themselves. I don't know a single Angeleno, or any American citizen for that matter, who couldn't benefit from a dose of the complex historical gravitas that pervades Sacramento.
Sacramento's sense of community richness is reinforced by its steadfast historical markers, as true to the region's roots as they are abundant. The mill may be gone, but Sutter's Fort, its adobe encampment, still stands as a State Historic Park on L Street. The original community that sprung up around it, subject to extreme flooding and fires, was repeatedly devastated until the aid of the railroad money that started literally flooding into town in 1855. Over the course of the next two decades, Sacramento's downtown was rebuilt in brick. The fort, the wooden Old Sacramento, a bronze statue that marks the western terminus of the Pony Express, and an elaborate thirty-room Victorian mansion constructed to house a local merchant in 1867, are all imminently seeable within a single downtown Sacramento afternoon.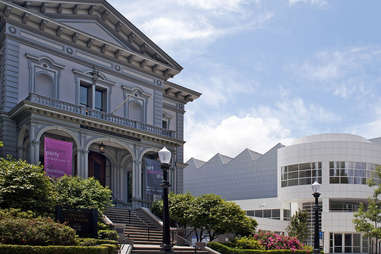 Seeable, and, to begin to understand California, I would argue: unmissable. Take the mansion, for example. Now a museum, it not only ushered in Sacramento's thirst for Victorian architecture, it went on, as the state-owned Governor's Mansion, to house thirteen California governors all the way to Reagan, who eschewed its shabbiness to build a modern palace of his own on the outskirts of town. At the time, Joan Didion called that same mansion "my favorite house in the world" and the Reagans' new model, for all its lavish modernity, "evocative of the unspeakable." When former Governor Jerry Brown returned to the original governor's residence, it marked the beginning of a new sense of pride in Sacramento's past with a vision for the future.
Signs of that kind of revival are increasingly identifiable. Quietly, surreptitiously, while no one else was watching, Sacramento has become an over-the-top, if overlooked, gourmand's haven. Riverine, surrounded by farmlands and marshes, the Capital City should've jumped on California's slow-food bandwagon well before Berkeley. Instead, on the gubernatorial tip -- as much as I hate to credit Arnold Schwarzenneger's swinging ways -- it took the Governator's two terms of dining out (if refusing to reside) in the capital to kick off a culinary renaissance a decade ago, one that's proving more deeply-rooted rather than flash-in-the-pan.
In 2006, at the start of his first term, Schwarzenegger made a regular haunt out of Lucca, a J. Street cafe where Arnie's favorite salad is still available (off the menu) and the local olives marinated in fennel seed, chili, and lemon are a mainstay accompaniment to martini lunches regularly entertained by politicians as if Sacramento didn't get the memo that the Mad Men era has ended. Arnie's first term also helped launch Ella, a downtown darling devoted to celebrating the Central Valley's bounty as well as my personal favorite, Mulvaney's, a full-bore locavore establishment housed inside a turn-of-the century firehouse. Chef and founder Patrick Mulvaney never meant to stay in town. "I came to Sac for grad school, realized it wasn't for me, but fell in love with the region -- the farmers, the twelve-month growing season."
That was in the early 2000s. These days, Mulvaney says, "Folks consistently tell us we punch above our weight." His favorites? Hoa Viet on 19th Street for late night noodles, Bud's Buffet on 10th Street for the roast pork sandwich with au jus and horseradish, and Vientiane in West Sacramento for stuffed chicken wings. His own foodie haunt on 19th Street is complete with bow-truss redwood ceilings, an outdoor patio that once served as a stall for firehouse horses, and a resident ghost (Mulvaney's wife and daughter refuse to be inside the restaurant alone). Mulvaney's also hosts, on one wall, a mounted basketball hoop that gives a nod to Sacramento's hotly-contested point of pride: the Kings.
Cut to 2016. Chalk it up to Sillicon Valley's influence, but Golden 1 Center, The Kings' new arena, erected in a 500-million-dollar last dash effort to keep the team out of the clutches of Anaheim and Seattle for yet another set of seasons, will, when it opens in October, constitute the country's most technologically advanced arena yet. Cashless and ticketless, the arena will -- among plenty of other splashy amenities -- allow fans to find seats and buy beers with their phones. Fifteen-hundred feet of LED ribbons will wrap the Kings' stands, spewing live text updates while a 4KHD screen projects the game taking place on the only-slightly-larger court beneath it. Finally, ugly stepchild Sacramento will have its chance to compete on the national stage of stadium development with a formidable shot at outshining the 49ers' new San Jose haunt; Nor-Cal loyalists lament ever leaving Candlestick, in all its unbeatable bayside character, for the slick humorlessness and traffic nightmare that is the Niners' new Levi's Stadium.
Not that King's fans needed a reason to remain diehard. No Sacramentan has ever gotten over the team's 2001-2002 season glory days, or the 2002 Western Conference Title stripped by shady refs who notoriously threw game seven Shaq and Kobe's way. Nor have we turned a blind eye to Shaq's coining the team during the press conference that followed that (obviously) rigged playoff, "The Sacramento Queens." We did, however, take it with a grain of salt and as a sign of Shaq's awakening rather than our own, when, in 2013, he joined the team as an owner, singing the praises of star-player DeMarcus Cousins: "We're similar players," and of the future of Golden 1 Center as "the best arena in the world." Sacramentans forgive, but we never forget. I have not heard a single local soul refer to the city as Shaq pronounced it during his 2013 ownership announcement, as "Shaqramento." At least, not without a hardcore smirk. More importantly, the arena has invited more than former rivals. It has, like Arnie in 2006, ignited a new wave of progressive downtown development.
Live-work artist lofts are cropping up in converted warehouses, including a three-block restoration of historical ice-making buildings. A riverfront streetcar system (modeled after Portland, Oregon's) is in the works. Finally, the city has a decent boutique hotel in the form of The Citizen, a dapper Marriott-run spot a few blocks from the state capitol. And because, from Austin to Williamsburg to Silverlake, at least one hipster-hopeful block in any emerging district must house a barbershop that serves artisanal cocktails; there is the newly-opened Bottle and Barlow. Mildly cringeworthy in its trendiness, Bottle and Barlow manages to differentiate itself from its forebears by claiming influences that fit the territory: art deco (an homage to the surrounding neighborhood's 1930s architectural heritage) and punk rock (for counter-culture icon Tower Records, which first opened its doors nearby in 1960). Wannabe and somehow winningly unique: a combo that, you might say, defines Sacramento at large.
Even if you set aside the obviously attractive aspects of the city's insanely choice placement -- a stone's throw from San Francisco, not to mention Lake Tahoe -- there are off-the-beaten path day trips I hesitate to disclose for fear of their tipping from little-known oddities into mainstream tourism.
The Sacramento Delta, for example, has been as much a beacon for game and fowl as it has been for hunters with a taste for venison ever since Hemingway frequented the area for that very reason in the 1950s. At the time, Hemingway made a habit out of stopping to eat in Rio Vista at Foster's Bighorn, a roadhouse replete with over 300 specimens of wild game taxidermy including moose, wild boar, and the bust of an African elephant.
From Foster's it's a short hop to the town of Locke, a waterfront inlet established in 1915 by Chinese immigrants who'd flocked to California to build the Western Pacific railroad. Finding themselves exploited both by the barons who'd hired them and by local landlords in addition to being prone to violent racist attacks, a contingent of these immigrants banded together to claim a waterfront town of their own. Population: 80, Locke now looks a little like a saloon set leftover from the last days of Bonanza. Cobbled streets. Dilapidated storefronts. Hand-lettered shop signs creaking in the breeze. And because political correctness still hasn't quite caught on in this corridor of California as it has elsewhere, the single non-Chinese Locke business is an Italian steakhouse that serves a side of Skippy peanut butter with every dish and adorns its ceiling with signed panties: Al the Wop's.
For all its faux pas and backwater antics, there is one indisputable tradition Sacramento offers its locals without fail: the incredible, outright addictive Jimboy's taco. Uncouth in its greasiness and dripping with cholesterol, this taco boasts neither the additive-free claims of an In-n-Out burger nor the James-Beard-award-winning classicism of Yuca's taco stands in Los Angeles. If anything, a Jimboy's taco is as obscenely tasty -- a parmesan-crusted deep fried corn shell stuffed with flagrantly spiced beef that oozes orange sauce down your fingers as you cram one after another into your mouth -- as it is distasteful on the organic scale. So uncool it is cool.
In the grand scheme of California, Sacramento may always remain an underdog -- one I'm rooting for and am increasingly enthused by -- almost against my own will. Oak trees not palm trees. No celebrity walk of fame, just meandering riverwalks. Birthplace of Joan Didion, not Kim Kardashian. Plenty differentiates Sacramento from its California counterparts; most notably, a quality that, with all its attendant hang-ups and charms, includes humility.