The Most Beautiful Hikes in the Bay Area
The views on these treks will take your breath away, and not just because they're steep.
In a town like San Francisco, where there's a gorgeous view at the top of every hill or around every corner, it's easy to take the stunning scenery for granted. But if you need a little reminder that the Bay Area is actually probably one of the most beautiful places in the entire world, just lace up your sneakers and head out on one of these hikes across a variety of skill levels, which span San Francisco, Marin County, Oakland, and Berkeley, and which are sure to cause your jaw to drop and your heart to soar (both literally and metaphorically).
Near Marshall in West Marin
Hike distance: 9.4-miles roundtrip
You don't have to hike all the way to Tomales Point to enjoy the panoramic views along this trail, but if you do, you'll see where the bluff at the northern end collapsed into the ocean (a warning to be careful because it could easily happen again). The first three miles of the trail are well maintained, and you'll get not only gorgeous views of the Pacific Ocean, but also possibly of the elk that live on the Tule Elk Reserve (stay on the paths because they're cool with humans on hiking trails but don't love ones who go off-trail). Go as far as you'd like (this is a great sunset hike if the fog isn't hanging around), and be sure to leave time to check out McClures Beach (a steep 0.4-mile hike from the trailhead), a small cove surrounded by cliffs.
Oakland
Hike distance: Five-mile loop
Sure, Muir Woods is home to some of the most magnificent old-growth redwoods in the Bay, but good luck getting a reservation unless you plan your trip far in advance. If you can't snag one, head to this hidden gem instead, where you'll find the largest natural stand of coastal redwoods in the East Bay. They aren't old-growth—unfortunately, logging in the 1800s took those down though you can still see the stumps—but they are second growth, and most stand at around 150-feet-tall. The park is 1,833 acres and has tons of hiking trails, but the one you want to hit is the Steam Trail (easy and wide) to the French Trail to the West Ridge Trail. It's the perfect distance to get a good feel for the park, and you'll stay cool under the shade of the redwoods.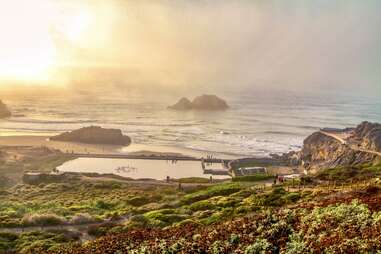 Sea Cliff, San Francisco
Hike distance: About two miles each way
At the northwestern corner of San Francisco, there's a hike along cliffs that offers some of the most stunning views you can imagine. The winding, but almost completely flat, coastal trail is well-maintained and easy enough that pretty much everyone can do it—which means it can get pretty crowded on the weekend. Your trek will provide views of the ocean, Golden Gate Bridge, Marin Headlands, and China Beach. While you're there, you can also explore the ruins of Sutro Baths, learn about the steam train that used to carry passengers from Downtown to the baths, see the remains of three shipwrecks, and get plenty of awesome photos. Bonus: At the end, you just have to walk another ten minutes or so (along the pathway adjacent to Ocean Beach) to find yourself at Park Chalet, where you can reward your hard work with cold beers and tacos on the back lawn.
San Francisco Bay
Hike distance: Six miles roundtrip
There is so much to do and see on Angel Island, the "Ellis Island of the West," but you'll want to hit up The Sunset Trail, a nearly six-mile round-trip hike that takes you to the top of Mount Livermore, the highest point on the island. At 788 feet, you'll get views of the Bay Bridge, Alcatraz, Golden Gate, and San Francisco skyline. In order to get to Angel Island, you'll have to take the Golden Gate Ferry from the Ferry Building, which departs four times a day. The hike to the summit is strenuous, so pack a picnic (or grab one at the cafe) to enjoy at one of the picnic tables once you make it up. And once you're finished, stop at the Angel Island Cafe for a much-deserved cold beer or glass of wine before your ferry ride home.
Contra Costa County
Hike distance: 6.1 miles
At 3,849 feet elevation, Mount Diablo is one of the Bay Area's tallest mountains. And you know what that means: amazing views… and a lot of work to get to the peak. The Grand Loop takes at least half a day, but provides the ultimate, birds-eye view of the Bay Area, and, on a super clear day, you can even see the Farallon Islands, Sierra Nevadas, and Mt. Lassen. It can get steep at times, so you'll want to wear shoes or hiking boots with good tread. And pack more water than you think you'll need—there's not a lot of shade.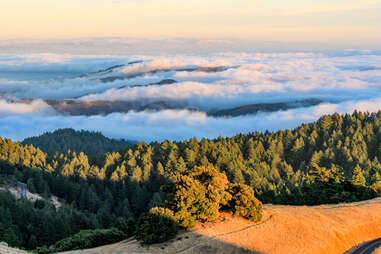 Marin County
Hike distance: 1.2 miles
If you're into gorgeous sunsets, the East Peak on Mount Tam is the place to be on a clear evening. The highest point is at 2,570 feet and super easy to reach. In fact, the Plank Walk Trail is so easy and short that we're going to recommend you start with the Verna Dunshee loop first. This trail gives you views of San Francisco, Northern Marin, and the East Bay, and is a full loop that's only a little more than half a mile. When you arrive back at the parking lot, get onto the Plank Walk, which is about a quarter of a mile and takes you all the way to the summit. Linger here, watch the sunset, and then head back down before it gets too dark.
Mill Valley to Stinson Beach
Hike distance: 9.7 miles out-and-back
If you live in San Francisco and haven't hiked the Dipsea Trail from Mill Valley to Stinson Beach, it's time to change that. The moderate to difficult (definitely not for beginners) trail gives you everything you want in a Northern California hike and more... at times, maybe a little too much more, but you'll be rewarded with spectacular views of the Bay, the Golden Gate Bridge, Mt. Tam, the Pacific Ocean, redwood trees, Stinson Beach, and there's a chance you'll also spot some wildlife along the way. You'll also get to walk the famous Dipsea Stairs, cross a creek, and experience the steps best known as Steep Ravine. It's a long hike, so bring layers and water, and maybe plan to have lunch in Stinson while you're there. (If you're not feeling up to the entire hike, there's also a slightly shorter hike that starts at Stinson and gives you a similar experience in 7.5 miles.)
Point Reyes National Seashore
Hike distance: 13.6 miles out-and-back
TLC once warned us against chasing waterfalls, and it might have been because they went on this particular hike and were totally exhausted. Either way, now that the song is stuck in your head, ignore the lyrics and definitely go chase this 40-foot tidefall that cascades down a cliff and directly into the beach. While the massive waterfall is definitely the highlight of this trip, the ocean views as you walk along the cliff are breathtaking throughout. This hike is pretty intense, there are also a couple of steep parts, and the trail can get a little crowded, but it's totally worth it. If you want to stop at Bass Lake and have a go at the rope swing on your way back, be sure to start at the Palomarin Trailhead.
San Mateo County
Hike distance: 1.3 miles
If you want great views without a lot of work, look no further than the Anniversary Trail. Like the name implies, Windy Hill Open Space Preserve has 1,335 acres of open spaces, with grassland ridges that can be hard to find in the Bay Area. The Anniversary Trail is one of the easiest hikes in the preserve, but it has 360-degree views from the ocean to the bay. As the name also implies, it can get windy so bring a jacket.
Marin County
Hike distance: 3.4 miles roundtrip
The Tennessee Valley Trail is another easy and popular hike thanks to the fact that it's a pretty flat walk with minimal hills and maximum views. The trail winds through coastal hills, and though it starts out paved, it turns into a dirt path after about half a mile. Ultimately, you'll end up at a tiny, sandy beach that's sandwiched between bluffs on either side. Look carefully, and you'll see a hole in the black rock cliffs that's been carved by ocean waves. Go at low tide, and you may see the engine of the SS Tennessee, which was shipwrecked in 1853 and from which the area gets its name. Although dogs aren't allowed on the trail, be prepared to see a lot of horses, as the path is near some stables and is horse-friendly.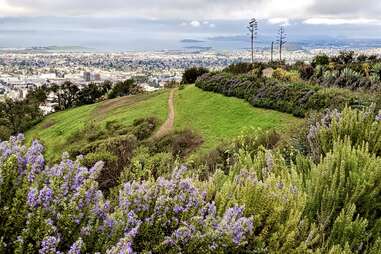 Berkeley
Hike distance: 3.2 miles
Behind the historic Claremont Hotel is a 208-acre preserve with picturesque hiking trails. The Stonewall-Panoramic Trail is the primary trail, and will take you to some of the best views in the Berkeley Hills that include Downtown Berkeley, Downtown Oakland, and the San Francisco Bay. The climb will definitely get your heart rate up, it's just over a mile and you gain about 700 feet of elevation—ultimately, it's totally worth it.
Daisy Barringer is a freelance writer who grew up hiking around SF and is glad that now that she's an adult, she can reward herself with a beer afterward. Follow her on Twitter.