The Quick and Dirty Guide to Bay Area Bike Rides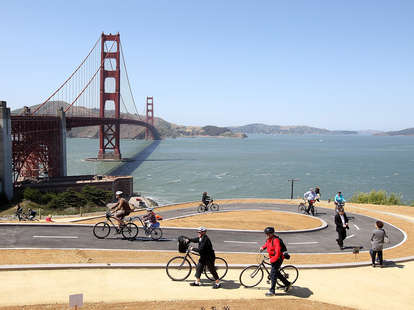 Justin Sullivan/Getty Images News/Getty Images
So you've got yourself a bicycle, and the ol' grocery run just isn't fun enough for you, eh? No problem. The Bay Area is home to some seriously world-class cycling routes, whether you're a weekend cruiser or a LYCRA-clad crusher. While we've just scratched the surface of bikeable routes, we've found some gorgeous vistas, practical traffic workarounds, and fun jaunts for every occasion.
Various locations
Why you should ride it: Killer views and an easy excuse to do some day drinking
This 500-mile trail traverses the entire Bay, and then some. To find it, just head down towards the water from any part of the Bay Area and look for the signs. It's completely flat, full of gorgeous views, nice beaches and docks, and even goes out onto the Bay Bridge (the eastern span only). Both lovely and practical, this is a great ride for cyclists of every caliber. Your co-workers will be impressed by your endurance and muscular legs.
Berkeley
Why you should ride it: This is the easiest way to avoid getting hit by a car in Berkeley
West, Webster, Genoa, California, and King Streets aren't trails, but practical ways to get around on better-paved streets with fewer cars. Look for the purple signs in Berkeley, or check the asphalt for a white BIKE BLVD, ensuring that car traffic will remain light. Bicycle Boulevard is the preferred way to get from the Telegraph Beer Garden in Oakland to Missouri Lounge for a night of delicious po-boys and wonderfully underwhelming American macrobrews.
Oakland Hills
Oakland
Why you should ride it: It's the East Bay's most versatile, scenic ride
We could have written an entire article (and indeed, there have been a few) detailing the finer points of these legendary roads, which offer great technical rides and stunning vistas. Start with the more mellow Butters Rd ascent for its extremely low traffic flow. From there, you can ride up the Three Bears, Skyline Rd, Pinehurst Rd, or to Joaquin Miller Park. Most folks go up Butters, drop in on Redwood Rd from Skyline Blvd, then climb up Pinehurst and take it all the way around and climb up to Skyline again. Some rides up here are slightly more mellow than others, but remember, you're riding up mountains. The Bay's beastly hills are definitely worth riding up, not only for your ass' sake (you'll feel it tomorrow), but for the unforgettable views as well.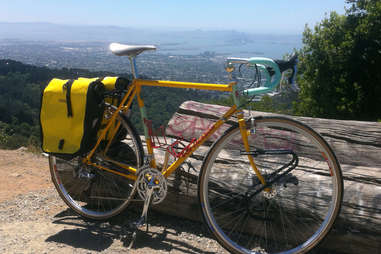 Grizzly Peak
Berkeley
Why you should ride it: You want a difficult ride that's not as hard as Mount Diablo
The rewards for making it to the top of this difficult climb are good enough to keep you coming back for more. Start by heading up tree-lined Claremont Ave in Berkeley or Redwood Rd in East Oakland, then wind up until you hit Grizzly Peak Rd. Come down Skyline Blvd to keep it mellow, or if you really want to go nuts, make sure to descend Wildcat Canyon Rd, a winding descent with two particularly intense hairpin turns. Feel free to take a well-deserved BART ride back from Orinda or Lafayette (or even further, if you're digging the ride).
Mount Diablo
Danville
Why you should ride it: You want bragging rights
This 3,849ft mountain deep in the East Bay is no joke and definitely not a ride for beginners. First, you climb a winding series of switchbacks for miles and miles. Then, the last 800ft to the mountain's peak is a solid 17%-grade hill that seems to emit a terrible, booming laugh at you as you barf all over your bike. When you finally make it to the top of the Big D, prepare to be awed by the psychedelic combination of endorphins and stunning views of the entire Bay Area. Spend some time gazing before you make the hairpin turn-laden, white-knuckle doozie of a descent back down the mountain. Pro tip: it can be hellishly hot in Contra Costa County, so make sure to have plenty of water.
Folsom and Howard Sts
Mission/SoMa
Why you should ride it: This is the easiest route between Dolores Park and SoMa bars/coffee
Ten out of 10 bike messengers agree, Folsom and Howard Sts are the ideal way to get from the Mission to SoMa and back. Howard goes up, Folsom goes down, and they're both pretty flat. While infuriating if you're in a car, one-way streets are heaven to a cyclist.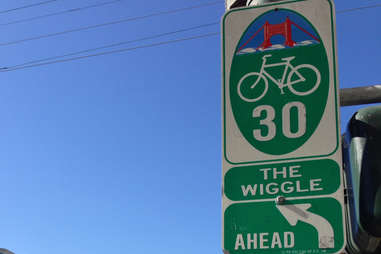 SF Bicycle Route 30: The Wiggle
Various
Why you should ride it: You're commuting from Downtown, or just want a cool, safe ride
If you're headed to the Haight or Richmond, or any other neighborhood in the avenues, you'll inevitably ride up until you hit Duboce, bringing you to the most well-known route in the City -- the Wiggle. This route winds from Downtown to the Panhandle, beginning at Duboce Ave and ending at Fell St, with painted and sometimes protected bike lanes the whole way. There is an incredible amount of bike traffic through here, so stay frosty and keep your wits about you. It also leads right into Golden Gate Park, where you can ride to your heart's content, all the way to the ocean.
Twin Peaks
Twin Peaks
Why you should ride it: You're looking for the most impractical way to get around SF
Well, you couldn't have figured a guide to riding SF would be all easy breezy, could you? Tourists flock to this high point (but not the highest) in the city, but cyclists traverse Twin Peaks Blvd for well-deserved views before heading down into the surrounding neighborhoods. There's no easy way up this beast, unfortunately, but hey, if the MASH guys can do it...
Hawk Hill
Marin Headlands
Why you should ride it: You want the most iconic view of SF
If you've ever wanted to see where the serial killer from Dirty Harry hid that girl's body, look no further! Countless movies (and at least one famous late-'80s/early-'90s TV show) have come up here to film their establishing shots of San Francisco, and now you can too. Ride across the Golden Gate Bridge, making sure to keep your cool in the face of countless tourists who have never ridden a bike in their lives and roadies on your ass. Don't be discouraged, it's a lovely ride despite all that. After you cross, just follow the route and you'll be photobombing tourists in no time! With a solid 2,100ft of elevation gain, this is definitely a workout.
The Great Highway
Ocean Beach
Why you should ride it: To remind yourself why you live in California
Flat as a pancake and right next to the ocean? It's a perfect recipe for that wintertime date, because as we know, that's when SF weather finally clears up. There's a rough path next to the highway if you're cruising with kids, but there's also a bike path on the side of the road with enough bike traffic to know that you probably won't be run off the road. Although it's called the Great Highway, this is just a moderately busy two-lane street that has stop lights with no vehicular cross traffic (so you can blow right through them with minimal risk). If you're feeling adventurous, this is where you'd start the 60-mile ride to Santa Cruz.
Sign up here for our daily San Francisco email and be the first to get all the food/drink/fun SF has to offer.
Mark is an avid rider and writer with a ton of strange experiences and impeccable taste in music. Find him on the bike polo court at Dolores Park.