Winter in San Francisco doesn't always feel that wintery, but we think that's a good thing because it means you can enjoy everything the city has going on, like food festivals, comedy festivals, film festivals, beer festivals, restaurant festivals, and design festivals.
You can also easily escape to the snow in 3 1/2 hours when you need to get a winter wonderland fix. Skiing in the morning and surfing/hiking/picnicking in the afternoon? Only in California.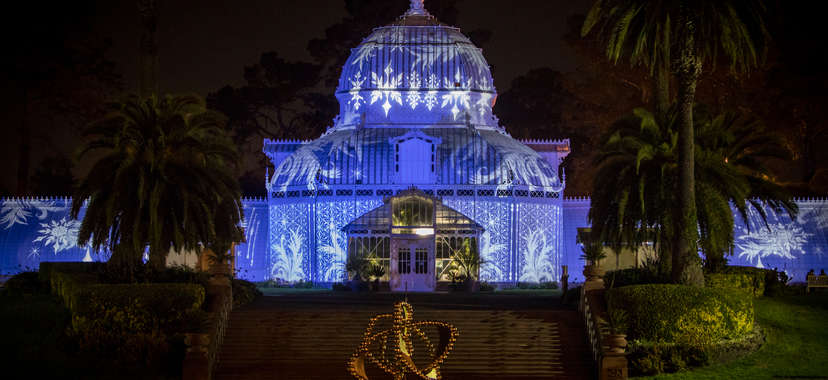 December 2-January 6
Conservatory of Flowers
An interactive light and sound experience is taking over the glass greenhouse from 5 to 11pm all through December. Night Bloom will have five galleries bursting with luminous displays and copious Instagram opportunities.
Cost: $27
December 3-January 21
Union Square
There are only a couple of months you can ice skate outside in San Francisco, so take advantage of this opportunity to reenact "Blades of Glory" or Nancy and Tonya or, if you're old school, "Cutting Edge." Toe pick!
Cost: $18 includes skate rental
December 4-December 23
SHN Orpheum
We'd probably be a little wary of a Broadway musical version of A Bronx Tale, but this one was co-directed by De Niro and if it's good enough for him, it's definitely good enough for us.
Cost: $56 to $226
December 12
Anchor Public Taps
Unless you've been saving a bottle of Anchor Christmas Ale every year for the last four years, there's no way to taste all of the releases since 2015 in one sitting. And even if you have, the brewer won't be at your tasting to tell you about the history of the beer and how it's evolved, which is exactly what you'll get at this vertical tasting of the famous Christmas beer.
Cost: $20
December 16
SoMa StrEAT Food Park
Claw your way through as much crab as you possibly can during this three hour Crab Feast with endless Dungeness crab legs, garlic noodles, salad (filler), and iced tea. Beer and sangria will also be available to buy.
Cost: $56
December 20
Spark Social SF
How else would you celebrate National Sangria Day than blowing off everything holiday related and heading to this fun food truck park for an evening of bottomless sangria? Food will be available to purchase too.
Cost: $25
December 27
Exploratorium
You've been seeing red and green all month, so why not find out how you can get yellow from mixing them together at this "Mixing Color" edition of (adults only) After Dark at the Exploratorium where you'll also be able to interact with all 650 exhibits while sipping cocktails and listening to DJs.
Cost: $19.95
January 1
Union Square Ice Rink
Put on your craziest bathing suit and head to Union Square at 2pm for an ice skating version of the Polar Bear Plunge.
Cost: $18 (includes skate rental)
January 5
Crissy Field
The New Year's One Day race is a one mile loop around the lagoon at Crissy Field that you and a team of two to four can take turns running for six hours, 12 hours, or, if you dare, 24 hours.
Cost: $80, $105, $190
Advertisement
Between the holidays and finishing out the year at work, your calendar can fill up fast in the colder months. But whether your winter plans involve heading out to a new bar opening, onto the open road, or to the office, Wrangler has new styles and comfortable fits made for wherever life takes you -- so you won't have to think twice about what to wear.
January 10 - January 27
Various locations in SF
Thanks to the jam-packed lineup of tributes, movies, live reads, music, improv, and podcasts, at the 18th Annual SF Sketchfest, you're guaranteed a lot of hearty belly laughs. A few highlights include Carol Burnett, the cast of "Best in Show," and the brand new Prohibition Era-style club with hidden entrances, secret passages, two bars, a casino and a cabaret, with comedy performances to be discovered throughout.
Cost: Free to $125
Run a race and then drink hot chocolate
January 13
Golden Gate Music Concourse
The Hot Chocolate 15K/5K is a race through Golden Gate Park and along the ocean with "sweet stations" along the way, followed by a post-race party with fondue, dippable snacks, and hot chocolate. If that doesn't motivate you to run, we don't know what will.
Cost: $49 for the 5K; $69 for the 15K
January 13
The Midway
The Cheesemonger Invitational isn't like your typical SF food festivals. Yes, there is ample opportunity to eat cheese, but you'll also see cheesemongers compete to show off their technical skills, knowledge, and salesmanship. And then you party. With cheese.
Cost: Early bird tickets start at $55. Drinks not included.
January 16-January 20
Fort Mason Festival Pavilion
FOG Design+Art celebrates leading contributors to the worlds of design and visual arts with a weekend of exciting programming and special installations. Buy tickets for the preview gala for a festive evening of food, cocktails, and art with proceeds supporting the SFMOMA.
Cost: Gala: $175 to $10,000; Fair: $25
January 17-January 19
One Market, The Palace, Pier 27
The Zinfandel Experience is a three day food and wine extravaganza celebrating California's boldest red. Check out a seated seminar, a winemakers auction and dinner, the grand tasting, or all three.
Cost: $80 to $299
January 23-January 31
100+ restaurants around San Francisco
SF Restaurant Week is your chance to try new places, as over 100 of the city's best restaurants offer special prix fixe menus all week long.
Cost: A two-course lunch costs $15 or $25, while a three-course dinner will run you $40 or $65.
January 25-January 26
Regency Fair
Don your finest early 20th century attire for this two-day weekend that begins with "The World's Faire," a tribute to Edward Gorey, and culminates in a decadent ball with dancing, cocktails, a Museum of Wonders, theater, circus performance, and more.
Cost: $65 to $240
January 25-February 3
Castro Theatre
If double-dealing, double-crossing, and double features are your thing, you'll want to check out Noir City, a 10-day festival featuring noir-themed double features on the screen in one of SF's best theaters.
Cost: $125 for a 10-day passport; double-feature tickets sold separately
January 26-January 27
Cow Palace
Give lots of rubs to the well-behaved and adorable dogs at the Golden Gate Kennel Dog Show, many of which you can hang out with by breed. There will be show dog trials every day, an all breed fashion show, over 175 breeds total, and even a Best Puppy in Show.
Cost: $19
Celebrate craft beer by drinking it for 10 straight days
February 1-February 10
Bars all over SF
SF Beer Week is 10 days of beer events with something for everyone. There are events that cater to your beer preferences, food tastes, like cheese pairings and dinners, events based on entertainment interests, and more. All of the events are great, but the opening gala at Pier 35 on February 1 is considered the largest and most prestigious annual gathering of the Northern California beer community and is not to be missed.
Cost: $80 to $120 for the opening gala
February 8
Exploratorium
This spirited fundraiser for the Exploratorium will have creative concoctions at over 20 bars throughout the museum, boozy demos, live music, sweet and savory treats, all of which you can enjoy while interacting with all of the exhibits.
Cost: $125 to $535
February 9
Pedro's Cantina
Cupid's Undie Run is a "brief" (mile-ish) run followed by a huge dance party all to raise money that goes towards finding a cure for neurofibromatosis.
Cost: $30-$50
Go the largest competition of American wines in the world
February 16
Fort Mason Festival Pavilion
There will be over 7,100 entries at the San Francisco Chronicle Wine Competition, and on the day of the Grand Tasting, you can taste a ton of them paired with delicious food, and see which ones the judges pick as winners.
Cost: $55 to $95
February 25-March 3
Venues throughout the Bay Area
The Noise Pop Music & Arts Festival is one jam-packed week of independent films, concerts, art shows, and happy hours all over SF and the East Bay. Get a badge and gain access to every single one of the 90+ events, or buy tickets to individual events.
Cost: $179 to $399 for badges
February 2-February 3
Chinatown
The Flower Market Fair has 120 booths selling all of the things you need to start the Year of the Pig (fresh flowers, fruits, candies), but also Chinese magicians, acrobats, folk dancers, and opera singers.
Cost: Free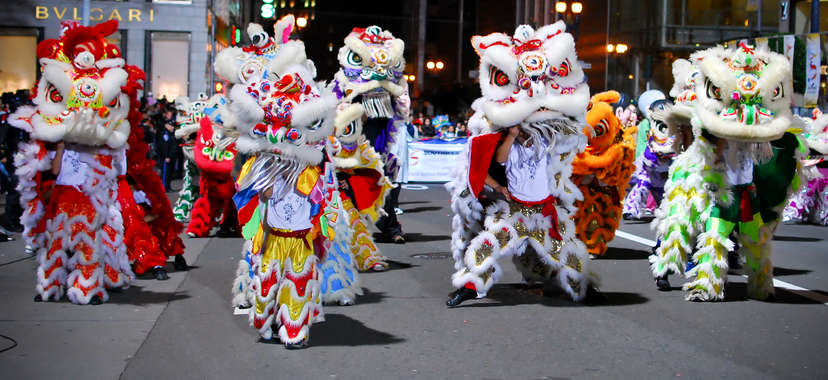 February 23
Chinatown
SF's Chinese New Year parade is considered to be one of the best parades in the entire world thanks to stunning floats, elaborate costumes, ferocious lions, and the famous 288-foot Golden Dragon that is carried by over 180 men and women through the streets.
Cost: Free
March 2-March 3
The Old U.S. Mint
The Old Mint will turn into a pop-up museum of SF history with more than 75 exhibitors, community historians, archivists, genealogists, educators, and more, all of who are eager to share stories about our city's past.
Cost: Free
Sign up here for our daily San Francisco email and be the first to get all the food/drink/fun SF has to offer.