Fall is one of the most magical times in the Bay Area. The sun is shining, Karl the Fog usually takes his annual sabbatical, and there are all sorts of fun festivals to hit including the world's biggest fetish fair, a Renaissance faire (same thing?), a Dickens fair (also the same thing?), an adventure race, and a pumpkin party to get you in the mood for fall. We've also got immersive haunted houses and the opening of the acclaimed Harry Potter play -- not to mention Fleet Week, Oktoberfest shenanigans, and so much more. Here's everything you need to do in the Bay Area this fall.
Now through October 20
Casa de Fruta, Hollister
The Northern California Renaissance Faire happens every weekend from September 14 through October 20 and includes nine stages of non-stop entertainment including jousts, traditional English country music and dance, condensed Shakespeare, a bustling marketplace with armor and chain mail, games including archery and axe throwing, ale stands and traditional food, and much more. Check the calendar for themed weekends including "pirate invasion" and "Halloween fantasy."
Cost: $23 to $28 per day; $40 for weekend pass (Saturday & Sunday); $230 for season pass (all 12 days)
Now through November 2
Winchester Mystery House, San Jose
Explore the dark hallways of the Winchester Mystery House at Unhinged, an immersive theater show full of suspense, forbidden rooms not usually seen on tours, and other twisted tales and secrets.
Cost: $44 to $54
September 20 - September 29
Various locations
The San Francisco Latino Film Festival provides a platform for films made by U.S. Latino, Latin American, or Iberian filmmakers, as well as films by and about Latinos to be seen by the masses. All of the films have a distinctly Latin American/Latino experience or point of view, offering a chance for viewers to connect both locally and across borders.
Cost: $15 per film; $60 to $180 for festival passes
September 26
The Great Northern
Safe and Sound's Pinwheel Party is an evening full of drinks, food, and music that also helps raise money and awareness for children's advocacy including child abuse prevention. A cocktail party for a good cause? How can you say no?
Cost: $125 and up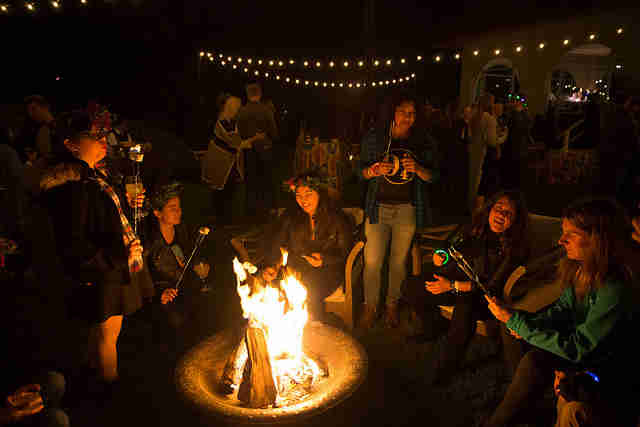 September 27
Crissy Field
Trails Forever NightHowl is a party thrown by the Golden Gate National Parks Conservancy to benefit park trails and programs. And it all happens under the stars (and also in a warm indoor space if the weather calls for it) inside of the Presidio. Dance along to live DJ sets and enjoy all-you-can eat bites and s'mores by the campfire while listening to Bay Area experts tell stories about coyotes and bats on silent disco headphones. You can also get astrology readings, hit a buffet of bites, cocktails and beer, and experience other surprises.
Cost: $85 to $125
September 28
Jack London Square, Oakland
Wine Walk on the Waterfront is set in a gorgeous location on Jack London Square's Ferry Lawn and will feature tastings from more than 15 Northern California wineries plus live jams from DJ Aari, food, shopping, and more. A portion of ticket proceeds benefit Alameda County Community Food Bank.
Cost: $40
September 28
Starts at Crissy Field
Questival is like The Amazing Race complete with all kinds of crazy challenges, but you can have teams of up to six people and it all happens in the city you (think you) know so well. The adventure used to take place over 24 hours, but now will happen in one jam-packed 10-hour time span, with plenty of emphasis put on doing good this year. Enter for a chance to win $5,000 in prizes.
Cost: $10 to $50
September 28 - September 29
Treasure Island
TreasureFest is blending its monthly flea market with Oktoberfest for a hybrid beast known as Shoptoberfest. Enjoy views of the Bay made even more beautiful by full bars, live music, and more than 400 food, clothing, and craft vendors.
Cost: $5 to $14
September 29
Folsom St. from 8th to 13th Streets
The Folsom Street Fair brings 250,000 leather and fetish players from all over the world to 13 city blocks where there is truly something for everyone including lots of nudity, 200 booths with fetish gear and toys, live music and DJs, as well as live BDSM demos. The party goes all weekend long with events including Full Fetish on Saturday night and Deviants, the official closing party, on Sunday. Basically: ask for Monday off now.
Cost: A minimum $10 donation is requested (which gets you $2 off of each drink you purchase from a Folsom Street Events beverage booth)
October 4 - October 6
Golden Gate Park
Hardly Strictly Bluegrass is a rare outdoor concert event in that it's free, without a single sponsor. This year there will be dozens of performances from artists, some of whom are actually bluegrass and some of whom are hardly so at all. The lineup so far includes Calexico and Iron & Wine, Emmylou Harris, Hot Buttered Rum, The Infamous Stringdusters, Joan Osborne, The New Pornographers, Robert Earl Keen, and many more. Keep in mind that the rules have changed this year and all bags must be clear with no coolers allowed, but you're still allowed to bring beer and wine in non-glass containers. It will NOT be for sale, but food will be.
Cost: Free
October 6
Castro & 18th Streets 
The Castro Street Fair is a long-running local LGBTQ festival founded by Harvey Milk where people from all walks of life dress up and enjoy live music, DJs, and strange performances.
Cost: $5 or $10 donation requested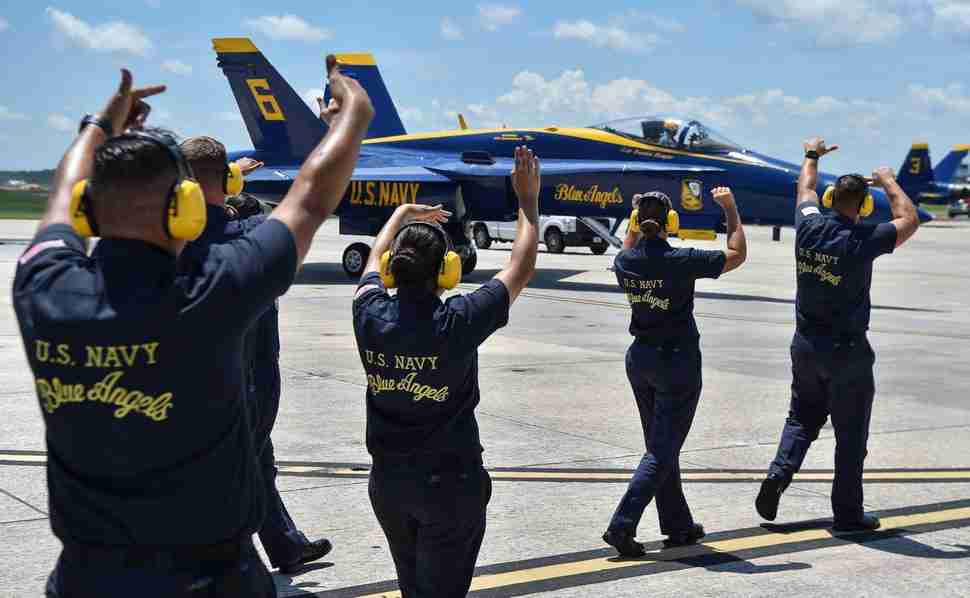 October 6 - October 14
In the air & on the water (Fleet Week Festival Center is located on Marina Green)
Fleet Week honors the contributions of the men and women of the United States Armed Forces with tons of events like veterans art exhibits, ship tours, and K-9 demos. The highlight every year is the parade of ships on Friday at 11:30am, when the first U.S. Navy ships sail under the Golden Gate Bridge, and the three days of air shows over the weekend when you can see all kinds of planes (including the famous Blue Angels) soaring above the Bay. If you want to ensure a fantastic viewing spot for the air show complete with sound, tickets are available.
Cost: Free to $325
October 10
City View at Metreon
Wine & Spirits Magazine's Top 100 Tasting honors the wineries around the world that delivered the best wine throughout the year. At this event, you get to sip on them all while chatting with the winemakers. Go VIP to beat the crowds and get your first sips an hour before everyone else.
Cost: GA: $135, VIP: $185
October 10 - October 19
Various locations 
Litquake is SF's beloved literary festival where you can get inspired by interactive workshops, lectures, walking tours, and the most anticipated event: Lit Crawl... like a bar crawl, but for author readings. This year's headliners include Tobias Wolff, Ann Patchett, Chris Kattan, Saeed Jones, Michelle Tea, and many more, with 217 events taking place across 165 different venues, featuring more than 860 authors.
Cost: Mostly free
October 10 - November 10
San Francisco Mint
The Terror Vault takes over the basement of the San Francisco Mint with a storyline, sets, and characters whose sole purpose during your 45 minutes is to make you scream, jump, and wonder why on Earth you paid good money to be terrorized. (In the best and most Halloween-appropriate way possible, of course.) If you went last year, don't fret; there are all-new sets and storylines so you won't know what's lurking around the next corner. Luckily, there's a bar at the venue so you can get a stiff drink after to settle your nerves.
Cost: $62
October 11 - October 12
Golden Gate Theatre
There are only three performances of this immersive concert-style show that chronicles the journey of iconic folk rock duo Simon & Garfunkel, starting at the beginning and culminating with their famous Central Park concert in 1981 (which if you don't have in your music library, you should remedy immediately.) Tickets will sell out, so get yours soon.
Cost: $56 to $226
October 11 - 12 & October 18 - 19
Cow Palace Arena & Event Center, Daly City
The Grand National Livestock, Horse Show and Rodeo rides into town for two weekends at the Cow Palace with livestock expositions, horse shows, mechanical bull rides, real bull rides (for the pros), barbecue, shopping, music and dancing, beer and cocktails, and more. Giddyup.
Cost: $14 to $45
October 14 - November 7
Crissy Field to Ocean Beach
Red Bull Heavy Water is a SUP race where athletes start inside the Bay, paddle under the Golden Gate Bridge, and finish 12 kilometers later at Ocean Beach. If you've ever looked at the water in that area, you know what a crazy challenge this race will be. The race window is October 14 to November 7, with a five-day alert when optimal conditions are in place.
Cost: Free to watch
October 19 - October 20
Main Street, Half Moon Bay
The Half Moon Bay Art & Pumpkin Festival is the perfect way to get in the mood for plaid shirts, PSLs, and corn mazes. Head to the "World Pumpkin Capital" to shop wares from artists, enjoy live music on multiple stages, participate in (or watch) a pie-eating contest, explore a haunted barn, enjoy homemade food, carve a pumpkin, and take pics of all the gigantic pumpkin champions to post on Instagram.
Cost: Admission is free
October 23 - May 17, 2020
Curran Theatre
Harry Potter and the Cursed Child is the eighth story in the Harry Potter series and the most awarded play in theatre history. And it's taking over the Curran in a way that will amaze you like no other theatrical experience ever has. The play is told in two parts so you can see part one as a matinee and part two in the evening, or spread them out over separate evenings.
Cost: $59 to $289 per part
October 26
Hibernia Bank Building
Pinots & Plaid takes over the spectacular Hibernia Bank Building for an afternoon of pinot tastings from 25 Northern California producers, paired with delicious bites. Go VIP to get in early and gain access to the VIP lounge, where you can indulge in Roederer Estate sparkling wines paired with caviar.
Cost: $85 to $150
October 26 - October 27
SoMa StrEAT Food Park
Lumpia is having a real moment in SF and SoMa StrEAT Food Park is capitalizing on the buzz with the two-day Lumpia Palooza food truck party, complete with vendors dishing up all kinds of variations on the Filipino treat.
Cost: Free to $36
November 2 - November 3
Fort Mason Center for Arts & Culture
The San Francisco Coffee Festival is a two-day immersive event all about the finest roasts available. There will be 80 specially curated exhibitors including the Bay Area's top roasters, coffee shops with unique beans, delicious snacks, live entertainment, and the possibility that you may not sleep for a week.
Cost: $25 to $69 per day
November 3 - January 12, 2020
Under the Big Top at Oracle Park
Amaluna is the latest Cirque du Soleil show to take up residence at Under the Big Top at Oracle Park. Taking place on a mysterious island governed by goddesses and guided by the cycles of the moon, the show is a "celebration of love and a tribute to the work and voice of women, featuring a cast that comprises mostly women with an all-female band." Of course, as anyone knows, the plot line at a Cirque show is just a small part of the experience. The real fun comes with the amazing acrobatics and circus feats that happen on stage.
Cost: $54 to $275
November 23 - December 22
Cow Palace Arena & Event Center, Daly City
For six weekends leading up to Christmas, the Dickens Fair transforms the Cow Palace into an elaborate holiday party with hundreds of colorful costumed characters mingling about its music halls, pubs, dance floors, and Christmas shops with continuous performances on seven stages plus food and drink from around the world. And if you want to dress up in Victorian costume, by all means go right ahead. 
Cost: $10 to $120
November 28
Golden Gate Park
Not that you would or should, but you definitely won't have to feel guilty about that third piece of pie if you start your Thanksgiving with the San Francisco Turkey Trot, a 5K race through the park.
Cost: $41
December 7
All over SF
Put on your best Santa suit or Christmas costume and do some serious day drinking at this debaucherous annual party that doesn't look like it's going anywhere anytime soon. So you might as well get on board.
Cost: Free to attend
Sign up here for our daily San Francisco email and be the first to get all the food/drink/fun SF has to offer.