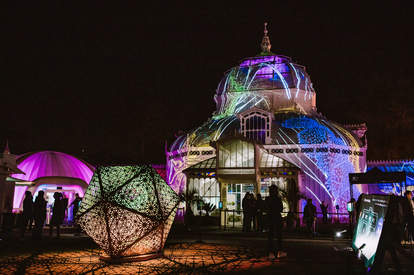 Everything Fun to Do in San Francisco This Winter
One of the best things about living in San Francisco in the winter is that you can snowboard in Tahoe in the morning and surf in the Pacific Ocean in the afternoon. Some of the other best things are listed below, including food festivals, wine festivals, beer festivals, indie film and music festivals, lots of theatrical performances, Chinese New Year celebrations, and so much more.
Even better? That feeling when you post pics on Instagram of you on the beach in a t-shirt in February whilst tagging all of your friends suffering in whatever snowstorm is making them miserable that week. After all, what's the point of living in the best place on earth if you don't brag about it a little?
Now through January 5
Conservatory of Flowers, Golden Gate Park
At this limited-time exhibit, the galleries full of plants, as well as the exterior of the iconic structure, are vibrantly illuminated at night so that you can experience your journey through the rainforest in a way unlike ever before. Upgrade your ticket to hang out in the Bloom Lounge where you can eat grilled cheese with a flight of whiskey or treat yourself to desserts with a flight of sparkling wine.
Cost:
$29 to $75
Harry Potter and the Cursed Child

| Courtesy of Matthew Murphy
Now through July 12
Curran Theater
The only way to experience the eighth installment of the Harry Potter series is to see this two-part theatrical production, which has won so many awards that we don't have enough space to list them all. In this story, Harry is now a father of three and his youngest is struggling with a legacy he never wanted. If you're a fan of the wizarding world, you don't want to miss this magical performance.
Cost:
$59 to $289
Summer: The Donna Summer Musical

| Courtesy of Matthew Murphy for Murphymade
Now - December 29
Golden Gate Theatre
You probably know a lot of Donna Summer's hit songs, including "Love to Love You Baby," "Bad Girls," and "Hot Stuff," but do you know the story behind her success and everything she risked to become an icon? You'll learn all about it while hearing more than 20 of her classic hits at this electrifying musical.
Cost:
$56 to $256
December 15
SoMa StrEAT Food Park
You don't have to, ahem, shell out much to enjoy this all-you-can-eat holiday crab feed where you get to eat as much Dungeness crab legs, garlic noodles, salad, and iced tea as you can put away.
Cost:
$68 in advance; $75 day of
December 20
Spark Social SF
The Mission Bay food truck park is celebrating this boozy Spanish beverage with a four-hour bottomless Sangria party with a holiday theme. Sip on five different sangrias while listening to holiday tunes from a local DJ and snacking on bites from 12 different food trucks.
Cost:
$30
December 31
Crissy Field
The New Year's One Day race is a one mile loop around the lagoon at Crissy Field with amazing views of the Bay that you and a team of two to four can take turns running for six hours, 12 hours, or, if you dare, 24 hours.
Cost:
$80 to $200
January 1
Spark Social SF
Keep the New Year's party going at this food truck party in Mission Bay with bottomless mimosas and sangria. There will be brunch food from 10 food trucks and giant lawn games as well.
Cost:
Admission is free; $30 for bottomless
Polar Bear Plunge

| Courtesy of Union Square Ice Rink
January 1
Union Square Ice Rink
Put on your wildest beach attire (bathing suits welcome) and head to Union Square at 2pm for an ice skating version of the Polar Bear Plunge. Prizes will be awarded, so don't get cold feet when it comes to going all out with your costume.
Cost:
$18 (includes skate rental)
January 9-20
All over Oakland
Oakland is home to one of the hottest culinary scenes in the country, and Oakland Restaurant Week is a chance for you to experience food from a ton of different restaurants at discounted prices.
Cost:
$10 to $80
January 9 - January 26
20+ locations in SF
We all deserve a reason to laugh right now, and you'll definitely get that at the jam-packed lineup of tributes, movies, live reads, music, improv, and podcasts, at the 19th Annual SF Sketchfest. Highlights include tributes to Sandra Bernhard, George Wallace, the Monkees, Molly Shannon, and more.
Cost:
Free to $125
January 12
Golden Gate Music Concourse
The Hot Chocolate 15k/5k is a race through Golden Gate Park and along the ocean with "sweet stations" along the way, followed by a post-race party with fondue, dippable snacks, and hot chocolate. If that doesn't motivate you to run, will anything?
Cost:
$49 to $74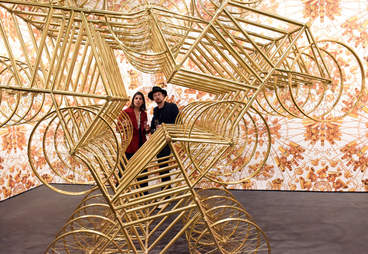 Courtesy of FOG Design+Art
January 15 - January 19
Fort Mason Festival Pavilion
FOG Design+Art celebrates leading contributors to the worlds of design and visual arts with a weekend of exciting programming and special installations.
Buy tickets for the preview gala
for a festive evening of food, cocktails, and art with proceeds supporting the SFMOMA.
Cost:
Gala: $175 to $10,000; Fair: $25
January 18 - January 19
Chinatown
The Flower Market Fair has 120 booths selling all of the things you need to start the Year of the Rat (fresh flowers, fruits, candies), as well as Chinese magicians, acrobats, folk dancers, and opera singers.
Cost:
Free
Courtesy of The Cheesemonger Invitational
January 19
The Midway
The Cheesemonger Invitational isn't like your typical SF food festivals. Yes, there's ample opportunity to eat cheese, but you'll also see cheesemongers compete to show off their technical skills, knowledge, and salesmanship. It's a really
grate
time that's definitely not too
gouda
to be true.
Cost:
Early bird tickets start at $55. Drinks not included.
January 19
Spark Social SF
Whether you missed the AYCE crab feast at SoMa StrEAT Food Park in December or just can't get enough of Dungeness crab legs, garlic noodles, salad, and iced tea, this feast at the Mission Bay food park will leave you anything but crabby.
Cost:
$62 in advance; $70 day of
January 22 - January 31
130+ restaurants around San Francisco
SF Restaurant Week is your chance to try new places, as over 130 of the city's best restaurants offer special prix fixe menus all week long.
Cost:
A two-course lunch costs $15.15 or $25.25, while a three-course dinner will run you $40.40 or $65.65
January 23 - February 16
A.C.T.'s Geary Theatre
You loved him in
Arrested Development
and
Veep
, and now you can see Tony Hale in "an intimate comedy about love, life and what it means to be human" from Obie Award–winning playwright, Will Eno.
Cost:
$15 to $80
January 24 - February 1
Castro Theatre
Rain-soaked streets, flickering street lamps, crime and corruption, a femme fatale… it's all part of the mystique of film noir. See as many classics as you can at this 10-day festival featuring noir-themed double features on the screen in one of SF's best theaters.
Cost:
$125 for a 10-day passport; double-feature tickets sold separately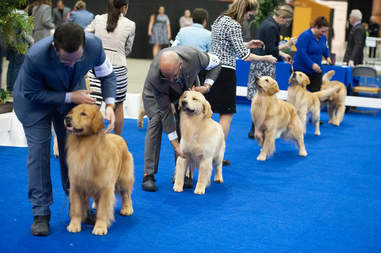 Golden Gate Kennel Dog Show

| Courtesy of GGGKC
January 25 - January 26
Cow Palace
Pass out pets and snuggles to the well-behaved and handsome hounds at the Golden Gate Kennel Dog Show, one of the last remaining benched dog shows in the United States (meaning all of the dogs are organized by breed). There are show dog trials every day, an all breed fashion show, over 175 breeds total, and even a Best Puppy in Show.
Cost:
$19
Edwardian Ball

| Courtesy of Jane Hu
January 24 - January 25
Regency Fair
Go back in time for a two-day weekend that begins with "The World's Faire," a tribute to Edward Gorey that blends live music, theatre, fashion, circus, fine art, riveting stage shows, literature, ballroom dancing, DJs, and character, and culminates in a decadent ball with dancing, cocktails, a Museum of Wonders, theater, circus performance, and more. Attire simply needs to be something out of your ordinary life and ranges from Victorian and steampunk to goth get-ups.
Cost:
$70 to $250
January 26
Fort Mason Center for Arts & Culture
Uncorked SF is always a good time thanks to tastes of over 200 wines and champagnes, DJs, gourmet food trucks, and a fun crowd. Go VIP if you want an extra hour of tasting and shorter lines.
Cost:
GA: $65; VIP: $80
January 30 - February 1
Le Colonial, The Palace Hotel, Pier 27
ZinEX is a three-day food and wine extravaganza celebrating California's boldest red. Check out a seated seminar with themed wine flights, a winemakers auction and dinner, the grand tasting with over 100 wineries, or hey, why not all three?
Cost:
$85 to $350
Drink beer, eat good food, and watch the Super Bowl
February 2
Wherever there's a big TV
We don't want to jinx anything, but we'd be lying if we said we weren't very hopeful that a certain team that wears red and gold makes it to this game. Knock on wood (we'll wait). Whichever teams make it, though, watching the Super Bowl is always an event, even if you don't like football. Not sure where to watch? May we suggest one of these sports bars, all of which have lots of TV and good sound?
Cost:
However much beer and wings cost
February 7-February 21 (probably)
Various theaters around SF
SF IndieFest is one of SF's most under-the-radar festivals, but if you like watching independent movies that are smart, engaging, and oftentimes subversive, you don't want to miss this one. Official dates for 2020 haven't been announced, but our guess is that the festival will happen February 7-21.
Cost:
TBD, but stay tuned!
Science of Cocktails

| Courtesy of Exploratorium
February 7
Exploratorium
This spirited fundraiser for the Exploratorium will have creative concoctions at over 20 bars throughout the museum, boozy science demos, live music, and sweet and savory treats. All of which you can enjoy while interacting with all of the 650+ hands-on exhibits.
Cost:
$135 to $535
February 7 - February 16
Bars all over SF
SF Beer Week is 10 days of beer events with something for everyone (as long as everyone likes beer). There are events that cater to your beer preferences, food tastes, like cheese pairings and dinners, events based on entertainment interests, like music and movies, creative events, community-oriented events, and more. Everything is fun, but
the opening gala at Pier 35 on February 7
is considered the largest and most prestigious annual gathering of the Northern California beer community and is not to be missed.
Cost:
$80 to $125 for the opening gala
Chinese New Year Parade

| kerolic / flickr
February 8
Chinatown
Start the Year of the Rat at SF's Chinese New Year parade, considered to be one of the best parades in the entire world thanks to stunning floats, elaborate costumes, ferocious lions, and the famous 288-feet-long Golden Dragon that is carried by over 180 men and women through the streets. If you don't want to arrive early for a prime viewing spot, you can
reserve a seat in the bleachers
.
Cost:
Free to $55
February 15
Make Westing, Oakland
Cupid's Undie Run is a "brief" (mile-ish) run followed by a huge dance party all to raise money that goes towards finding a cure for neurofibromatosis, a genetic tumor disorder that affects 1 in every 3,000 births.
Cost:
$35-$50
February 15
Fort Mason Festival Pavilion
There will be over 7,000 entries at the San Francisco Chronicle Wine Competition, and on the day of the Grand Tasting, you can taste a bunch of 'em. This includes more than 1,500 gold-medal winners all paired with delicious food (and then see which ones the judges pick as winners).
Cost:
$75 to $95
February 21 - 22
Marines' Memorial Theatre
This irreverent and hilarious play that combines satire with theater will make you laugh, think, and wonder who around you is getting offended about the commentary on sex, race, religion, politics, and the media. There are only three performances, so get your tickets now.
Cost:
$75
February 20 - March 22
Golden Gate Theatre
"The Last Ship" is a musical starring Sting and features his original music, including a few of his most-loved songs. The production is inspired by his 1991 album "The Soul Cages," as well as his childhood experiences and the demise of the shipbuilding industry in northeastern England.
Cost:
$70 to $275
February 24 - March 1
Venues throughout the Bay Area
The Noise Pop Music & Arts Festival is one action-packed week of independent films, concerts, art shows, and happy hours all over SF and the East Bay. This year's line-up features Raphael Saadiq, Maya Jane Coles, Best Coast, and plenty of others. Get a badge and gain access to every single one of the 90+ events, or buy tickets to individual events.
Cost:
$179 to $399 for badges
Celebrate St. Patrick's Day at a boisterous block party
March 17
Irish Bank, Royal Exchange, Taverna Aventine
Take your pick from one of these three SF St. Patrick's Day block parties, all of which will be raucous affairs with live music, food, and lots of drink specials. Check
The Irish Bank
,
Royal Exchange
, and
Taverna Aventine
websites closer to the date for more info.
Cost:
Admission is free
Sign up here for our daily San Francisco email and be the first to get all the food/drink/fun SF has to offer.

Daisy Barringer is an SF-based freelance writer who prefers the majority of her winter activities take place in Tahoe. Her 150-lb Saint Bernard, Monkey, strongly concurs. Follow her on Instagram @daisysf for pics of him playing in the snow.