The Absolute Best Ways to Celebrate New Year's Eve in SF
Say goodbye to 2020.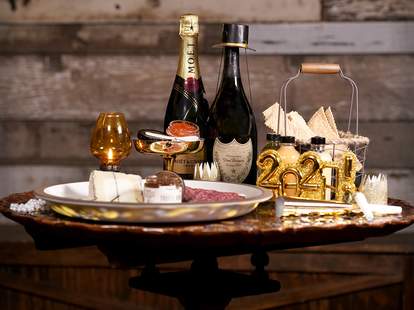 Courtesy of Truffle Shuffle
If there were ever a year to celebrate the end of, it's been this one. Though it's not going to be perfect, 2021 promises to at least be much, much better, and we think that's something you should celebrate. In your pajamas at home, of course. We've rounded up all kinds of virtual events—from a Roaring '20s caviar and truffle party to a Misfit Cabaret to a 28-hour party that will celebrate 38 strokes of midnight. Wherever you are and however you decide to kick 2020 to the curb, we'll be raising a glass with you and cheersing to the demise of a year we'd prefer to forget, even if it takes copious amounts of champagne to do so. Happy New Year!
Live Stream
If you're determined to celebrate New Year's Eve with a side of indulgence, Truffle Shuffle's virtual New Year's Eve bash is the way to go. You'll receive a box filled with caviar, truffles, cheese, and charcuterie, as well as classic prohibition era cocktail mixers to kick off the evening. Next, you'll pop in and out of interactive breakout rooms where you can learn to dance the Charleston, get your tarot cards read, do magic tricks, or "ask the mob boss for a favor" whatever that may mean. The final act is a vaudeville show with tap dancers and lots of other specialty acts to enjoy as you ring in the New Year. Want fancier caviar and black or white truffles? Go VIP.
Cost
: GA: $95; VIP: $250 to $2021
Livestream
Want to celebrate midnight in our actual time zone? Get a ticket for Boom Swara's Annual Bollywood New Years Eve Party with DJ Kaza, which promises to be a four+ hour "audio-visual extravaganza that will blow your senses." This party usually sells out, but since everything's virtual this year, the more the merrier.
Cost
: Early bird: $30
Flow into the New Year with a live yoga class
Zoom
If you'd like to end the year feeling relaxed and rejuvenated, why not start your day with a yoga class? There's a
60 minute class with Emily Pareti at 7 am
, and if waking up at 7 am on what's basically an unofficial holiday sounds like the worst idea ever, there's
a 90 minute "energetic yoga practice" at 9 am
, as well one that is a little bit yoga, a little bit mediation, and maybe even some chanting. That one is also
90 minutes and starts at 9 am
. Not a morning person? We've got you.
New Moon Yoga Studio is offering a 60 minute class at 4 pm
with all proceeds going to Big Brothers Big Sisters of NW Michigan.
Cost
: $15 for first two; the meditation/yoga combo class has a suggested donation of $18 to $27; $10 for the 4 pm class
Zoom
Spend your evening in the Caribbean, Mexico, China, Africa, Russia, Ireland, and lots of other places around the world at an international virtual gala. The celebration takes place on Zoom and you can "travel" from room to room throughout the evening to see performances, listen to music, and take a dance class if you're down. Because everything fun is happening on the east coast, this party kicks off at 6:30 pm and ends at 10 pm, which means you can start 2021 with a good night's sleep.
Cost
: $15 or $45 if you want a package with NYE "supplements" delivered
San Francisco Ballet in Tomasson's Nutcracker

| Photo by Erik Tomasson
Streaming
New Year's Eve is your last chance to see a little girl fight off a giant Mouse King and a nutcracker turn into a prince. San Francisco Ballet is streaming the famous holiday ballet and has added some extras, like a tour of the opera house, historical highlights, and even a dance lesson.
Cost
: $49 for 48-hour access
Livestream
Have your fortune told and take part in a show of magic and mystery at this show where you're not just a spectator. Everyone who buys a ticket will receive a "mystery box" with items that you'll use during the show to "experience the magic in your own hands." Tickets will disappear fast, so conjure yours up ASAP if you want in.
Cost
: $30
Zoom, Google Hangouts, etc.
Someone will die "When the Clock Strikes Murder," a murder mystery game you can play virtually with 4 to 14 players. All you have to do is download the game and you'll become a resident of a small mountain town where nothing ever happens... until you get an invitation for a New Year's Eve gala that changes everything.
Cost
: $44.95
Live webcast
Okay, so it happens three hours before the clock hits midnight in SF, but think about it this way: now you can watch a live (commercial-free) webcast of the festivities (which is still happening, just not with those huge crowds of people wearing diapers so that they don't lose their spot when they go to the bathroom) and still get a good night's sleep. Ryan Seacrest is hosting and there will be performances from J-Lo and Gloria Gaynor (singing "I Will Survive"). (If you don't mind commercials and want to skip out on Seacrest's earnest-ness, Anderson Cooper and Andy Cohen will be holding down the fort (and drinking copious amounts of tequila) on CNN again.
Cost
: Free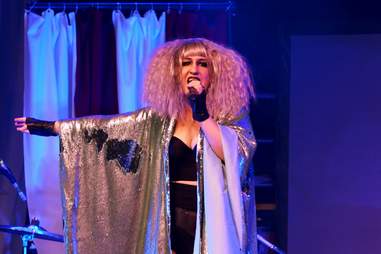 Misfit Cabaret

| Courtesy of DNA Lounge
Livestream
Enjoy a variety show like no other. At Kat Robichaud's Misfit Cabaret, where you'll be entertained by magical music, burlesque, drag, circus, magic, and more. The night starts with a welcome in the spirit of San Francisco's past and there won't be a dull moment from there.
Cost
: Free, but donations go to support the artists and DNA Lounge
Fuse, Fuse YouTube Channel
LA's Grand Park annual New Year's Eve parry is going virtual. Tune in at 11 pm to see performances by Dim Mak en Fuego and friends, Aquihayaquihay, Andrekza, all curated by Steve Aoki.
Cost
: Free
Zoom
Live Comedy on Zoom, a comedy show that's been encouraging virtual laughter since May (oh how long ago that seems) is putting on a special NYE performance at 7 pm. The details are still being worked out because we're all just doing the best we can this year, but check out the site to learn more.
Cost
: Donations are encouraged, all of which go to the performers
Livestream
You'll have to stay up for 28 hours straight (starting at 1:30 am New Year's Eve day) if you want to experience all 38 midnights around the world at this ambitious party thrown by Co-Reality Collective, but you can also just pop in to see what's going on and who's lucky enough to already be in 2021. The first New Year will be at the Pacific islands of Kiribati and then there will be one in every time zone until the final one (5:30 am New Year's Day) at Baker Island. Want to be the midnight ambassador for PST?
You can apply to be one
.
Cost
: Free
Sign up here for our daily San Francisco email and be the first to get all the food/drink/fun SF has to offer.
Daisy Barringer is an SF-based writer who at a New Year's Eve party once asked "How many more minutes 'til midnight?" only to have her friend inform her it was 12:30am. She called an Uber immediately. See what shenanigans she gets up to this year on Instagram @daisysf.