Secret San Francisco Nightlife You Need to Know About
Tourettes Without Regrets

| Jody Lyon
Tourettes Without Regrets

| Jody Lyon
San Francisco is lucky to have some of the best bars in the country, as well as some pretty phenomenal places to dance until all hours of the night (or last call, anyway). But even we can admit that sometimes we want to do something else besides drink or dance. Or, at least we want to drink and/or dance while in a museum or listening to stories about sex or after we've flown on a trapeze.
The bars and clubs will always be there, so it's nice to change it up every once in a while. When those nightlife cravings hit, here are all of the unusual and unique places we like to go and things we like to do.
Stay up late for midnight movies
The Clay Theatre in the Fillmore hosts midnight (well, 11:55pm) flicks each Friday, featuring midnight maniac staples such as The Rocky Horror Picture Show and The Room, as well as classic favorites like Pulp Fiction and Valley of the Dolls. Rumor has it that they also occasionally show XXX films, so, you know, keep your eyes peeled.
Hear true stories of sexual (mis)adventure at this monthly storytelling event at the Verdi Club on the border of the Mission and Potrero Hill. At Bawdy, real people (and the occasional local celebrity) share their true sexual exploits onstage, usually following a theme. Past themes include "unlikeliest places," "sex wonk," and "CraigsLust." Admission to Bawdy will set you back $20 -- and usually includes a raffle for sex toys. Bring a date to this unique night out 'cause you never know: hearing about everyone else's sexual adventures just may make you want to create some stories of your own.
Discover your inner scientist while boozing it up
Science rules at the Exploratorium and Academy of Sciences both of which throw themed adults-only nighttime parties every week, complete with cocktail bars throughout both museums. Things really do look different After Dark at the Exploratorium (not to mention after a few drinks), which gives visitors 18 and over access to all 650 of the mind-bendy interactive exhibits. NightLife at the Academy of Sciences also gives people 21 and over after-hours access to the nocturnal side of the museum, including an option to reserve a Planetarium Pass (which you definitely want to do). Both events happen every Thursday from 6 to 10pm and also feature music and special on-theme programming.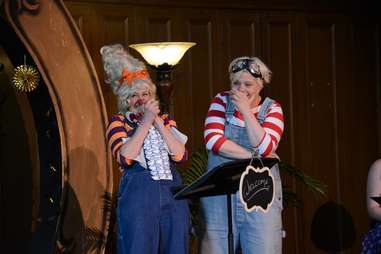 On select Friday nights from 6:30 to 9:30pm, Circus Center stays open after hours so anyone 21 and up with 10 bucks can watch performances by clowns, the flying trapeze troupe, and other circus artists, plus learn how to play with some circus toys on their own. Want a chance to fly on the trapeze? That'll be another 10 bucks, but you'll also get a glass of wine or beer (after you land safely, of course).
Get dinner and a show like no other at Asia SF
This restaurant, lounge and nightclub is world famous for a good reason: delicious CalAsian food, a lively party atmosphere, and service and a show from the stunning and talented "Ladies of AsiaSF," transgender performers who will make your experience a night you'll never forget thanks to amazing hospitality and hourly choreographed numbers atop a runway bar. On Friday and Saturday nights, you can keep the party going by heading downstairs to the dance club where the DJ spins till 2am.
Laugh at the outrageous performances and politics of Beach Blanket Babylon
This musical revue is the longest-running one in the world and is the perfect, campy night out for locals and tourists. The high-energy satire keeps audiences laughing out loud thanks to a heavy dose puns, politics, and pop culture, not to mention over-the-top songs and hats like you've never seen before. Bring cash (and don't go to the Sunday matinee) if you want to enjoy the show with beer or wine.
Right in the heart of the Mission, Endgames Improv offers inexpensive comedy shows six nights a week at Stage Werx Theatre. It's the perfect spot to catch up-and-coming, community-oriented comedy, with a variety of themed nights to suit your tastes. Try SF Tonight where you'll drive the show by cutting out newspaper articles that get spun into comedy; check out the THUNDERDOME improv competition where two teams go head-to-head and the audience decides who wins; or take a date to "Your Fucked Up Relationship," which is one of the city's most popular improv shows probably because the scenes are all inspired by your ridiculous and totally screwed up attempts at love.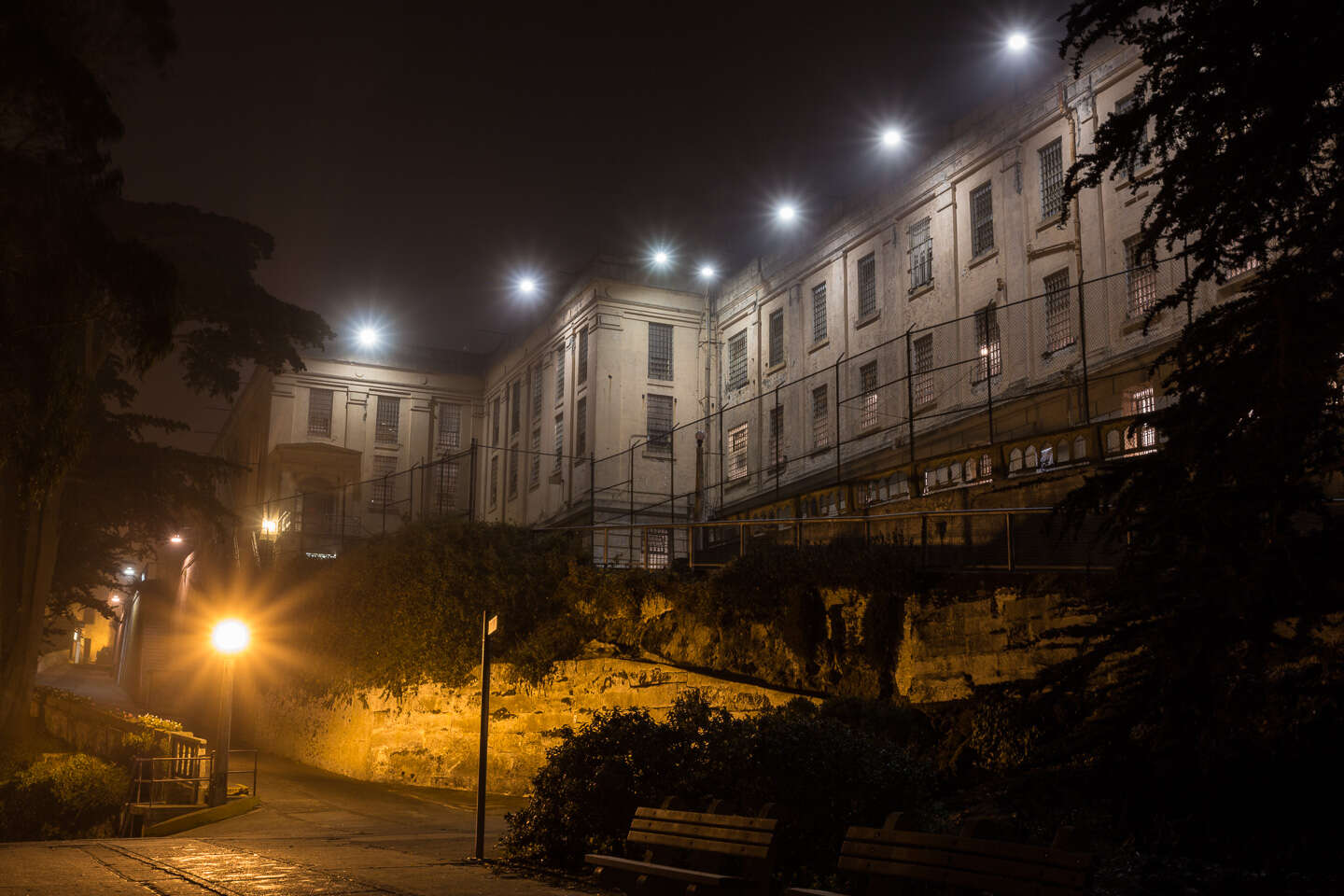 Even natives can agree: Alcatraz is pretty cool, especially if you visit at night. The former prison takes on an extra-creepy vibe on the pre- and post-sunset tour, where the stories are scarier, and the tour groups are smaller. Also, unlike when you go during the day, the night tour starts as soon as the ferry leaves your landing. Plan ahead because the night tours sell out quickly, especially on Friday and Saturday nights. If you're lucky enough to get on the island after dark, pack a sweater for the cold bay breeze... and maybe a pickaxe (in case you need to escape the Rock).
This "rolligious experience" inside the former Sacred Heart Church in the Lower Haight only convenes for Mass on Friday and Saturday, but it's the only roller rink in San Francisco, so we'll take it when we can get it. For $10 entrance and a $5 rental fee (and assuming you're 18 or over), you can skate to old-school funk and roller disco from 8 to midnight on Fridays and 7-11pm on Saturdays.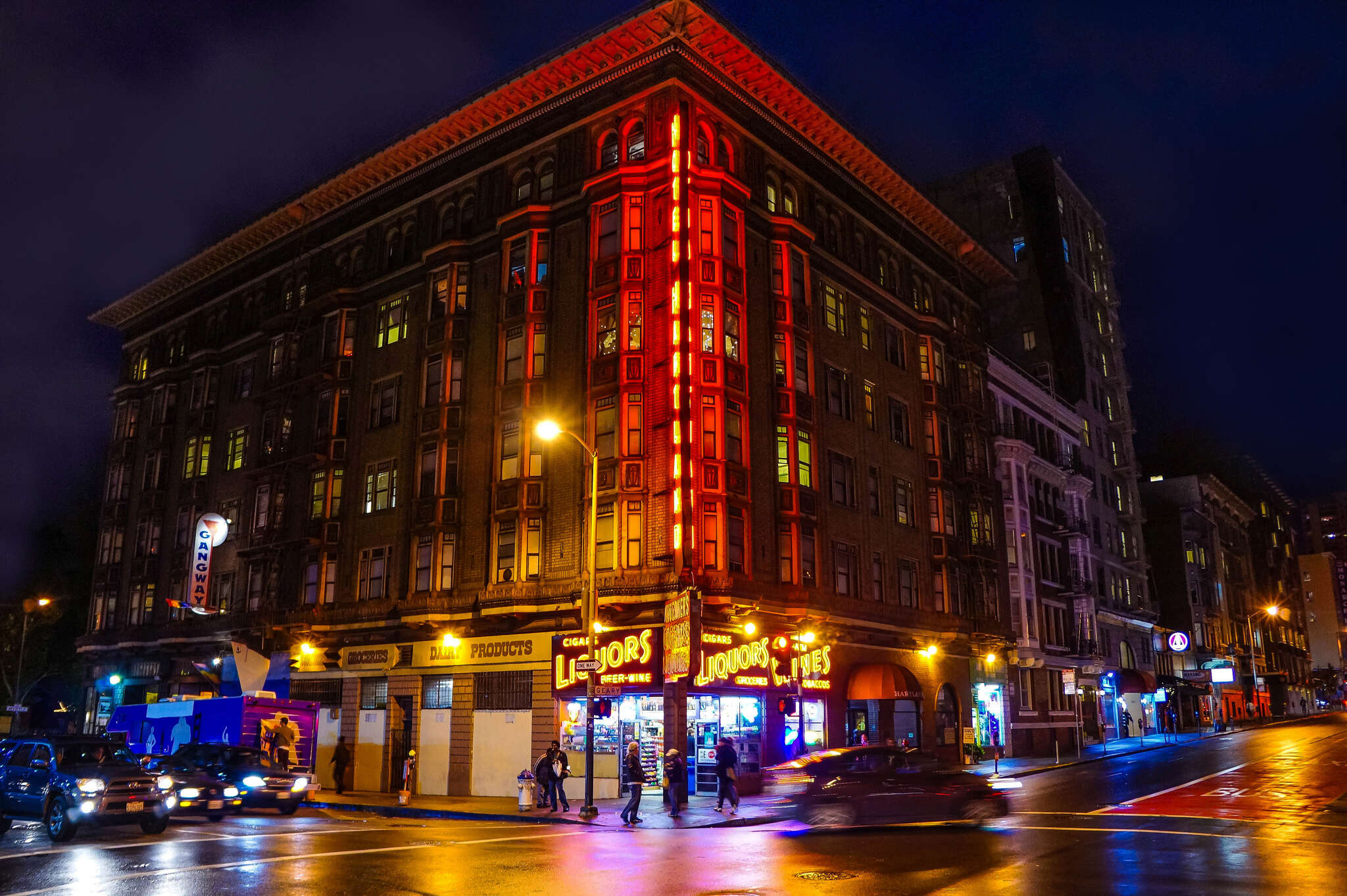 Join the recently opened Tenderloin Museum for an adults-only nighttime walking tour of the fabled 31-block neighborhood. The tour is totally different from what you'll get during the day and it visits old gambling joints, brothels, speakeasies, clubs, and other places that once made the Tenderloin the vice capital of San Francisco. Plus, there are stops and discounted beverages at historically significant watering holes along the way. The 21+ tours happen the first and third Wednesday of every month at 5:30pm and cost $20.
Twice a month, Public Works SF in the Mission hosts cocktail hour lectures about odd topics that illuminate "extraordinary and unusual chapters from history, science, art, and adventure." These are talks about adult topics like historic jerks and animals behaving badly to tales of tragically bad luck. Luckily, there are adult beverages served, which make the darker stories, and just being an adult in general, far more palatable.
On select Friday nights from 6:30 to 9:30pm, Circus Center stays open after hours so anyone 21 and up with 10 bucks can watch performances by clowns, the flying trapeze troupe, and other circus artists, plus learn how to play with some circus toys on their own. Want a chance to fly on the trapeze? That'll be another 10 bucks, but you'll also get a glass of wine or beer (after you land safely, of course).
The Contemporary Jewish Museum has a quarterly after-hours event that's open to goyim, too. For $5, you can enjoy admission to the museum as well as live music, DJs, crafts, and customized drinks and snacks. Previous Jewseum events have included 1960s themes and exhibits on Amy Winehouse. The CJM doesn't have the massive hype of other museum after-hours events, making this a great, not-crazy-crowded way to spend happy hour.
Not into sitting in a dark theater for a couple of hours watching people perform on stage? The We Players totally get it, which is why all of their plays take place in public spaces that are transformed into a participatory theater where you'll engage with the performance in way unlike anything you've ever experienced before. (Pro tip: wear comfortable shoes because you'll be doing a lot of walking.) It's more like an adventure than a play. Past performances included "Macbeth" at Fort Point, where ticket holders roamed stone corridors, inner chambers, and ended on the roof beneath the Golden Gate Bridge after sunset, and "Hamlet" on Alcatraz, where the audience was able to enter areas normally closed to the public as Hamlet struggled with how to be or if he even should be at all. Suddenly theater doesn't seem so stuffy, right?
If you like the thrill of chilling ghost story, you'll appreciate this lantern-lit (OK, also probably street lamp-lit because: electricity and all of that) stroll through Pacific Heights where you'll hear stories about murder, ghost brides, and other very true haunted tales told by a magician, storyteller, and SF's haunted history expert. It's the perfect way to get yourself all worked up and in the mood for a drink at one of those aforementioned quality cocktail spots we mentioned before.
Sure, SF has speakeasy-inspired bars, but The Speakeasy takes it to another level with a fully immersive "choose your own adventure" experience in a 1920s-style jazz nightclub. You'll enter either through the Cabaret, Bar, or Casino, and from there you'll decide your own fate as you explore the huge, seven-room space complete with secret passages and costumed performers everywhere you turn. It's impossible to experience it all in the three and a half hours you'll be there, but that's OK because you can go back again and again and it will never be the same.
Dig super-SF drag show/dance party, Mother
This "Mothership" of drag in SF show/dance party features a rotating cast of fabulous drag queens from around the world, including contestants from RuPaul's Drag Race, performing themed nights and tribute shows to pop royalty like Dolly Parton and David Bowie. Mother is held at SoMa's Oasis, which was opened by San Francisco drag legends Heklina and D'Arcy Drollinger on New Year's Day 2015.
Gawk at the "Fight Club of Underground Art"
Shock and delight your out-of-town guests or vanilla friends -- or relish in some amazing feats, just because -- at Tourettes Without Regrets, held on the first Thursday of each month at Oakland Metro. $15 will gain you entrance to a night of dirty haikus, rap battles, wild aerialists, burlesque, and much more. Host/emcee Jamie DeWolf puts together the ultimate performance showcase that is as weird as it is riveting. It's utter madness (in the best way).
Sign up here for our daily San Francisco email and be the first to get all the food/drink/fun SF has to offer.
Jessica Lipsky is a freelance journalist and Bay Area native who digs kitsch, but not clubs. Follow her for under-the-radar nightlife at @jessicalipsky.