San Francisco seems to be changing about as a fast as a Pacific Ocean current or Karl's foggy cover. But never fear: the City by the Bay remains one of the coolest places for unique nightlife, whether you like some spirits (uh, the drinkable kind) with your science, or want to see a seductive sideshow. You don't have to look very hard in San Francisco for a fun night that doesn't involve clubbing... but just in case you're zonked from the work week, we've done the heavy lifting for you.
Recommended Video
This Chinese Festival Is Like 'Frozen' Come to Life
Gawk at the "Fight Club of Underground Art"
Shock and delight your out-of-town guests or vanilla friends -- or relish in some amazing feats, just because -- at Tourettes Without Regrets, held on the first Thursday of each month at Oakland Metro. $10 will gain you entrance to a night of dirty haikus, rap battles, wild aerialists, burlesque, and much more. Host/emcee Jamie DeWolf puts together the ultimate performance showcase that is as weird as it is riveting. You will not see as much madness anywhere else.
Stay up late for midnight movies
The Clay Theatre in the Fillmore hosts midnight (well, 11:55pm) flicks each Friday, featuring midnight maniac staples such as The Rocky Horror Picture Show and The Room, as well as classic favorites like Pulp Fiction and Valley of the Dolls. Rumor has it that they also occasionally show XXX films, so, you know, keep your eyes peeled.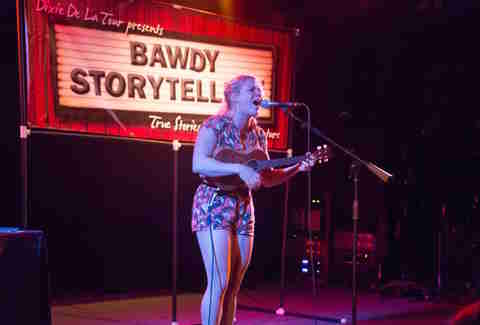 Hear true stories of sexual (mis)adventure at this monthly storytelling event, held on the border of the Mission and Potrero Hill. At Bawdy, real people (and the occasional local celebrity) share their true sexual exploits onstage, usually following a theme. Past themes include "unlikeliest places," "sex wonk,"  and "CraigsLust." Admission to Bawdy will set you back $20 -- and usually includes a raffle for sex toys. Bring a date for this unique night out -- the event's unofficial tagline is "Bawdy will get you laid!"
Discover your inner scientist while boozing it up at Exploratorium After Dark
Science rules at the recently re-opened Exploratorium, located along the Embarcadero on Pier 15. Every Thursday from 6-9pm, the interactive science & tech museum hosts a themed night of programming. Think discussions with scientists about things like self-propelling kinetic structures. Adults can also play around with hundreds of hands-on exhibits, and crawl through a pitch-black tactile dome... all while enjoying cocktails.
This restaurant/lounge/dance club in SoMa has a bit of everything the neighborhood is known for: good food, a party atmosphere, and unique gender expression. Ideal for a cool night out, AsiaSF features California-Asian cuisine and performers who dance hourly atop a runway bar. There's also a dance club downstairs.
Knock back cheap drinks and free associate at Beach Blanket Babylon
This uber-San Francisco musical revue is the perfect, campy night out for locals and tourists. The high-energy satire has a rotating script that relies heavily on puns, free association, and politics. Come for the low-cost tickets, stay for the enormous headdresses.
Located inside American Steel Studios in West Oakland, DSC is a metal-based art collective where you can learn various types of welding or work on existing projects. For a more hands-on nighttime activity, DSC is open to the public from 7-10 pm every Tuesday for sharing project plans, collaborating, and skill-building.
Drink mescal in a butterfly rainforest
The city's museum of natural history and earth sciences, located inside Golden Gate Park, is cool (in a super-family-friendly way) during the day: the California Academy of Sciences is home to the Steinhart Aquarium, a butterfly rainforest, and a planetarium.  But you can also enjoy those delights with a drink in hand and good music in your ears every Thursday at 6pm, when Cal Academy NightLife offers adults-only, discounted admission for themed nights, usually corresponding with a local event or holiday. Learn about the history of mescal at NightLife's Cinco de Mayo celebration, go to '90s throwback night, or check out the summer live music series. NightLife is a popular even,t but because each Thursday is themed, there's something new to check out each week.
Right in the heart of the Mission, Endgames Improv offers drop-in classes and inexpensive comedy shows six nights a week at Stage Werx Theatre. It's the perfect spot to catch up-and-coming, community-oriented comedy, with a variety of themed nights to suit your tastes. Try SF Tonight for improv taken from the local news, or check out the THUNDERDOME improv competition.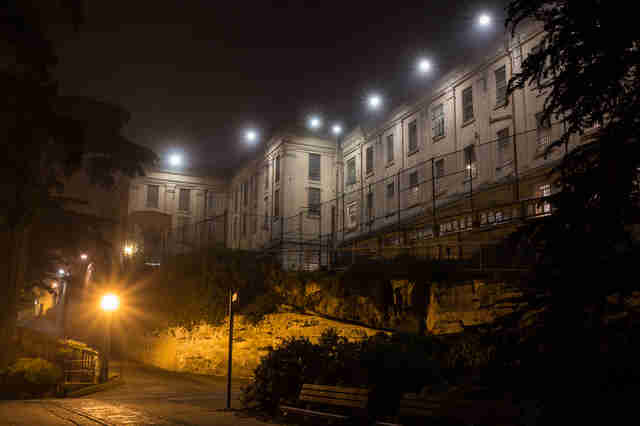 Even natives can agree: Alcatraz is pretty cool, especially if you visit at night. The former prison takes on an extra-creepy vibe on the post-sunset tour, where the stories are scarier, and the tour groups are smaller. Bust out your calendar, because the night tours sell out quickly and there are only two tours during the summer. If you're lucky enough to get on the island after dark, pack a sweater for the cold bay breeze... and maybe a pickaxe (in case you need to escape the Rock).
This "rolligious experience" inside the former Sacred Heart Church (554 Fillmore St) only convenes for Mass on Friday and Saturday, but it's the roller rink of your dreams. For $10 entrance and a $5 rental fee, you can skate to old-school funk and roller disco from 7-11pm. If you don't feel fit for the floor, but still want to get in on the action, the Church livestreams its services.
Join the recently opened Tenderloin Museum for a walking tour of the fabled 31-block neighborhood. The tour visits old gambling joints, brothels, speakeasies, clubs, and other places that once made the Tenderloin the vice capital of San Francisco. The 21+ tours begin at 6:45pm and end at bar PianoFight.
Across the bay in El Cerrito, an under-the-radar land of tchotchkes, trinkets, and toys from yesteryear is ready for your exploration. Playland has more than 30 pinball machines set on free play, as well as arcade games, carnival games, and the occasional magic show for (somewhat) discerning adults who want to escape SF and Oakland for a fun night out. From 6-10pm on the second Tuesday and fourth Thursday of each month, Playland has an adults-only, BYO food & drink event for $10 a head.
Every Friday night from 7-9pm, Circus Center holds a free open play session where you can experiment with juggling, tightrope walking, clowning, and more. The skill jam is ages eight and over, so expect some kids with your clowns. If you're specifically into juggling, a free juggling club is held on Sundays from 5-8pm. San Francisco has a serious history of circus arts, so get in on the action!
The Contemporary Jewish Museum has a quarterly after-hours event that's open to goyim, too. For $5, you can enjoy admission to the museum as well as live music, DJs, crafts, and customized drinks and snacks. Previous Jewseum events have included 1960s themes and exhibits on Amy Winehouse. The CJM doesn't have the massive hype of other museum after-hours events, making this a great, not-crazy-crowded way to spend happy hour.
See your favorite films done in drag with Peaches Christ
Love film and drag, but can't decide on which way to spend the evening? Drag queen and emcee Peaches Christ will come to the rescue with evening and midnight film showings that combine camp and class. Upcoming events include a screening of Purple Rain with drag performances, a midnight showing of Sleepaway Camp, and a showing of Mommie Dearest... alongside a contest called "Trannie Dearest."
Dig super-SF drag show, Mother
This weekly drag show features a rotating cast of fabulous drag queens from around the world, including contestants from RuPaul's Drag Race, with themed nights and tribute shows. Mother is held at SoMa's Oasis, which was opened by San Francisco drag legends Heklina and D'Arcy Drollinger on New Year's Day 2015. Check out drag stars present and future for a mere $10.
Sign up here for our daily San Francisco email and be the first to get all the food/drink/fun SF has to offer.