San Francisco Tours You'll Actually Want to Go on When Your Family Visits
When your family comes to visit, there's almost definitely going to be a time when you run out of Fun Things To Do: after all, there are only so many dinners in Chinatown you can eat, hours you can people-watch in the Haight, or visits to City Lights Bookstore you can make -- without wanting to shut yourself up in the closest local bar for the rest of the day, sans parents. Tours are a great way to keep the family busy, but not all of them are created equal: we would never suggest you get on one of those heinous quacking duck buses, for instance.
Luckily, our city is rich with history: from the Barbary Coast and Beat Poets to local distilleries and porn sets, we have an abundant past and present that make for some damn interesting outings. These tours are sure to keep you and your fam occupied. Plus, you may even learn some interesting new facts to use on that next Tinder date.
If mom won't stop lecturing you about increasing rent prices and listing all the reasons you should just move home already, take her to St. George Spirits, where you can get her good and liquored up so she'll totally see why you love the city so much (hint: it's the booze). The craft distillery is uniquely Bay Area, with artisanal products like single malt whiskey, agricole rum, absinthe, and several gins, vodkas, brandies, and liqueurs. It's guaranteed to make the rest of your day more pleasant.
Did you know that the actual city of San Francisco has its very own islands? No, they won't replace a trip to Maui, but the Farallon Islands are worth a gander. You can't exactly sunbathe, but you can check out the humpback and blue whales that congregate here (plus birds, sea lions, dolphins, and harbor porpoises!). This boat tour is perfect for the outdoorsy types... but queasy travelers beware.
When your aunt and uncle travel all the way from the Midwest and want to experience something truly San Franciscan, blow their tastebuds away with a food tour: from Mexican in the Mission to Italian in North Beach, we have one of the most impressive food cultures in the country (not to mention cocktails). It's no secret that SF has great food, so how about sharing the bounty with the gang. Just don't blame us if they want to stay.
When you think of a "red-light district," your mind may go to North Beach's array of strip clubs, but long before The Condor Club or Garden of Eden opened their doors, the Barbary Coast boasted decadence and depravity in the form of dance halls and brothels. Learn all about San Francisco's storied past on the Barbary Coast Trail's walking tours, where you'll catch a glimpse of Gold Rushers, jazz dancers, and hipsters (and we don't mean the bearded kind).
Yes, this one is real touristy, but if you haven't taken a tour to Alcatraz yet, you owe it to yourself to check it out. From 1934 to 1963, the island housed some of America's most notorious criminals, and to this day, it remains one of the world's most legendary (and feared) penitentiaries. You'll take a peek inside the sinister cells, learn about some of their most famed prisoners, and hear the actual voices of the correctional officers and inmates who lived on the island. Spooky, and definitely worth the trip.

Why bother leaving the city when we have some of the best breweries right here in our very own backyard? Your folks will likely love a trip to Anchor Brewing, a San Francisco institution since 1896. With a history like that, you're sure to get a fascinating tour... plus you'll taste a flight of selected Anchor beers. We'll cheers to that.
Anyone who's read Jack Kerouac's On the Road, William S. Burroughs's Naked Lunch, or Allen Ginsberg's Howl knows the literary significance of the Beat movement... and that San Francisco was ground zero for these writers. Check out the Beat Museum's North Beach walking tour to learn where they sipped whiskey and coffee, listened to jazz, and wrote famous literary works. Maybe you'll even leave with a renewed desire to pick up that book you've been meaning to read.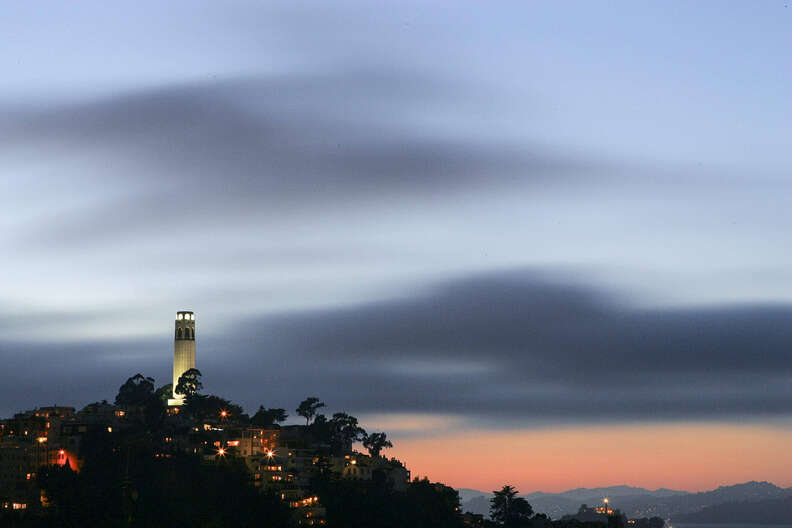 After you're done wandering around North Beach with the Beats, head up to Coit Tower, where you'll find breathtaking 360-degree views of the city, plus the chance to check out the Diego Rivera-style murals painted in 1934 that wind their way up the interior staircase. You can check out some of these murals for free, but you'll only see the murals in their entirety with a guided tour (plus, it's the only way to ride the elevator to the top of the tower for those sweeping views).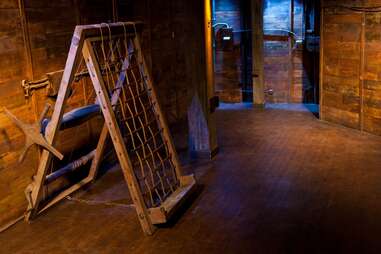 OK, so this is for a special kind of family visit (like maybe your badass cousins are in town) -- and not for the faint of heart. But if you think you all are up for it, the Armory hosts one of the most jaw-dropping tours in the city: explore facilities originally built to service the National Guard, which are now home to elaborate, cinematic sets and dark dungeons that are used for, ahem, some pretty unspeakable things... just don't tell mom and dad (and make sure everyone is over 18).
The Mission District houses the highest concentration of street art in the city. With its rich cultural history and colorful murals, you and the fam can spend all day strolling the alleyways viewing beautiful art without stepping foot inside a museum. You meet at a cafe in the Mission, then spend all afternoon ambling through the streets checking out the art. They've heard of Banksy, right?
San Francisco actually has a shocking amount of ghost tours to spook your little sis with (who knew our city was so haunted?). Head to Chinatown late at night, where you'll hear chilling tales of hungry spirits... and maybe even run into one or two along the way.
Sign up here for our daily San Francisco email and be the first to get all the food/drink/fun SF has to offer.
Eloise Porter is a Thrillist contributor who, honestly, usually just eats and drinks when her family comes to town -- come on, it's San Francisco. Follow her on Twitter @eloisepporter.