All of San Francisco's Top Parks, Ranked
San Francisco is a big playground, with a bunch of little, more literal playgrounds embedded within it. We've put the top-17 SF parks in a row to help you navigate from the bad, to the good, to the I-think-I-just-had-a-religious-experience-this-place-is-so-damn-gorgeous. Have fun and, you know, wear sunscreen.
17. Duboce Park
A sparse, patchy grass lot referred to by polite people as a "dog park," less polite people as a "litter box," and really impolite people as a "place to score drugs."
16. Alta Plaza
Alamo Square and Lafayette Park's less-gifted younger sibling. Excruciatingly forgettable.

15. Ghirardelli Square
A marginally redeeming aspect of Fisherman's Wharf, which really isn't saying much at all. Ogle at the sub-zero-temp swimmers, begrudge the Swedish tourists complaining about how hilly SF is.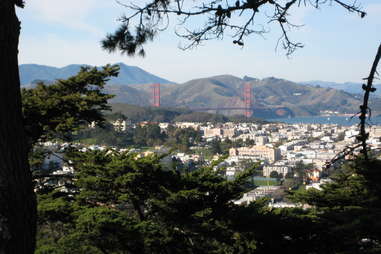 14. Buena Vista
Front-loaded with the impoverished and street kids too stoned to make it 10 blocks further to Hippie Hill. Top-heavy with windy playgrounds and some actually charming views.

13. Washington Square
A welcome yet unremarkable place to take pause beyond the clamoring North Beach/Chinatown streets. Equal parts enjoyable and annoying during the North Beach Festival. Celebrating the neighborhood is fun, but it would be nice to sit somewhere other than immediately adjacent to a greasy paper plate with someone's Golden Boy crust leftovers.
12. Panhandle
It's the handle of the pan that is Golden Gate Park. It's a site for buskers, beggars, and panhandlers. Panhandling '49ers may have traipsed through the area now occupied by this skinny demi-park. It's all of these histories, and also a pretty decent spot to collaborate with some friends on a low-maintenance BBQ. At which, if you were an anarchist and/or didn't really understand BBQ-ing fundamentals, you'd use a pan.
11. Tank Hill
As much as you may think this is your guardedly secret spot, privy to you and a handful of third dates, it isn't. If you aren't rudely unnerved by the excess of people filling up the otherwise quiet park at the next supermoon, then it will probably be the following Fourth of July, when hundreds of 20-, 30-, and 40-somethings struggle, shoulder-checking one another to see the firework displays.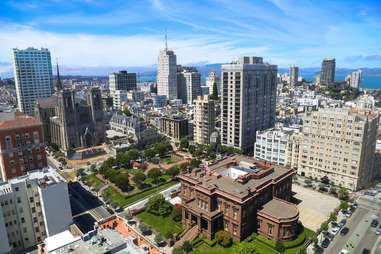 10. Huntington Park (aka Grace Cathedral Park)
Suggested uses for GCP: introduce your dog to new friends, make your morning run a little more conspiracy-minded (that one building is almost definitely a Freemason clubhouse), catch college students drinking Fireball on swings, see Aaron Paul filming Need for Speed, make a mental note to go to Top of the Mark again sometime -- maybe next time your parents are in town? Yeah, they'd probably like that.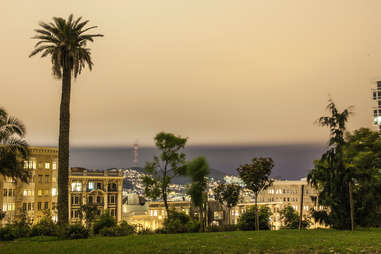 9. Lafayette Park
The covetable canine prep school of San Francisco parks, this is the ZIP code where bougie dog owners register their pets to take advantage of the extracurriculars and what it'll do for networking opportunities down the road.
And it's not half bad for the human variety either. The recently renovated tennis courts and the design-y-looking playground vie for MVP status, but the woody summit ultimately wins for its photogenic, tree trunk-framed sunsets.
8. Patricia's Green
Not really a park but you can get an ice cream from Smitten and sit near a patch of grass for a while, which is good enough for us. If you're feeling particularly liberal with definitions, you can extend your park day to include a dark ale and pickle from adjacent Biergarten.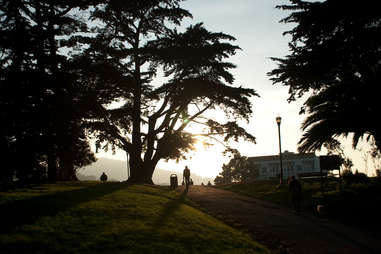 7. Alamo Square
Mysteriously always cold regardless of temperatures across the city. It's a pleasant yet likely uneventful experience for both strollers-through and posters-up, so expect to have a nice time but nothing all that amazing is going to go down here. The essence of Alamo lies in it being an open invitation to fantasize about the surrounding homes. Including the Full House house.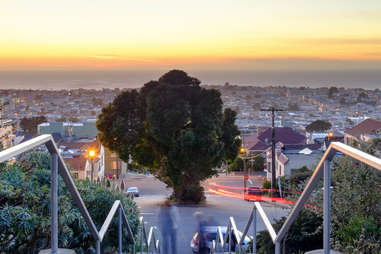 6. Grand View Park (aka Turtle Hill)
The tiled Moraga Steps take you 666ft up to a stamp-sized park with panoramic views of the city. This 1.1 acre of land is more ecologically valuable to the city than most of the other 49 square miles in that it plays host to the ever-more rarefied native plants. Some of the whimsically named species you'll find here include the Franciscan wallflower, dune tansy, bush lupin, beach strawberry, bush monkey flower, and coyote bush.
Disillusioned Tank Hill parkers, take note. This is the best-kept secret you've been looking for.
5. Dolores Park
Referred to as Hipster Hill, Dolo is [Stefon voice] San Francisco's hottest park. A sunny day is every bit as social and sloppy as a festival in the height of Indian summer -- DJs hit the nobs with the confidence of someone with an interested audience, Hey Cookie and the truffle guy build their respective enterprises one (sometimes sweeter-than-sugar) confection at a time, patrons down beer and wine by the truckload, everyone avoids eye contact with their Tinder matches, everyone also plans on going to Bender's later, and everyone parties on top of an old Jewish cemetery.
Wait, what?
Yep.
4. Bernal Hill
A coyote living anywhere in a major city is bizarre. A coyote living on Bernal Hill -- a screensaver-esque mound that's the destination for many a post-brunch, roommate-bonding hike, and surrounded on all sides by residential grid -- is something else entirely. Aside from the occasional turf war face-off with neighborhood pooches, though, she's not really interested in domestic life, so you can forget your real-life wolf-man dreams.
3. Glen Canyon Park
A chaparral terrain as classically NorCal as hating SoCal, the plant and animal life in these grounds serves as a time capsule for what much of the city looked like before major redevelopment in the 1800s. Some native species to look out for: the California blackberry, which is being edged into oblivion by the invasive and highly competitive (and not nearly as svelte as the CA variety, in our opinion) Japanese blackberry; the dramatically wind-swept, hair-tossing Monterey cypress; and the San Francisco forktail damselfly, which is just fun to say.
2. Twin Peaks
Arguably the best views in the city -- from the familiarity of the Market St lights at night, to the five bridges you're able to count on a clear day, even having the Sutro Tower at your shoulder on an overcast outing with Karl is a pretty outstanding vision.
It's also a guaranteed good place to bring a date who will no doubt be impressed by your social skills when you befriend a carful of teenagers who will inevitably offer to smoke with you.
1. Golden Gate Park
There isn't enough space on the Thrillist servers to adequately describe the extent to which GGP is the city's greatest asset, so I'll try to make this brief. The Academy of Sciences and the de Young. The Conservatory of Flowers and Japanese Tea Garden. Hippie Hill. Hippie Hill on 4/20. Outside Lands. Hardly Strictly Bluegrass. Strawberry Hill and Stow Lake. Two functioning windmills. Roller discoers. Swingers. An actual herd of buffalo.
So, yes, it has a lot of individual stuffs. But each of these is interesting enough to the SF population as a whole that they're deserving of a subsequent Power Rank of their own. So stay tuned for our next SF piece -- every buffalo in Golden Gate Park, ranked from "most likely to succeed" to "have a great summer, never change."
Sign up here for our daily San Francisco email and be the first to get all the food/drink/fun SF has to offer.
Laura Reilly is a production assistant at Thrillist. She loves the great outdoors, as long as there's Wi-Fi there. Ask her how strong the connection is at @asapreilly.