The San Francisco Non-Profits You Need To Know About -- And How To Get Involved
Devin Avery
Devin Avery
More than finding the best under-the-radar taco spot or go-to happy hour locale, giving back to the city you call home is one of the best ways to show local pride. Because of that, we've rounded up a dozen Bay Area nonprofits, ranging from food justice campaigns to local arts initiatives, so you can match your passion to the project. So do a little good, and that happy hour mule will taste even sweeter.
Before Alemany Farm became a community mainstay, it was a 3.5-acre junkyard that sat near I-280. Today, it's the largest urban farm in San Francisco, filled with produce like artichokes and strawberries, and run completely by volunteers. Their mission is to use the farmland to teach environmental education, including how food production can be more eco-conscious, as well as job skills through volunteer opportunities on the farm. The food grown on the farm is organic and provided for free to community members who pitch in their time, too.
Get Involved: Show up to volunteer at a community farm day held once every weekend.
Walking around San Francisco, you've probably seen a Precita Eyes mural even if you didn't realize it. That's because there are more than 450 of them on buildings, schools, in parks, and on utility boxes throughout the Mission District. The organization has been around for more than 40 years, working with inner-city SF communities to bring art into the daily lives of locals. Today, they still work with local kids and street artists to commission pieces and provide an outlet for creative expression in the city.
Get Involved: Take a tour of the historic murals led by artists and Precita Eyes founder Susan Cervantes every third Saturday at 11:30am. Tickets are $20 for general admission ($15 for SF residents), and proceeds help support Precita programs and operations in the Mission.
More than two decades ago, this group got its start by cleaning up Koshland Park in the Western Addition neighborhood, which had become a magnet for criminal activity. Through grassroots efforts it raised $2 million for the renovation, added an expansive community garden and learning center, and was able to tackle two other parks in the area. By 2008, Community Grows was officially born -- and since then has renovated eight parks into useable open spaces and community gardens. Today, Community Grows uses these spaces to teach kids about where their food comes from, offers healthy cooking classes, and even teaches visitors how to grow their own produce with the help of community farms.
Get Involved: Volunteer at a monthly Garden Workday, or hit up one of the fundraising events planned throughout the year, from carnivals to restaurant partnerships, where a portion of your bill is donated to help support Community Grows initiatives.
This organization fights poverty with muffins. They work with refugees, immigrants, the formerly incarcerated, and those struggling to make ends meet to break out of minimum-wage jobs through intensive Bakery Boot Camps, which leave students with the skills to pursue more advanced careers in the food industry. At the boot camps, participants learn everything from how to properly measure ingredients to the science of baking. But just turning out bakers isn't the goal. It's more about how to transfer these skills to higher-paying jobs in the food industry as a whole. The program also assists with job placement and recruitment efforts once the trainings are complete.
Get Involved: Hit up the small cafe run by Bakery Boot Camp students, place a catering order, or get tickets to one of their fundraising dinners, usually held in partnership with a local restaurant.
Imprint City takes big social events (think music festivals) and uses them to breathe new life into industrial spaces in San Francisco's Bayview neighborhood -- all in an effort to encourage economic development and support the local community. Headed by a former art consultant and founded just two years ago, the nonprofit has already brought more than 5,000 people to its events (like the BayviewLIVE Festival) as well as more than 50 artists. Besides the festivals, Imprint City's art events and projects are also designed to drum up support for SF-based artists, most prominently at The Sprayview, an outdoor art museum on Egbert Avenue.
Get Involved: You can donate to Imprint City or buy tickets to one of Imprint City's events, like the BayviewLIVE festival on October 20, or any of their other upcoming festivals.
For nearly 20 years, this organization has supported more than 200 films about queer women of color in an effort to change the film industry and have more representation on screen. Besides that, they offer a filmmaker training program and offer personal consultation, videography, editing, and production services to create films that align with their social justice values.
Get Involved: Plan to attend The Queer Women of Color Film Festival in 2019, or volunteer to help during the event.
Author Dave Eggers (of The Circle and A Heartbreaking Work of Staggering Genius fame) started 826 Valencia after several of his teacher friends in the Bay Area admitted that they couldn't provide some kids struggling with reading and writing the one-on-one attention they needed. So, he teamed up with educator Nínive Calegari to fix the problem. The mission: help 6- to 18-year-old Bay Area kids learn creative writing skills by creating books, magazines, and newspapers, as well as provide literary-themed field trips and in-school programs. Of course, they give individual support to kids as well, and have served nearly 7,000 students since starting the project in 2002.
Get Involved: Besides volunteering to work with students directly, you can also visit their Pirate Supply Store -- a whimsical spot that sells eye patches and "mermaid bait" (you can never have enough of either, really) as well as publications written by 826 Valencia students.

In sanskrit, "shanti" means peace, and that's the mission of this group. It offers help for SF-based people with terminal illnesses, life-threatening conditions, and disabilities, including in-home care, help navigating the medical systems, and emotional support. It also focuses specifically on women with cancer, those with HIV or Hepatitis C, adults with disabilities, and LGBTQ seniors. And for people in its program who struggle to find human contact, Shanti offers a PAWS program to connect the people it cares for with pets to provide them with plenty of unconditional love.
Get Involved: Volunteer to work as peer support with these individuals or assist with pet care in the PAWS program.
One in 5 people in the Bay Area are too poor to meet basic needs, like making the rent or having enough money for food. The Tipping Point wants to fix that. The organization works almost like a grantor, partnering with the most effective grassroots education, employment, housing, and wellness nonprofits in the Bay Area community, and helps collect donations and support to these programs. They also do extensive research on which organizations are the most successful, so that the dollars can have the best reach.
Get Involved: Help Tipping Point by donating to support its programs.
On any given night, more than 1,300 young people in SF are without a place to go and usually ending up couchsurfing, living in cars, or sleeping in abandoned buildings. Larkin Street Youth Services has helped more than 75,000 teenagers and young adults in San Francisco since 1984 in its effort to end the local cycle of homelessness. It does so by sending street outreach teams with food, clothing, and hygiene supplies, and offers a medical clinic and drop-in centers in the Tenderloin and Haight neighborhoods. There, young people can find hot showers, warm meals, and even internet access.
Get Involved: Join the Friends of Larkin Street, which hosts periodic social events to raise funds for the organization, like the annual Holiday Ice Skating Party every December. Even if you don't become a member, you can still grab tickets to an event.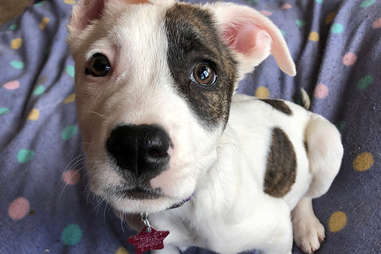 This group (run 100% by volunteers) saves dogs scheduled to be euthanized from overcrowded Bay Area shelters. Usually, these dogs are deemed "unadoptable" because they are older dogs who have been abandoned by their owners, require more training, or are just too stressed out from life in the shelter. This group puts the pups in foster homes, rehabilitates the dogs who need it, and then works to find them forever homes. In 15 years, Rocket Dog has saved more than 8,000 pups from being put down.
Get Involved: Volunteer with Rocket Dog and assist at adoption events, help plan events, and even lend a hand in managing PR on social media. And of course, you can foster a pup or offer one its new forever home.
La Casa operates a 24-hour, 365-day-a-year hotline for domestic abuse victims in the SF area, staffed with both English- and Spanish-speaking advocates. In addition to operating the help line, it offers workshops and empowerment programs for survivors and their children, including counseling and helping survivors find permanent residences. Last, La Casa serves as a vocal local advocate, pushing to educate the SF area about misconceptions surrounding domestic violence through outreach.
Get Involved: Besides becoming a volunteer for the hotline or giving money, you can also "adopt a room" at the shelter, providing it with linens, light fixtures, essentially anything to make it feel like home.