16 of the East Bay's Most Incredible Hikes
More than 1,250 miles of trails are waiting to be explored.
Mission Peak

| Flickr/Dileep Eduri
Mission Peak

| Flickr/Dileep Eduri
It's hardly a secret anymore that there are some legit reasons to live in and visit the East Bay, like warmer weather than foggy San Francisco, art collectives and galleries, and great restaurants, to name a few. Another perk that you may not know about the East Bay is that it also has proximity to incredible open-air spaces (the East Bay Park District alone is 125,000 acres), and therefore lots of amazing public parks (73) and trails (1,250 miles). And the cherry on top? The East Bay's trails aren't as crowded as a lot of the ones in Marin. And they lead to insane views, ancient seabeds, secret labyrinths, volcanoes (?!), and probably a desire to relocate if you haven't made that move already. Or at least to visit a helluva lot more often.
If you're looking for inspiration to get outdoors, you'll find it in these hikes, of which there are a range of difficulties since some days you want to trek 13 miles to reach the Bay's highest waterfall (if it cooperates), and other days you just want to meander for a few miles so you can feel like you "did" "something" (which, you will have!).
All of the distances below are calculated round-trip. Please make sure to bring lots of water (not every park has it readily available) and reapply your sunscreen often. Oh, and don't forget snacks. Not like you ever would.
Murietta Falls Trail
Livermore
Distance: 13 miles
Trailhead: Sailor Camp Trail, Del Valle Regional Park
Del Valle Regional Park is known for its five-mile-long lake where you can boat, fish, and swim, but that's not why you're going on this particular hike, which can either result in the elation of seeing the Bay Area's highest waterfall or the utter frustration of having just hiked six-miles over an elevation gain of 4,500-feet in order to see a dry rock. Truthfully, even when it has rained enough to get this waterfall flowing, it's mostly just a robust 100-foot trickle that ends in a small plunge pool, but the point is: it's the highest waterfall in the Bay Area, and you busted your ass to see it. Important things to know: 1.) Plan to make this trek during the winter after we've had a couple of days of steady rain. 2.) You'll need a permit to hike the Ohlone Wilderness Trail in the Ohlone Regional Wilderness (Del Valle is the eastern gateway to this scenic area). Honestly, even if you only see barely a trickle, the hike is gorgeous (lots of vistas year-round and wildflowers in the spring) and rewarding. The trails are marked well throughout. Just be sure to follow the Ohlone Wilderness Trail for 5.3-miles and then keep an eye out for the Murietta Falls and Stewart's Camp sign as that's where you'll turn right and walk for another mile to reach the maybe-water-maybe-not fall.
Stonewall Panoramic Trail
Oakland
Distance: 1.5 miles
Trailhead: Start at the trailhead on Stonewall Road in Claremont Canyon Regional Preserve
Sometimes all you want is a hike that's a hike without really being a hike. On those days, head to the Stonewall Panoramic Trail inside Claremont Canyon Regional Preserve, a 208-acre preserve in the Oakland Hills right behind the Claremont Hotel. The trail is pretty short, but there are four steep segments and a total elevation gain of almost 1,000 feet, plus it leads to a vista with panoramic views of the Bay. Ultimately, you'll get to enjoy some gorgeous scenery and, even though you thought you were just having a lazy hike, you'll definitely also get your heart rate up.
Palos Colorados Trail
Oakland
Distance: Three miles
Trailhead: Start in Joaquin Miller Park
This mellow hike is great for all skill levels and anyone who want an easy out-and-back hike with a little bit of elevation gain (688 feet), lots of lush landscape (including second-growth redwood groves), and plenty of shade (at least at the beginning and end). You'll start on the Palos Colorados Trail, a gorge filled with redwoods and tree limbs dripping with ivy, until you hit the Sunset Trail. From there, you'll go left to reach the Cinderella Trail (watch out for mountain bikers), where you'll climb a small hill to reach a hilltop redwood grove. Take the Big Trees Trail to get to, well, a grove of big trees (the best redwood grove in the park, in our opinion), stop and have a snack, and then head back down.
Nimitz Way to Rotary Peace Grove
Berkeley
Distance: Four miles
Trailhead: Inspiration Point in Tilden Regional Park off Wildcat Canyon Rd.
If you're new to the majesty of the East Bay Regional Park District, consider this trail your gateway drug. Paved, well-marked, and with immediate vista payoffs around every turn (starting with the parking lot), Nimitz Way is a multi-generational crowd-pleaser.
On weekends, the trail can be jammed with joggers, strollers, dogs, and families, so if you're seeking peace and the ability to stay six feet apart from everyone, go mid-week. Nearing the two-mile mark, take Wildcat Peak trail to reach the Rotary Peace Grove, a grove of giant sequoias planted to honor people and organizations that cultivate world peace. (There are plaques under the trees that name Mother Teresa, Nelson Mandela, and Martin Luther King, Jr., as well as others.) After you've wandered through the grove, keep going up the trail about another quarter of a mile, where you'll find a huge circular stone bench and some of the most stunning 360-degree views of the Bay Area you'll ever come across. If you're bringing a picnic, this is the spot to enjoy it.
Lake Chabot Loop
Castro Valley
Distance: 3.64 miles or nine miles
Trailhead: Lake Chabot Marina, Lake Chabot Regional Park
Take the paved West Shore trail (3.64 miles roundtrip) from the Marina to the dam for views of the lake and the (to be fair: very slim) chance of seeing a bald eagle soaring above the water searching for trout. This part of the hike is extremely easy and can also be done on a bike. If you're looking for something a little more strenuous, continue on from the dam to circle the lake via the West Shore Trail, to Bass Cove Trail, to Columbine Trail, to Honker Bay Trail, to Cameron Loop Trail, to East Shore Trail back to the Marina (9.5 miles roundtrip). Just keep your eyes open for trail markers because they aren't always obvious. If your dog is up for it, he can come along, but just be absolutely sure to keep him out of the water, which is full of toxic blue-green algae.
East Ridge to West Ridge Loop
Oakland
Distance: 10 miles (word on the pedometer is that the map isn't right when it says 8.2 miles)
Trailhead: Canyon Meadow Staging Area, Reinhardt Redwood Regional Park
Redwood Regional Park is home to most of the East Bay's redwoods (all second-growth since the original ones were logged). This is a sweet loop circling the prize jewel that is the Redwood Regional Park. Start at the Canyon Meadow Staging area, where you'll find the Canyon Trail. From there, it's a short hop up to the East Ridge Trail. Cruise the east side, where the unsheltered ridge provides sweeping views. Keep an eye out for fast-moving mountain bikers. Breezing through the Skyline Gate Staging Area is your approximate halfway marker, where you'll link on to the West Ridge Trail (where you have wide-open views towards Contra Costa) to complete the circuit.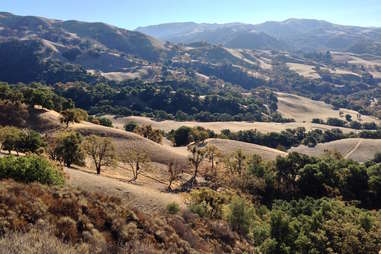 Flag Hill Trail
Sunol
Distance: 2.5 miles
Trailhead: Visitor center, Sunol Regional Wilderness
Take Shady Glen Trail out of the visitor center lot, cross the small bridge over Alameda Creek (Alameda County's largest stream), and link up to Flag Hill Trail. You'll quickly climb out of the woods as you gain elevation. It's a steep slope with a lot of switchbacks, but at the top, you'll get fantastic views across the valley, reservoir, and watershed, as well as sandstone formations with fossils of life from ancient seabeds and maybe even a bobcat sighting.
Skyline Gate Loop
Oakland
Distance: Five miles
Trailhead: Skyline Gate Staging Area, Reinhardt Redwood Regional Park
Reason No. 5,487 we love Northern California: 150-foot coastal redwood trees in our backyard. And unlike Muir Woods, these redwoods don't require a reservation in advance (although, unlike Muir Woods' old growth redwoods, these are second-growth since the original ones were logged). From Skyline Gate, walk the exposed East Ridge Trail until you hook right down into the park's valley on Prince Trail. The temperatures dip coming off the ridge, and you'll notice the immediate change in vegetation. Descending Prince Trail, hook left on Stream Trail. (From November to February, be on the lookout for wintering ladybugs who take up camp in clusters by the millions right near this trail intersection.) Take a minute to appreciate the calm and quiet among the massive redwoods. Follow Stream Trail until taking a right on Fern Trail. Get your heart rate up as you climb out of the valley on Fern Trail. When you hit West Ridge, take a right, and follow it all the way back to Skyline Gate, enjoying/Insta-ing the gorgeous views along the way.
Falls Trail Loop
Clayton
Distance: 7.9 miles
Trailhead: Mitchell Canyon Visitor Center, Mount Diablo State Park
Waterfalls in the East Bay? Maybe not in the summer and fall when it's hot and dry, but possibly in the winter and spring when they've been activated by Mother Nature. Head to Mt. Diablo State Park after a recent rainfall to see for yourself. The hike is pretty hard, and the going can be slippery if there's been precipitation recently, but there's a series of lovely waterfalls throughout all the hard work (especially if you're there during the springtime; you may be out of luck during the high-drought season). The trail loop isn't terribly complicated, but the trail names switch up a bit, so stay alert. If beautiful, flowing water isn't your thing, skip the falls and take in the Mount Diablo Summit. Usually, there are two ways to do this: 1) hike the North Peak like a badass and enjoy your hard-earned views, or 2) take the lazy way and drive up to the Summit Parking Area. But the reward is always better when you really earn it, right? Go on a clear day for visibility over 40,000 square miles that includes segments of 35 of California's 58 counties.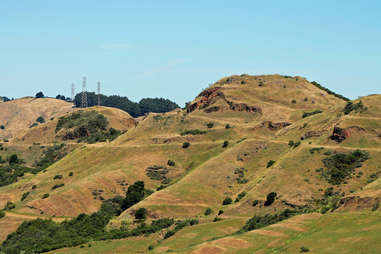 Round Top Volcanoes
Oakland
Distance: Three miles
Trailhead: Sibley Staging Area, Sibley Volcanic Regional Preserve
Labyrinths, volcanoes, and vistas, oh my! Not only is Sibley fun for bird-watching, but it's also of keen interest to geologists and science stars. Round Top peak (elevation 1,763 feet) is made up of 10-million-year-old volcanic stuff and is the result of tectonic action between the Hayward and Moraga faults. Print this self-guided volcanoes tour before you go (or hope you have cell service the entire time) to get all of the real geological dirt. At stop No. 5, you'll see a labyrinth at the base of the quarry that adds a mystical touch and gives you a moment to meditate. Get a dose of ancient history, and enjoy a beautiful hike with views of the rolling hills surrounding you.
Upper Seafoam Loop
El Sobrante
Distance: Two miles
Trailhead: Behind the park office, Kennedy Grove Regional Recreation Area
Start in the tranquil lawn area in the park's only entrance off San Pablo Dam Road. Hop onto the Laurel Loop Trail behind the park office. Follow Laurel Loop—leaving behind the eucalyptus trees in the picnic area—until you reach Lower Seafoam Trail. Curve right on the path and enjoy the beautiful views of the San Pablo Reservoir as the trail opens. Continue on and merge onto Upper Seafoam Trail, where the elevation picks up—as will your heart rate. Keep on truckin' up to the twisted and beautiful trees in the oak grove at the peak of the trail, a lovely spot to enjoy a picnic (and catch your breath). When Upper Seafoam hits Kennedy Creek Trail, hook left and bring it home. And maybe enjoy a well-earned picnic area in the shade of those aforementioned trees.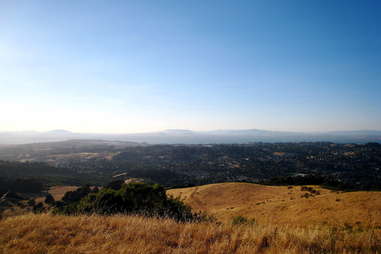 Wildcat Creek Trail - San Pablo Ridge Trail Loop
Richmond
Distance: Six miles
Trailhead: Alvarado Area, Wildcat Canyon Regional Park
Besides having arguably the coolest name of the parks, Wildcat Canyon is the perfect place for hikers who live in El Sobrante and El Cerrito. Abutting Tilden's northern-ish edge, Nimitz Way continues into this park. To take the featured loop, enter at Alvarado Staging Area and head out on (the also paved) Wildcat Creek Trail. Hopefully the creek will be full of water as you parallel it until reaching Mezue Trail where you turn left to begin your ascent. This portion is steep at times, but your hard work is rewarded as views of Mount Tam, San Francisco, and the entire East Bay open up. Turn left when you reach San Pablo Ridge Trail, appreciating the views of Mt. Diablo and San Pablo Reservoir. The descent can be steep, but the views sure are purdy. Merge left onto Belgum Trail, which will bring you back to Wildcat Creek Trail to complete the loop.
Briones Crest Trail Loop
Lafayette
Distance: Eight miles
Trailhead: Bear Creek Staging Area, Briones Regional Park
Briones is the right-in-your-backyard spot you've been missing out on. For spectacular views and a solid workout, take the eight-mile Briones Crest Trail. Head out of Bear Creek Staging Area, up and around the park on Briones Crest Trail (all the while enjoying breathtaking vistas), then back down until reaching Seaborg Trail just past mile six. Seaborg Trail will bring you back from whence you came. Briones is full of accessible hiking trails with a variety of options for shorter loops, so choose your own adventure if you're just after a quickie. If you're only going to visit this park once a year, go in the spring when all the wildflowers are popping.
Mission Peak
Fremont
Distance: Seven miles
Trailhead: Ohlone College, 43600 Mission Boulevard, Fremont, CA
Due to the popularity of this hike, Mission Peak Regional Preserve requests hikers park at Ohlone College to relieve overburdened staging areas in residential neighborhoods, and you'll understand why it's so popular once you get there—if feeling like you're on top of the world is a thing you're into. View the Santa Cruz Mountains to the west, Mt. Tam to the north, and the Sierra Nevadas and Mt. Diablo to the northeast. Winter is a great time to go for glimpses of snow-capped mountains. Spring also yields tons of wildflowers. You'll gain about 2,000 feet in elevation (it takes about five hours round-trip), so you'll definitely want to bring water and probably also snacks.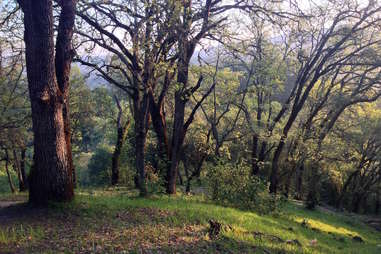 Las Trampas Loop
San Ramon
Distance: 6.2 miles
Trailhead: Staging area, Las Trampas Regional Wilderness
If you're looking for super steep hikes, you've come to the right place. Head out on Chamise Trail, then merge left onto Las Trampas Ridge Trail, hook right on Corduroy Hills Trail, right on Madrone Trail, to Sulphur Springs Trail, to Trapline Trail. Winter and spring are perfect seasons to hike here. Be sure to bring your own water because right now there isn't any available inside of the park.
Huckleberry Path
Oakland
Distance: Two miles
Trailhead: Main parking area off Skyline Boulevard, Huckleberry Botanic Regional Preserve
Due to unique soil and climatic conditions, the native huckleberry plants found on Huckleberry Path can't be found anywhere else in the East Bay. Even better? Huckleberry has blossoming plants year-round (many of which are labeled with names and facts), so you don't have to wait until spring to cash in on the goods. This trail is short and sweet, but it's also very narrow, so be prepared to step aside for others. You're also going to want to go to town with the bug spray before you set out.
Big C Hike
Berkeley
Distance: 1.25 miles
Trailhead: It's poorly marked, but find the parking lot behind Foothill (off of Cyclotron Road) and go to the very end of the lot and make a U-turn at the only uphill path (near the southeast corner).
This is actually a mildly strenuous hike since you gain about 1,000 feet of elevation, but the payoff is 1) you get to see THE ENTIRE BAY AREA, literally, North Bay, SF, all of the East Bay, and 2) you'll get to see UC Berkeley's Big C up close and personal, which the charter for the school is buried underneath. Also a cool side stop on the way: There's a trail split mid-way up and if you go right it'll take you out to Tightwad Hill where students/alums without game tickets get a not-bad view of Cal football in action right next to the victory cannon. Oh, and there's a swing!
Daisy Barringer is a SF-based writer who has never appreciated all of the Bay Area's hikes as much as she does right now. Follow her on Instagram @daisysf to see where she goes next.

Annie Crawford is a freelance writer living in Oakland, CA. Follow her @ReinaAnnie.