The Best Comedy Clubs & Shows in San Francisco
Legend has it that there once were as many as seven full-time comedy clubs running in San Francisco -- that's one for every night of the week, if our math checks out. These days, we manage with fewer than half that number, but you'll be happy to learn that the comedy scene itself is thriving: we kicked over a few stones and discovered plenty of solid comedy nights in this city -- perfect if you're looking to get your laughs on.
SoMa
Sometimes there's a thing that defies reason and is also so perfect for its place and time, and BrainWash is that thing. In a city hellbent on hyper-simplification, there is no better testament to an "eff it, do everything" mindset than a laundromat-plus-cafe-plus-live-event space. This place boasts a robust roster of diverse comic talent, and it's been around for more than twenty-five years. Seven nights a week, ladies and gentlemen: Wash. Fold. Laugh. Check out their live webcams.
Upper Haight
This place is many things to many people. Mostly, it's a solid bar at the tippy-top of Haight St. However, it's also a haven for bizarro, high-concept comedy showcases that'll make a scene kid out of even the least likely comedy fan in your cadre. Jury Duty, for instance, is a show that happens most Mondays and involves comedians arguing cases in defense of and against pointless topics on the fly -- so comedy lawyers is a thing. Milk Bar rocks a party atmosphere, and the shows feel almost like they aren't even really supposed to be happening. See also: Milkin' It, a free stand-up show that comes around every second and third Tuesday.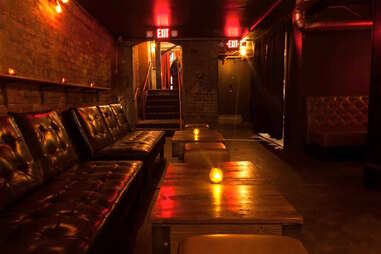 Tenderloin
Not a comedy club per se (there are only two full-time clubs in the city), The Basement is more a lounge that features comedy on the regular. It's cool, though: with open mics on Thursdays and a mixed showcase of national and local talent every Saturday, it's a fine spot to post up at. Think reclaimed wood whiskey bar with bonus points for its storied history as a former jazz club.
Mission
OK. This one is a show, not a venue. The venue is the Sports Basement on Bryant, but it feels weird to list the Sports Basement on Bryant as a venue for comedy. That said, the second Friday of every month you can catch GTitG there -- in the basement of said Basement. Calling cards are a diverse lineup of great talent, free admission, proximity to rental ski gear, and -- perhaps most importantly -- free drinks.
North Beach
Cobb's is the kind of place a national headliner will book when they come to town. It's a Live Nation-owned heavyweight, clocking in with the sort of 400-person capacity the touring comedian demands. There's a two-drink minimum, which feels annoying at first, but who are we kidding -- you're going to buy two drinks. Beyond the tours, Cobb's local showcases are a great chance to see some of the city's top talent, local comics who bust their asses at Cobb's little sister, Punch Line.
North Beach
This place by no means does comedy exclusively, but they consistently do it well. Doc's Lab is a small space (in a basement, natch) with a chill atmosphere, serving up regular chances to see some of the city's brightest craftsmen along with a solid menu of eats. Check the calendar for the occasional multi-night run of big-shot national talent that they occasionally snag, but the regular free shows on Mondays are worth far more than the price of admission.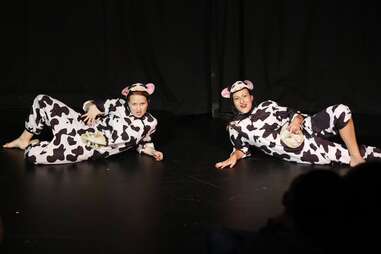 Tenderloin
As this list goes, PianoFight has one of the most anemic stand-up calendars you're likely to find, but it's also one of the best places to catch an excellent set. A relative newcomer to the city arts scene, PianoFight is a collectively run space that promotes all sorts of work, including sketch comedy, drama, and music. It's also just a damn cool spot -- there's a live jazz bar and two theater spaces. Relevant to our interests: The Tabernacle, a weekly meeting of local comedy juggernauts Matt Lieb, Torio Van Grol, Steve Post, and Allison Mick, who hold court with guests of varying repute.
Financial District
Picture every comedy club from every movie ever. Now picture yourself in the audience. Like Cobb's, Punch Line is a capital-C comedy club. You're looking at polished material that's geared towards a crowd with diverse interests and thresholds. You're also looking at a line to get in -- so it's prime for a date night. The space is just under half the capacity of Cobb's, making for a more intimate experience. With shows six nights a week, including a weekly local showcase, this place is the definition of a safe bet.
Mission
Rite Spot Café, one of the city's most distinctive (some might say best) dives, programs comedy every blessed Monday. Of particular interest is Jane Harrison's Misery Index, which offers the evergreen delight of comedians reflecting on the collapse of society. Laugh at our collective demise while wrapped in the comforting arms of a cheap drink.
Mission
Mutiny is a delightful confluence of live performance space and media production house. As the name suggests, they pump audio out into the world. As the name doesn't suggest, much of that audio is comedy, recorded live at a place that kind of feels like a storefront. Mutiny is also kind of a scene unto itself: the space is small, the drinks are brownbag, and the vibe is cool.
Sign up here for our daily San Francisco email and be the first to get all the food/drink/fun SF has to offer.
Casey Childers is a one­ man content mill and the punchline of every joke he's ever lived. Unfollow him at @cachilders. Big thanks to @OJPATTERSON of @CourtingComedy and @supatrashedbros for the assist.