The Best Time to Stargaze in San Francisco Is Now, Here's Where to Do It
Don't miss out on the Bay Area's stellar stargazing.
When you think of San Francisco, you probably don't think of stargazing. After all, even on the clearest night, the city has a fair amount of light pollution, and, well, it's not like this town is exactly known for its endless night skies thanks to our pesky and persistent (but lovable) fog.
Still, don't let that deter you from seeking out the wonders of the night sky. If anything, our weather is extremely fickle, so it's not unheard of for the fog and clouds to be there one minute and gone the next. SF also has some amazing urban parks and large amounts of open land near the ocean, which helps with star-sighting.
And, if you're looking to play amateur astronomer (or UFO spotter), the best time to do so is late August to early October when the fog tends to go on holiday and the skies are clear. When that happens, you can see all of the classics (Big Dipper, Little Dipper, Orion…), plus some you may have never seen, such as the Draconids Meteor Shower.
If you're curious about what you might see in the sky above the Bay Area on any given night, this website will tell you which planets you may see, and the Academy of Sciences has a seasonal "Skywatcher's Guide" with moon stages, stars, and more.
Now, for where you'll want to go to actually wish upon a star or two, we have some recommendations below and a tip: Remember to dress warmly and bring a flashlight or headlamp to help you navigate trails.
Stargazing Spots in San Francisco
Corona Heights
This park that sits at the top of the hill between Buena Vista Park and the Castro is most visited by enthusiastic pups eager to play in the fenced-in dog park, but it also offers some of the most spectacular views of the city if you're willing to put in a minimal amount of "hiking" effort. A somewhat rocky (so, again, a headlamp or flashlight is needed at night) one-mile dirt path leads up to the summit, which sits 520 feet above sea level and offers 360-degree views of the city. And you know what 360-degree views mean—hopefully, an endless sky full of stars. And the park doesn't close until midnight, so you'll have plenty of time for star-spotting even in the summer.
Seacliff
The Land's End trail, which winds along rocky cliffs that hover about the Pacific Ocean, is one of SF's most popular urban hikes for good reason—stunning views of the Golden Gate Bridge, Headlands, and Sutro Baths—and though you'll only be able to see the former at night, what you'll get instead, thanks to minimal light interference, are views of the night sky to the west and the north. Go right before sunset for maximum California star counting enjoyment. The area is accessible 24 hours a day, but parking lots close at sunset.
Presidio
If you want potential starlight with very minimal effort, head to the Main Parade Lawn in the Presidio, which has views of the Bay and the Golden Gate Bridge. It might not seem like the most obvious place because the sprawling grass field is surrounded by historic buildings, but it is usually pretty dark at night. Pretty much any of the low-light areas in the Presidio will potentially be good spots for stargazing, including Crissy Field, Tunnel Tops, and Immigrant Point.
Park Merced
If you take your stargazing seriously, head to SF State's Observatory, which is open to the public and free two or three nights a week during the school year when the skies are clear. There are several telescopes on the roof where you can see different star clusters, phases of the Moon, Saturn's rings, and Jupiter's four moons, all depending on the time of year, of course.
Golden Gate Park
It makes perfect sense that the highest point in Golden Gate Park, Strawberry Hill, which rises 430 feet above sea level, is an excellent spot for stargazing. The hill, which is surrounded by Stow Lake and accessible by two bridges, is wooded, but there are still some pretty spectacular views of the city at the peak, and thanks to the fact that the park has very little artificial light, the chances of seeing stars on a clear night is pretty good. Sadly, the observatory that was built on the summit in 1891 and visited by people in horse-drawn carriages was destroyed in the 1906 earthquake. But fortunately, Golden Gate Park is open 24 hours a day, as is the parking lot by the Stow Lake Boat House.
Twin Peaks
Twin Peaks is the second highest spot in SF (922 feet in elevation) and has amazing 180-degree views of SF and, if you're willing to hike up to the top of one of the peaks (and deal with the wind), 360-degree views. The potential for stargazing is a little hit or miss because the city lights do twinkle in the distance, but on a clear night, you'll likely get lucky. Any spot with a view like that is going to attract a decent amount of people at night, but most people don't leave the parking lot. Just be sure not to leave anything in your car because, unfortunately, it's renowned for smash-and-grabs.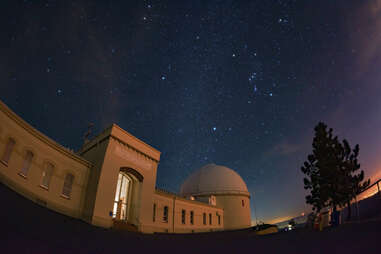 Stargazing Spots Just Outside San Francisco
Oakland Hills
Chabot is home to three large telescopes that sit on an observatory 1,500 feet above the Bay, including a 36-inch reflector telescope, a 20-inch telescope that is the largest refractor in the western United States, and an 8-inch Alvan Clark refractor, the original 1883 instrument donated by founder Anthony Chabot. You can look through them every Friday and Saturday night from 7:30 to 10:30 pm, weather permitting.
Distance from SF: 30 minutes
Mount Hamilton
This peak in the South Bay reaches 4,265 feet into the sky and is home to the world's first permanently occupied mountain-top observatory, which the public can visit three to four nights a month for a four to six-hour tour that includes a visit to the mountain's largest telescope, the 3-meter Shane Telescope, and the historic 36-inch Great Refractor Telescope. The observatory is about a one-hour drive from San Jose, and although there is growing concern about the amount of light pollution, you can thank your lucky stars that it's still less light-polluted than many other observatories.
Distance from SF: 2 hours
Clayton
You'll have to plan an overnight visit if you want to gaze at the stars from this 4,000-foot tall peak in the East Bay, but it's a total bucket list camping spot and one of the tallest peaks in the Bay Area, so you'll be above the lights with a clear view of the sky. On clear days, you can see as far as 200 miles away, including 35 of California's 58 countries, including, if the weather cooperates and you have a good pair of binoculars, Yosemite's Half Dome.
Distance from SF: 1 hours 30 minutes
Mill Valley
Mt. Tam's elevation of 2,579 feet means daytime views of the Farallon Islands 25 miles out to sea, the Marin County hills, San Francisco Bay and City, the East Bay, Mount Diablo, and on rare days, the Sierra Nevadas. At night, it sits above the light pollution of the Bay, which means excellent views of the solar system. Like Mount Diablo, if you want to check out the night sky, you'll need to camp overnight because the park closes at sunset.
Distance from SF: 30 minutes
Daisy Barringer is an SF-based freelancer who definitely visited all of SF's best stargazing spots in high school, though it likely took copious amounts of Visine for her to truly appreciate the view. Follow her on Instagram
@daisysf
.