The Weirdest Places You Can Spend the Night in California
Sure you could stay in a hotel (boring) next time you go on a California road trip, but why on Earth would you do that when you could sleep on an ocean liner? Or in a caboose?? Or, you know, inside a HUMAN NEST???
That's right: there are a whole bunch of weird places you can sleep in (and on) in this cool state of ours. Get ready to have the way you road trip forever changed.
Big Sur
Per night: $150
Some might think of this as a tree house, but the Treebones Resort in Big Sur actually refers to this one-of-a-kind "room" as a "human nest." You'll climb a ladder to get inside (with your sleeping bag and pillows) and sleep on a full size futon mattress. And it's not weatherproof, so you're pretty screwed if it rains. And there's a two-night minimum, so if after one night your back is so sore you can't move, you're totally stuck. But seriously, thanks to the woven wood, it really is just like sleeping in a nest. And the views are unbeatable. Plus, there's a lodge restaurant so you won't even have to get up early to find your own worms.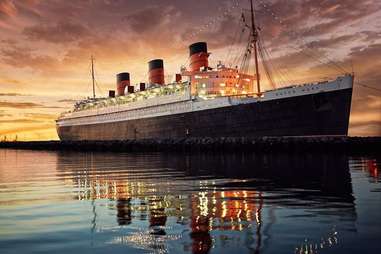 Long Beach
Per night: Approx. $109-$209
The Queen Mary took her maiden voyage in 1936, departing from Southampton (England, not New York, in case that wasn't obvious) and was considered one of the grandest ocean liners in all of the land. When WWII began, she was ripped of all of her amenities (bye bye cocktail bars) and transformed into the largest and fastest troopship there was. Good news for us, she was returned to her original state in 1947 and has been a floating hotel since the late '60s. There are 346 guest rooms, a bunch of restaurants, and bonus! She's supposed to be haunted. Plus, if you stay there, you can sleep in the same stateroom as Audrey Hepburn, Winston Churchill, or Dwight Eisenhower.
Culver City
Per night: Starting at $40
This Airbnb was originally an airplane machine shop, but now it's been "lovingly converted into an artists' enclave and performance studio" by someone who definitely goes to and talks about Burning Man a LOT. There are four bedrooms, a shared living room with indoor traveling Spider Man rings, and a gigantic 5ft disco ball. There are also bikes to borrow, a fire pit, pingpong, a communal kitchen, and "plenty of hula hoops." Of course.
Dunsmuir
Per night: Starting at $110
All aboard! Live out you Boxcar Children childhood fantasies at this motel where everyone sleeps in a caboose. Dunsmuir used to be the spot where additional locomotives were added onto the train to push them up the hill to Shasta ("I think I can, I think I can…"). Then in 1968, a couple of descendants of pioneering railroaders decided to transform the cars into comfy rooms. Eat dinner in a swanky old dining car before taking your caboose back to your… yeah, you get it.
Point Richmond
Per night: $395-$425
East Brother Light Station was built in 1873 and isn't your typical lighthouse because 1) it's not round and tall, and 2) it overlooks a bay, not an ocean. Still, it's really pretty and has a lot of history. The Coast Guard almost destroyed it in the 1960s, saying it would be easier to maintain a light placed on a steel tower. Luckily, it was preserved and now you can stay in one of four bedrooms inside of it. Just don't expect a shower unless you're staying for more than one night since the only fresh water on the island (yes, you have to take a boat there) is collected in a cistern that's part of the original structure.

Plumas National Forest
Per night: $69
There are a few fire lookouts you can rent in California, but Black Mountain (built in 1934) is by far one of the most stunning. And we're not even talking about the structure, though that's pretty cool, too, since it's basically a cabin set on a tower 10ft above the ground. But the views. Oh the views. You're above Honey Lake, can see past the Skedaddle Mountains to the Great Basin, and pretty much feel like you're on top of the world. And there's electricity! But, uh, no water. Reservations are only available from Memorial Day through October.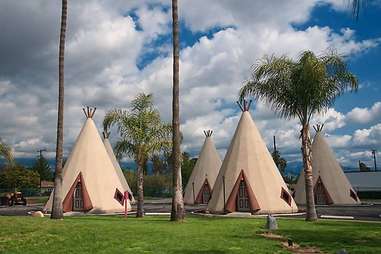 San Bernardino
Per night: Starting at $88
The Wigwam Motel was built in 1949 and is right along the popular Route 66. At the time, seven of these motels were built, but only two others remain (Arizona and Kentucky). You'll stay in one of 19 30ft-tall teepees, all of which bizarrely have a bed, TV, fridge, A/C/heat, and Wi-Fi.
San Francisco
Per night: $2,000
If you want to stay in America's most famous abandoned prison, you're going to need two grand and a lot of luck since overnight guests are picked from a lottery of applications (accepted between November 1st and 30th). The good news: that two grand includes up to 35 people AND dinner, which is cooked for you on a grill. Also, a park ranger will show you stuff those regular day visitors never get to see. Like tunnels! At night, you'll all sleep in cots covered with a 4in foam mattress in cellblock D. And even if you hate it, there's no escaping until morning.
Sacramento
Per night: $136-$550
At 285ft, this riverboat with a paddle wheel is a little smaller than the Queen Mary, but is still cool in her own right. She used to do a daily trip between SF and Sacramento in 1927, a voyage that took 10 and a half hours and included booze (during the Prohibition!), jazz, gambling, and fine dining (a sirloin steak was a buck). The Delta King was also recruited to serve in WWII, but after the war, she was left in the Bay until 1984, where she was rescued after being partially submerged for 15 months. Now, she's a floating hotel with 44 rooms and two restaurants. However, while she's been restored to her original beauty, prices reflect the modern era with a grilled ribeye going for $32. You can't win 'em all.
Los Alamos
Per night: $245-$275
The Victorian Mansion Bed and Breakfast looks just like you'd expect on the outside: a gorgeous 1864 Victorian. On the inside, however, things get a little more intense with six themed suites, the coolest of which is the '50s suite, which has a hot tub, fireplace, and a Cadillac bed parked "at the drive-in." Finally, you can do it in the backseat without worrying about the cops showing up.
Morongo Valley
Per night: Starting at $137
Hey dude! So… they advertise it as a "Love Nest" on Airbnb, but it's a room "set high up in the barn" which, uh, makes it a barn loft. Still, we think that sounds cooler than a love nest, and there's a huge private deck, tons of animals on the ranch, a saloon with saddles for bar stool seats, an adult swing (that is way less naughty than it sounds), hiking, pool, pingpong, and horse shoes.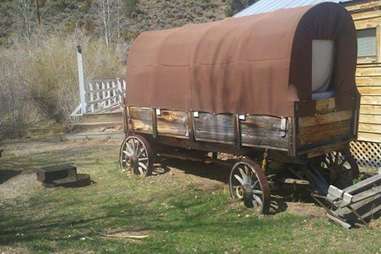 Bridgeport
Per night: $34
This old-fashioned camp town has cabins and tents, but you're going to want to stay in one of the creekside covered wagons. Inside the wagon, there's a double bed (you can rent sheets or bring a sleeping bag), and outside there's a picnic table and fire ring. Stay here on your way to Yosemite, Virginia City, or Mammoth Lakes and find out just what it was like for Laura Ingalls Wilder and her family, minus the blizzards and malaria.
Sign up here for our daily San Francisco email and be the first to get all the food/drink/fun SF has to offer.
Daisy Barringer is an SF-based writer. The weirdest place she's ever slept was a tree house in Burlingame. Follow her on Twitter @daisy.