It's that time of year again when a mass exodus of hippies and hipsters (and, you know, regular folks) leave San Francisco to spend a week half-naked and "finding themselves" in a dusty prehistoric lake bed they've turned into "a temporary metropolis dedicated to community, art, self-expression, and self-reliance." Yup, that's right: Burning Man is back.
Well over 67,000 people attended the Burn last year, and while it's tempting for those of us who don't partake in the hedonism to spend the entire week rolling our eyes at those who do, we suggest that you be a little more productive. Thirty-nine percent of Burners in 2015 were also Californians, so spend your Labor Day weekend doing all of the SF things that're so much better when the Burners aren't here.
Stay in the city all weekend
The best part of living in San Francisco is often escaping the city for sun and fun on the weekends. But when a good portion of the City heads to Nevada desert for a week, an empty San Francisco is exactly where you want to be. Yes, even if Karl insists on blanketing the city with fog the entire time.
Eat brunch at Zazie
Sure, there'll probably still be a wait at this French bistro in Cole Valley, but the line for miracle pancakes and eggs Monaco is pretty much guaranteed to be substantially shorter even if you show up at noon with a group of six. Take your time in the back garden, then walk off your meal in the Haight, where the sidewalks will be slightly freer of Burners.
Ever since Bon Appétit named this Inner Richmond spot "Bakery of the Year" because of the buttery and flaky croissants, the lines have been around the block. That means the time to go is when all of your friends are waiting in line to get into Black Rock City.
Picnic off the grid at Fort Mason
Who needs art cars when there are food trucks? Spend Friday night eating food from over 30 vendors. Plus, there's live music and a couple of bars and, best of all, you get to sleep in your own bed afterward.
Do you know who loves to wait in super-long lines to get Bi-Rite Creamery's hand-made small-batch ice cream? Hipsters. Do you know who loves to go to Burning Man? Hipsters. In other words: Burning Man is the perfect time to get a double scoop of salted caramel and enjoy all the free lawn space at Dolores Park. Talk about soaking up summer.
Park everywhere
There are only a few times of year when you can park wherever the hell you want and this is one of 'em, so take advantage (also, street sweeping and permit parking rules aren't enforced on Labor Day, so you leave your car in that killer spot). Come September 6th, the streets are going to be filled with people double parking and unloading all their dust-covered playa crap.
Order pancakes at Mama's
Even tourists know to line up for the famous brunch at Mama's in North Beach, but with most of the city surviving on MREs, beef jerky, and no sleep hundreds of miles away, this is the time to get your Mama's blueberry pancake fix. You may even be able to sleep in a bit before the line starts.
Now you can finally go to this adorable beer garden in Hayes Valley and not spend the entire time just waiting in line to get your next beer. Order up a couple rounds of German suds and spend some serious time lounging in the sun.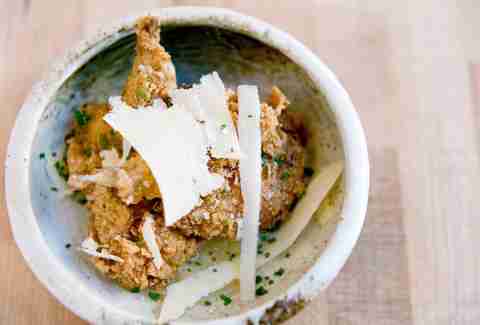 You've been wanting to eat the dim sum-style small plates at State Bird ever since it opened in 2012, but with only a few dozen walk-in spots and people lining up before it even opens, you've repeatedly put it off. Burning Man is the time to stop procrastinating and eat one of the best meals of your life, then brag about it to your Burner friends when they return from the desert.
Explore the Exploratorium
You don't have to go to a dusty desert to find cool, interactive art that will challenge your perception and feed your curiosity. The Exploratorium is 330,000sqft of hands-on exhibits that are as cool as anything you'll see on the playa. You can even wear furry boots and goggles if you really want. (Except, seriously: please don't.)
Learn how to AcroYoga
If there's one things Burners love, it's doing yoga and acrobatics at the same time (usually in public, showoffs). But first, they have to learn to fly or base. If finding a group of acroyogis in the park is too close to the Burn, head to one of the dozen or so yoga studios offering classes -- all of which should be very, very, very empty since the regulars are exercising their trust muscles while half-naked in a dust bowl.
Savor a morning bun from Tartine
Before you die, it is imperative that you eat a morning bun fresh out of the oven at Tartine Bakery. There's usually a line, but it should be shorter the first week of September.
Hang out in Dolores Park
Fact: Dolores Park kind of sucks (it's crowded, there's trash, and the bathroom line... we just can't). Other fact: it will suck a lot less when all of the hula hoopers and jugglers are hooping and juggling elsewhere.
Go to the rock climbing gym
Rock climbing is super-fun and great exercise, but there's nothing worse than waiting around at the gym to climb a wall. The good news is that the same people who go to Burning Man are the ones who fill up SF's rock climbing gyms. While those climbers spend the week on the playa with absolutely nothing to climb except the occasional piece of art, this is the perfect time to climb and boulder in peace.
Make new friends
If you're not at Burning Man, there's a good chance it's because staying up all night, dancing, and doing drugs (or not, we hear drug use isn't a required activity) with people who wear ridiculous costumes and take themselves super-seriously doesn't sound like a good time. Well guess what? Those people are all out of town, so you can meet new peeps and feel confident they'll never give you a "Burner Name" or refer to you as their "Playa Family."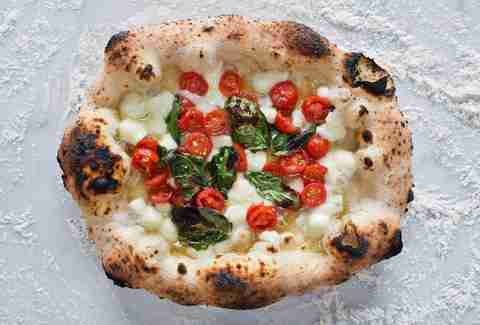 Eat the best pizza in town
Una Pizza Napoletana in SoMa is all about authentic, Neapolitan pies made in a huge wood-fired brick oven. We'd eat it every night if we could, but it's only open Wednesday through Saturday, there's always a long-ass wait, and when the dough runs out, the shop shuts down. Which is why Burning Man is the best time to get in on that delicious pizza action.
Throw a bonfire at Ocean Beach
If you're feeling a little left out that you're in the Bay and all of your friends are playing pyro in the desert, just head to Ocean Beach where you can burn a few things (except just wood and newspaper) of your own. While you're likely to have company on the beach, we promise you won't be surrounded by 60,000-plus of your nearest and dearest.
Sign up here for our daily San Francisco email and be the first to get all the food/drink/fun SF has to offer.