6 Reasons to Drive to Petaluma, California
Just an hour north of San Francisco, this undiscovered small-town wonder has got everything from Hallmark-movie vibes to some of the best food in the country.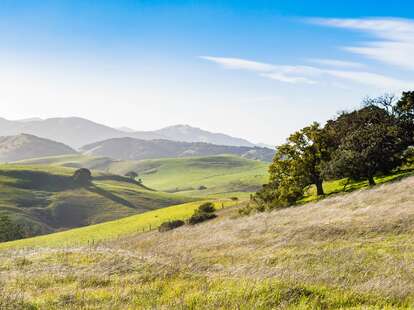 Located in Sonoma County in the North Bay region of San Francisco, Petaluma first emerged as fertile farmland along the Petaluma River during California's Gold Rush, at one point known as "Egg Capital of the World," and "Chickaluma" for its successful chicken-processing plants. Today, Petaluma uses those eggs in Michelin-starred, farm-to-table meals—but there's more to Petaluma than its chickens.
The city looks like it could serve as the backdrop of a Hallmark movie, with a plethora of antique stores, apothecaries, rustic wineries, and even a pie shop in the heart of downtown. From California beer history to French-style cheeses and a plethora of outdoor activities, here are six reasons to make Petaluma your next day trip (or rent an Airbnb for a fun weekend getaway).
The farm-to-table scene is out of this world
Petaluma's agricultural history dates back to the early 1900s, and today, it's brimming with amazing restaurants—from simple sandwich shops to one-of-a-kind, farm-fresh experiences. You'll be able to sample artisan cheeses, organically grown heirloom vegetables, all-natural free-range poultry, and obviously, fresh-off-the-farm eggs.
Start at Luma Bar & Eatery, a newly opened restaurant with a plant-based menu focused on ingredients grown in Sonoma Country. It's located in the former Dempsey' brewpub location, and it's the sister establishment to Petaluma's beloved oyster bar and seafood restaurant, The Shuckery, founded by siblings Jazmine and Aluxa Lalicker.
Make sure Street Social is also on your dining list. With just 300 feet of dining space, this spot makes you feel like you've stumbled across a secret culinary hideout. The idea is to highlight seasonal and local fare, with a menu that changes every Tuesday and a wine list that pulls from California producers. There are only six tables in the restaurant, so plan ahead and make a reservation.
Foodies will also love the pastries and quiches that Stephanie Rastetter, owner of Water Street Bistro, begins preparing each morning at 4 am. And no Hallmark town could be complete without its own pie spot—Petaluma Pie Company has sweet and savory pies made with all local and organic ingredients. Grab an Apple Pecan Crumble, or opt for a main-course Chicken or Beef Pot Pie, and enjoy at one of the shaded tables on the patio.
Petaluma's Michelin-starred restaurant, Stockhome, serves Swedish street food—Shrimp Skagan, wienerschnitzels, and kebabs—using the local, farm-sourced ingredients, and it's one of the most adorable spots we've visited.
Take a swill from the local wine, beer, and spirits scene
You're in wine country, and Petaluma's can compete with some of the most renowned wineries in Sonoma County. The grapes grown here have a unique climate of cool wind and rich soil, so plan on trying pinot noir, chardonnay or syrah from a Petaluma Gap winery, available at a number of local wineries, cellars, and tasting rooms.
Brooks Note Winery recently opened a downtown tasting room set in a historic, century-old building. This hidden gem is set along a stretch of Petaluma Boulevard better known for auto body shops than fine wine, and it's less than a 10 minute walk from downtown. Their wines highlight the surrounding Petaluma Gap AVA and other unknown corners of California wine country.
If you prefer spirits, Barber Lee Spirits is an award-winning distillery known for its Gravenstein Apple Brandy and Absinthe Blanche, as well as traditional favorites like a Single Malt Rye and Heirloom Corn Bourbon. Barber Cellars comes from the same family, with grapes that are dry farmed using non-interventionist winemaking techniques, and a tasting room housed inside the historic Hotel Petaluma downtown.
Don't worry beer drinkers, we didn't forget you. Lagunitas' Petaluma taproom and brewery is another must, where you can try Lagunitas favorites as well as one-off specials, plus a food menu with wings, burgers, tacos, and sweets. They also offer brewery tours and live music.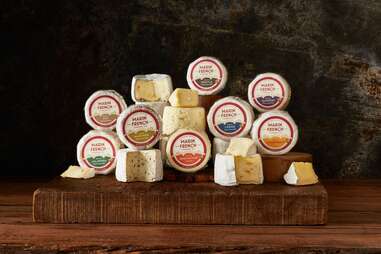 Sandwiched between Sonoma and Marin counties is Marin French Cheese Co., founded in 1865, it holds the title of oldest cheese company in the country—and still utilizes the same cheesemaking techniques that the owners first championed. Stop in for some small-batch camembert or triple creme brie, then take your selections to one of the on-site picnic tables or bring a blanket and find a peaceful spot along the lake. is built on a foundation of history, time-honored techniques, and a passion for quality. Our story begins in 1865, when a dairy family purchased a 700 acre farm amidst the rolling hills of West Marin County in Northern California. Our classic French-inspired, California-crafted cheeses have been continually made for over 155 years in the same historic creamery that is Marin French Cheese Co. We use only the freshest local milk from Holstein, Jersey, and Guernsey cows to produce cheese in small batches using traditional cultures that coax a distinctly coastal California character and flavor into every wheel.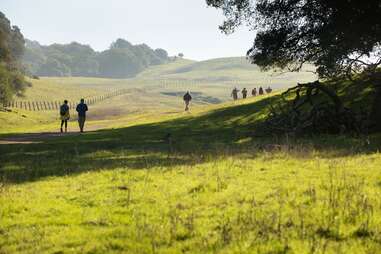 Explore the great outdoors
There are endless options for outdoor adventures in Petaluma, from kayaking or paddle boarding along the Petaluma River, to biking and hiking along the hillsides. Our favorite is the Petaluma Marsh Kayak Tour with Clavey Paddlesports. It starts on the Petaluma River, and you'll make your way to the marsh, exploring the narrow sloughs that are accessible only at certain tide levels. In a single or tandem, touring-style kayak (appropriate for beginners), paddle your way through grasses, rushes, and reeds where birdlife and waterfowl are abundant.
You can also rent a paddleboard from Petaluma Stand Up Paddle, take a mini-lesson, and paddle away on the Petaluma River. Their shop is right on the river, so you can launch from there. They also offer guided tours on paddle boards or kayaks, including a six-mile, two-and-a-half hour march exploration.
If you prefer to take in the outdoors on foot, head to Helen Putnam Park, where you can traverse six miles of grassy hillsides and oak-filled woodlands, unpack a picnic, or cast out a line into the fishing pond. There's also 165 acres of wetlands to explore at Shollenberger Park, with walking and cycling trails, plus a fishing pier.
Shop for a one-of-a-kind souvenir
Petaluma is home to more antique stores per capita than any other Bay Area city and visitors can pop into stores housed in architectural gems from the 1800s. Robindira Unsworth's namesake studio features her sustainable jewelry designs made from natural stones and metals. Alongside her handiwork, find a well-curated collection of home decor, fine art, and apparel.
If you're looking for a Schitt's Creek-inspired spot, Soup Cauldron features Three Sisters Apothecary's all-natural, sustainably-packaged soaps, shampoos, and body bars that not only smell incredible with scents like mission fig and honey, but also feel luxurious. In the Making is a hidden gem found in American Alley, with heritage leather bags and heirloom jewelry that are handcrafted onsite by owners Jenn Conner and Siri Hansdotter.
Hit the town after dark for a memorable show
From concerts to theater, there are plenty of entertainment options in Petaluma. Enjoy an outdoor concert in the Theatre District, or take in popular seasonal events like the Lighted Boat Parade that chugs down Petaluma River each December (look out for Santa, who makes his annual appearance by boat, too).
Cinnabar Theater presents an eclectic mix of live performances, including musicals, comedies, dramas and operas. Or, try the Petaluma Shakespeare Company, which is Sonoma County's only free Shakespeare performance group, working in collaboration with the Phoenix Theater and Green Music Center.
If you are looking for live music, head to The Phoenix Theater, which opened as an opera house in 1904. Today, the live music venue hosts renowned musicians and local community performances. The Mystic Theater, once a Vaudeville entertainment venue, is a premier Bay Area music venue that hosts musicians from around the world.
Danielle Braff is a Chicago-based freelancer with stories published in the New York Times, Washington Post, Chicago Tribune, Conde Nast Traveler and more. She lives with her husband, two daughters, two cats and a dog.