There are plenty of tourist attractions in San Francisco that are best left to tourists -- no one who lives here needs to take the elevator to the top of Coit Tower, Instagram the Painted Ladies, or take a selfie next to the Mark Zuckerberg wax figure at Madame Tussauds. That being said, SF has some super-cool "touristy" stuff that should be experienced at least once by anyone who calls this place home. And yes, Fisherman's Wharf is on that list. Just trust us.
Recommended Video
Best Pizza Restaurants NOT in NYC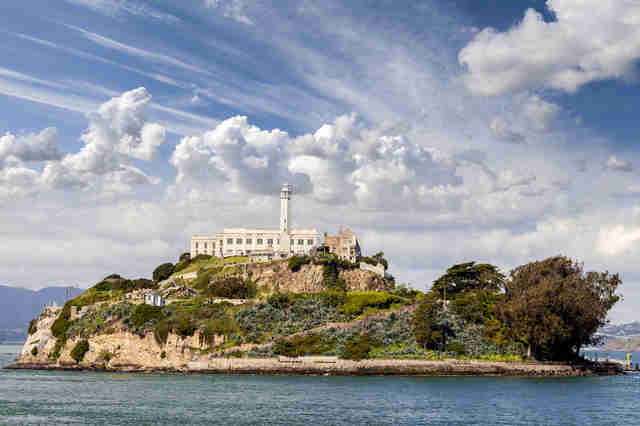 Downtown
Frankly, we're not sure why anyone wouldn't think exploring an abandoned prison on an island in the middle of the San Francisco Bay is worthwhile. Be sure to spring for the audio tour, because there's a lot more history to Alcatraz Island than just the
penitentiary (did you know that the island was occupied by Native American activists for almost three years in the late '60s and early '70s, or that families used to live there?). Alcatraz continues to be a home for activists -- famed Chinese dissident artist Ai Wei-Wei held a massive exhibit on the island in 2015 -- and might also be the best gallery in the city. When you're finished exploring, enjoy a cold beer on your ferry ride back to shore and thank your lucky stars that you didn't have to swim to escape the Rock.
Downtown
You'll need to visit Angel Island more than once to take in all the history, sights, and activities at this often-overlooked isle. Take a tour and learn about the Coast Miwok Indians who lived there 3,000 years ago, find out about how the island served as a major immigration station, and hear how German and Japanese POWs were held there during WWII. There are also tons of hiking and biking trails, beaches, and even campsites you can reserve for an overnight trip. Although Angel Island tours sometimes leave from the same port as crowded Alcatraz tours, this is a less crowded, less touristy option to explore the Bay's islands.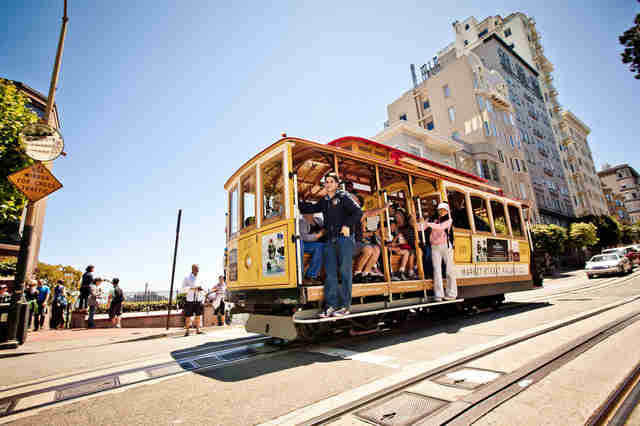 Union Square/Fisherman's Wharf
San Francisco's manually operated cable car system is the last of its kind in the entire world (and, humble brag, the country's only mobile historical landmark), which in and of itself makes it super cool. Sure, most of the riders are tourists (it costs $7 for a single ride), but when you're hanging off of the side with the wind in your hair taking in the Bay views while flying down Taylor St you'll get why everyone who's visiting SF always looks so happy.
Golden Gate Park
The Academy of Sciences is one of the largest natural history museums in the world and is full of interesting things to see. Check out the Steinhart Aquarium, which is home to nearly 40,000 animals (including an albino alligator) or walk through an indoor rain forest with birds, butterflies, and reptiles. The Cal Academy also boasts a 75ft planetarium, and, of course, the spotlight-stealing penguins in the African Hall. At $35, it's pricey and is definitely over-crowded on the weekends, but SF residents can get in for free on certain days. Not local to SF? No worries -- there's also an adults-only NightLife party on Thursdays where tickets are just $15 (plus, there's booze).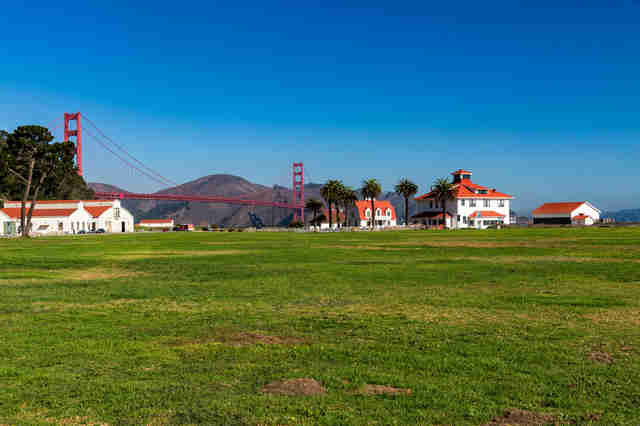 Marina
There's something for everyone at this windswept park, which draws tons of tourists for its gorgeous views of the Golden Gate Bridge and Bay. Luckily, locals can easily and happily share this Marina staple. Get some exercise by running or biking the main promenade, hang out at the beach with your dog, cookout on one of the grills by the picnic tables, or just enjoy a killer sunset. We promise, there's plenty of room for everyone.
Downtown 
The Exploratorium is one of those rare museums that's just as much fun when you're a grown-up as it was when you were a kid -- because it's a museum where you can look and touch. At any time, there are over 600 participatory exhibits on the floor, all of which allow you to explore everything from social behavior to the physics of light and sound. And while $30 is a lot to throw down to get into a museum (especially one that's guaranteed to be overrun with excited children), The Exploratorium also has free days. If you go to "After Dark" on a Thursday night, it's only $15 and you can drink cocktails while you learn and play.
Downtown
A bustling farmers market, shops selling everything from artisanal chocolate to vegan donuts, and some of the best restaurants in town... all in a gorgeous space right on the water. This is one tourist attraction we don't need to sell to the locals, but since we aren't telling you anything new, you should definitely eat these 15 things while you're there. Pro tip: take your food to go and use the Ferry Building as a jumping-off point for a day of exploring the Embarcadero.
Fisherman's Wharf
Yeah, that's right: Fisherman's Wharf, the place overrun with tourists that doesn't seem to have an ounce of real San Francisco vibes. Think we're crazy? We'll just leave this right here. If clicking links and checking out supposed tourist traps isn't your thing, Fisherman's Wharf is packed with hidden bars and tasty eats.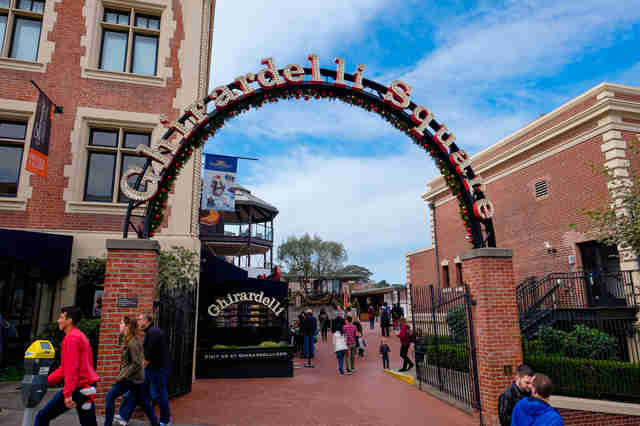 Fisherman's Wharf
This is one spot we actually think tourists should skip, but locals should frequent for its great events. During the summer there's a Lagunitas Brewing Co. pop-up beer garden with live music, and you can drink wine at Bluxome Street Winery year-round. Plus, Jonathan Waxman just opened a new restaurant there, Le Marais is opening a bakery/bistro, and, uh: the best reason of all: Ghirardelli chocolate sundaes. Not convinced? There's also all of THIS stuff, which includes a $5 burger and fries happy hour deal.
Golden Gate Park
The oldest public Japanese garden in the US is five acres of natural beauty and (if you go when it's not crowded) total tranquility. There's an arch drum bridge, pagodas, koi ponds, a zen garden, native Japanese plants, and even a tea house where you can sip tea and snack on tiny sandwiches. Get there before 10am on Monday, Wednesday, or Friday and admission is free. Plus, that'll be the best time to find a quiet spot to appreciate this oasis inside Golden Gate Park.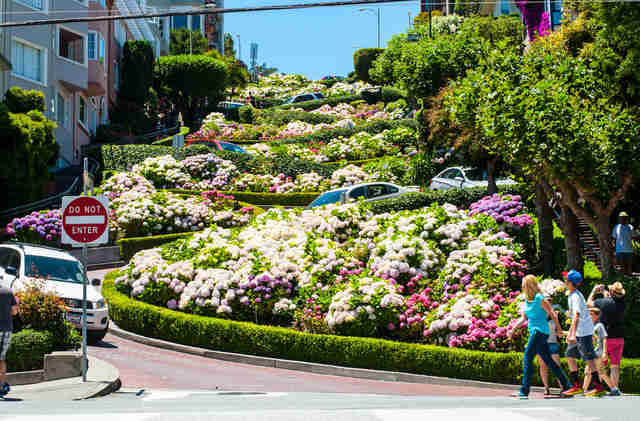 Russian Hill
Everyone needs to drive down the crookedest street in the world, but it's a lot better if you do it while reenacting Mario Kart. If you can't pull that off, we suppose a regular car will suffice (and a lot of patience for the traffic you'll certainly encounter). For extra cool points, swing by 900 Lombard St for a glance at the house made famous in Alfred Hitchcock's Vertigo or duck into Macondray Lane for some peace and quiet.
Golden Gate Park
Golden Gate Park's Stow Lake is a great place to explore if you can avoid all of the lunatics who insist on feeding the geese. You can hike around Strawberry Hill, rent a rowboat or paddleboat, hang out by the waterfall, have a picnic, or just wander around looking for turtles (which may or not be a thing we once spent a few hours doing). Plus, when you're finished, you can go to the Boathouse Café to enjoy a cold beer and that pink popcorn you ate as a kid if you grew up in the Bay Area.
Outer Richmond
Sutro Baths themselves aren't worth the trek out to Ocean Beach, but it is fun to explore the ruins of the public bathhouse that once accommodated 10,000 people at one time. Satisfy the tourists and locals in your group and make a whole afternoon of hiking the Lands End Trail, visiting the ruins, and then grabbing drinks and dinner while watching the sunset at the Cliff House.
Sign up here for our daily San Francisco email and be the first to get all the food/drink/fun SF has to offer.