25 Volunteer Opportunities to Keep San Francisco Golden
From beach clean ups to seed planting, grocery delivery, and more, there are plenty of ways to give back in SF.
San Francisco is what it is because of all of the natural beauty and wonder that exist in it and around it. We'd be nothing without the Pacific Ocean, the San Francisco Bay, the redwoods, the beaches, and all of the parks and gardens that make living here so special. And though we'd like to think we appreciate all of that stuff on the daily, we're not mad when Earth Month appears every April to give us a little kick in the butt and remind us that it's our responsibility to help when and where we can in order to take care of our environment and the entire planet.
Whether you're passionate about green spaces, water, wildlife, or teaching Zumba (yes, seriously), here are 25 local volunteer opportunities ranging from sustainability and environmental initiatives to youth and LGBTQ advocacy, and more.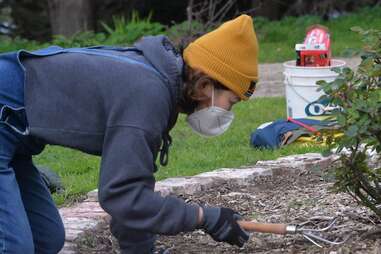 For those with a green thumb
Alcatraz, the Marin Headlands, Stinson Beach, Fort Funston, Lands End, the Presidio … the list of parks that make up all 80,000 acres of the Golden Gate National Parks goes on and on and on. They're home to ancient redwoods, rare and endangered species, historic landmarks, and a big reason they're not only still around, but amazing to visit is because of the Golden Gate National Parks Conservancy, a nonprofit membership organization that basically does anything and everything related to conservation, education, and just making visiting the parks a fun experience. Volunteers are needed to help with cleaning up beaches, restoring habitats, maintaining trails, cultivating historic gardens, and more.
In 1990, Garden for the Environment turned a vacant lot in the Inner Sunset into a garden that doubles as a classroom, where people can learn about soil, water, plants, creatures, and climate to be better stewards. They need volunteers on Wednesdays and Saturdays to get their hands dirty while learning about sustainable gardening. No experience needed.
The San Francisco Botanical Garden allows us to travel all over the world within its 55 acres of landscaped gardens and open spaces. (And it's free for SF residents!) Its mission is to "connect people to plants, the planet, and each other," and you can help with that by volunteering. Right now, they're actively looking for teen volunteers, but have a few adult positions open as well.
Since 1981, Friends of the Urban Forest has planted more than 60,000 trees in San Francisco. They currently water over 500 trees a week, plant and care for 300 trees a month, and replace 10,000 square feet of concrete with soil every year. If you've seen a new tree pop up on your sidewalk lately, it's very likely due to them. They need volunteers to help with all kinds of urban greening activities, including tree planting, pruning, and sidewalk gardening.
The Sierra Club San Francisco Bay chapter is working to build a sustainable future for the Bay Area in all aspects, including preserving wild places and watersheds, and ensuring everyone has access to clean air, water, and nature, no matter their race or socioeconomic status, and more. Volunteers are needed in all areas, from stuffing envelopes to joining local campaigns to leading outings.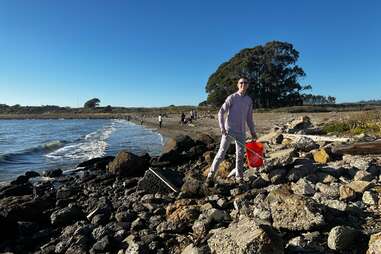 For those who want to protect our ocean and Bay
The Bay Area is nothing without the Bay. Help defend its health and ours by volunteering at San Francisco Baykeeper, which patrols the water to investigate pollution and hold polluters accountable. They need volunteers with all kinds of skills, including skippers to lead boat patrols, students pursuing environmental action careers, and anyone willing to pick up trash and conduct cleanups.
Rising sea levels are a serious threat to our communities, and Save the Bay is working hands-on to restore wetlands and advocate for climate-smart policies. They consistently need help with restoration projects, so if you're not afraid of getting your hands dirty, this is a good one for you.
For those who enjoy breathing clean air
We must reduce the amount of C02 in our atmosphere if we want any chance of preserving our planet, and 350 Bay Area works hard to make that happen by shaping policy, educating people, empowering our youth, building coalitions, and mobilizing the masses to take action. You can get involved by joining one of several existing teams that do everything from making art for the climate movement, writing letters to the editor, creating events to impact change, helping with tech and web stuff, and more.
For the community advocate
The Free Farm Stand is a small, volunteer-run organization distributing locally grown food for free in the Mission neighborhood for the last 11 years. You can get involved by handing out pre-packaged food, but the organization is also in need of bags for produce, grocery bags, brown paper bags for bread, bio-bags for soft fruit, small plastic pots for seedling propagation, disposable gloves of any size, and organic fruit in case you grow some of your own and want to donate it to the cause.
Project Open Hand is seeking volunteers to pack and deliver meals and weekly groceries to the city's critically ill and physically vulnerable residents. Check out their Volunteer Hot Spots page for regularly updated opportunities. You can also donate toiletries, birthday and holiday cards, or money.
For the people person
If you're looking for a way to connect with others, Little Brothers Friends of the Elderly provides an opportunity to build friendships with the city's 25,000 seniors who live alone. Regular volunteering opportunities include making holiday and birthday visits or escorting seniors for their hospital visits. You can also donate essential items like toiletries for their senior care kits.
Openhouse connects volunteers with LGBTQ+ seniors and adults with disabilities seeking housing, transportation, and medical services. They are currently looking for volunteers for essential errands, friendly visits and phone calls, car deliveries, and more.
If you're available to run errands, like grocery shopping, dog walking, or medication pickup, and provide emotional support, Shanti Project needs support assisting residents living with terminal or disabling illnesses and conditions. Donate by using their organization link on eligible purchases whenever you shop on Amazon.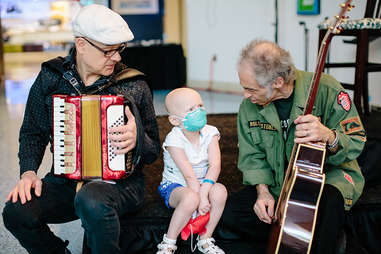 For the musically inclined
For anyone seeking a musical outlet, your talents are needed. Musicians On Call, which launched a San Francisco chapter in 2016, is looking for volunteer musicians and singers to participate in its Virtual Bedside Performance Program, which offers 30- to 60-minute live sessions to housebound adults, seniors, and children. (And will soon be looking for musicians to participate in the Beside Performance Program when that returns in 2022.) If you're not musically gifted but still want to help, you can donate to help fund the chapter.
For lovers of wildlife on land and sea
If you are interested in the Bay Area's wildlife, the San Francisco Bay Wildlife Society focuses specifically on stewardship of the San Francisco Bay National Wildlife Refuge, and conservation, preservation, and restoration of our wildlife habits. Friendly, outgoing volunteers are needed as field trip docents, weekend desk workers, and helping with outreach, and those who prefer to dig in quietly are needed for habitat restoration projects that include pulling invasive species so native plants can thrive.
Marine mammals are such an important part of the California coastline ecosystem, and the Marine Mammal Center is dedicated to responding to those that are in distress and caring for them until they're able to be released back into the wild. (You can see a bunch of their patients here.) They need help with everything from animal care, rescue and response, education, and administrative support.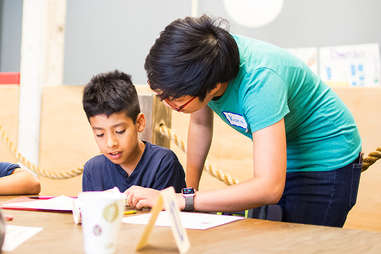 For the youth advocate
Remember that one book in English class you actually looked forward to reading and writing about? Well, 826 Valencia is the perfect opportunity to pass along that excitement for learning. Help low-income students find their voice and hone their creative writing skills through tutoring. Monetary donations are also accepted to help keep programs free for underprivileged students in the city.
Anyone obsessed with food-competition shows or who has surprised themselves with their newly discovered culinary skills should check out Sprouts Cooking Club, which educates underprivileged youth about healthy cooking and eating habits through its programs. Volunteers can participate by teaching a class or assisting with questions during sessions. Kitchenware, produce, and office-supply donations are also needed to support various programs and students.
For advocates of safer streets
For reasons that make zero sense, not everyone wants to keep JFK Drive in Golden Gate Park car-free. Walk San Francisco works to help with causes like that and to make our streets safe and more accessible, a thing that is definitely not happening right now (an average of three people are hit every day while walking around SF). Getting involved is as simple as sending emails to city leaders, but there are also other projects that need help. Can't commit to a long project? Don't worry—they'll take your help even if you only have a few hours to give.
For those who can teach Zumba, plant seeds, tutor kids, and just want to help
The San Francisco Recreation and Parks Department oversees SF's more than 220 parks and recreation facilities, which, in our humble opinion, are a huge part of what makes this city not only so beautiful but so amazing to live in. (Did you know that SF is the first city in the United States to have a park within a ten-minute walk of every single residence?) Volunteers are crucial to the program, and all kinds of skills and abilities are needed. Help plant seeds, teach a Zumba class, tutor kids, do arts and crafts—whatever your skill, there's a volunteer position.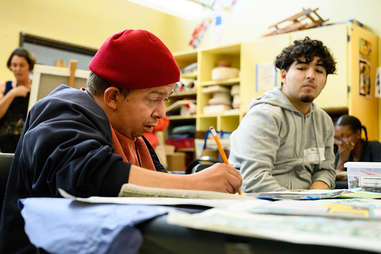 For helping the disenfranchised
The Pomeroy Recreation & Rehabilitation Center provides educational and recreational spaces where people with disabilities and trauma can safely participate. Classes offered include yoga & meditation sessions, cooking classes, and storytime segments, as well as art therapy, dance, and science classes for adults ages 20-90 or children and teens ages 5-19.
If you're passionate about women's rights, San Francisco Women Against Rape (SFWAR) is a woman-of-color-led organization fighting for survivors of sexual violence through support and legal assistance. They are currently looking for volunteers interested in becoming Sexual Assault Counselors, as well as people who can help with events, fundraising, and administrative tasks. SFWAR is open to all volunteers, especially self-identifying LBGTQ+, immigrant, and formerly incarcerated women, and offers state-certified sexual assault counselor training for volunteers interested in working directly with survivors.
If you have a legal background and can offer pro bono representation and/or counseling, Legal Assistance to the Elderly needs your help working with San Francisco's elderly and disabled. They're seeking lawyers, paralegals, and law students to help with evictions and medical bills, as well as elder abuse, healthcare, and debt defense. Volunteers with experience in digital marketing and IT are also needed to aid in building the organization's digital presence.
The LGBTQ+ volunteer-led Rainbow World Fund is focused on changing the international perception of the LGBTQ+ community by providing essential medicine, food, and supplies to people affected by natural disasters, poverty, and oppression—no matter their sexual orientation. Volunteers are needed for administrative work and helping with humanitarian trips. Monetary donations and wishlist contributions are also accepted.
Daisy Barringer is a freelance writer who grew up in San Francisco and appreciates everyone who does their part to make this city so amazing. Tell her about more volunteer opportunities on Twitter @daisy.