Moving out of San Francisco is the new moving to San Francisco. Thanks to skyrocketing rents, exorbitant cost of living and all of your favorite clubs being torn down to build big-box luxury McCondos, you may feel that this is no longer the San Francisco you thought you were moving to. But the San Francisco you thought you were moving to is still alive and well -- it just had to move out of San Francisco, because it got owner move-in evicted so its old studio could be converted into three different Airbnbs.
San Franciscans have been moving out of the city for so long that the greater Bay Area is now packed with outposts of San Francisco expats. The spirit of the city has taken residence in the East Bay, the Peninsula, and beyond in a collection of up-and-coming Bay Area neighborhoods. If you've loved and/or left any of these San Francisco neighborhoods, these are their equivalent, doppelganger Bay Area neighborhoods where you can also lose your heart.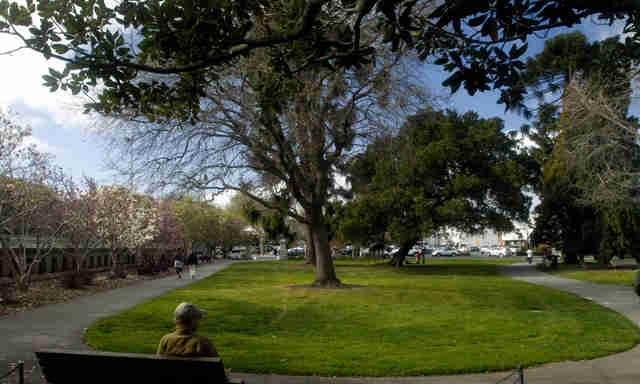 If you love Bernal Heights, move to the San Mateo
The provincial cuteness, fabulous views, and 'Hey, look at me, I live in the Bay Area and I actually have a yard!' novelty of Bernal Heights is more affordably available to all in the Peninsula's squee suburb of San Mateo. You can unleash the dog-friendly possibilities at expansive outdoor parks like the coastal Coyote Point Recreation Area, Laurelwood Park, and the kids' train-equipped Central Park. And astonishing, Bernal-caliber views are available on the daily for those who are willing to walk up and down outrageously steep hills.
If you love Chinatown, move to Chinatown (in Oakland)
The most obvious equivalence of a San Francisco district to another Bay Area neighborhood is Chinatown, and you'll find Chinatowns in both SF and Oakland. But Oakland's Chinatown is more of a true Chinatown than a tourist trap, and has culinary local legends like the dumplings of Shan Dong, the celebrated jook (rice porridge) of Gum Kuo, and the famed stinky tofu of Spices 3. And to further establish Oakland Chinatown's bona fides, Bruce Lee established his first martial studio there and it is the birthplace of famed Chinese-American author Amy Tan.
If you love The Castro, move to Lake Merritt
The East Bay does have a designated "gayborhood" a la The Castro, but Oakland has become a mecca-like melting pot for the LGBT community. Oakland has more lesbian couples per capita than any other city in California according to the 2010 census, and Telegraph Ave's White Horse Inn claims to be the oldest operating gay bar in the US (though several American bars make this claim). But if we had to pick one Oakland neighborhood as the height of East Bay gay, we'd pick Lake Merritt, which has a solid selection of gay bars, a gay retirement community, and plenty of paved lakeside trails for a jog-slash-cruise.
If you love Dogpatch, move to the Gourmet Ghetto
Residents of San Francisco's Dogpatch neighborhood are accustomed to the finer Bay Area things like iconic restaurants (The Ramp), groundbreaking brewpubs (Magnolia Brewing Company) and a neighborhood nickname that's as catchy as they come. You'll find all this and more in North Berkeley's paradigm-establishing Gourmet Ghetto, birthplace to legendary Bay Area institutions like Alice Waters' Chez Panisse, the original specialty coffee stop Peet's Coffee, and northern California's oldest food collective the Cheese Board Collective. And you don't even have to give up your indoor rock climbing privileges when you move away from Dogpatch Boulders, because the rock climbing operation Berkeley Ironworks is just a quick trip away in South Berkeley.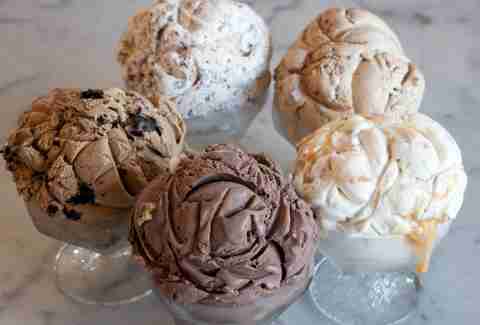 If you love Hayes Valley, move to Piedmont Avenue
Much like Hayes Valley, Oakland's Piedmont Avenue neighborhood takes its name from its thoroughfare main drag street. And in both cases, that street is a quaint but bustling retail village that never fails to elicit a gasp of "Very nice!" from your visiting parents. Both Hayes Valley and Piedmont Avenue shun national chain stores in favor of local favorites that have developed devoted followings, like Fentons Creamery (recreated in CGI in the Pixar movie Up), outdoor hot-tub-with-a-view hotspot Piedmont Springs, and Michelin-starred Commis -- the only East Bay restaurant with two Michelin stars.
If you love Haight-Ashbury, move to Berkeley
It's more than just flower power that makes Berkeley the East Bay's Haight-Ashbury. Berkeley's college-town vibe maintains the anti-establishment chic even during tech boom bubbles, Berkeley's politics are light-years beyond left-wing, and Berkeley is still a Bohemian paradise of book shops, record stores, and cafes. Telegraph Ave will serve as your new Haight St, People's Park will serve as your new Golden Gate Park, and legendary live music venues like 924 Gilman, the Starry Plough, and Freight & Salvage keep the counterculture scene alive and rocking.
If you love The Marina, move to Redwood City
Marina residents may have just spit their vanilla soy latte cappuccinos at their computer screens for having been compared to the once-sleepy hamlet with the "Climate Best by Government Test" motto. But when people are complaining about the "Manhattanization" of a town, Marina residents know that's the ideal time to move in. Top-tier tech firms like Google and Box are snapping up Redwood City property like it's pre-IPO stock offerings, and restaurants like Latin seafood fusion concept La Viga, wood-fired pizza joint Vesta, and gourmet comfort food phenom the Patty Shack all made our Peninsula's Best Restaurants list.
If you love The Mission, move to Temescal
Both the Mission District and Oakland's Temescal District have been hipster neighborhoods since back way when "hipster" still referred to a hitchhiker with a fondness for jazz music. Temescal has long been a multicultural mashup of African, Korean, and LGBT subcultures, and its famed points in interest include the 32-beers-on-tap Hog's Apothecary and the drive-thru mac-&-cheese joint Homeroom. And its Temescal Alley Barbershop has remained the Bay Area's cult favorite barbershop for decades, if you're so old-school you would go to something called a "barbershop".
If you love The Richmond, move to Half Moon Bay
Do you like fog? Your time living in the Richmond may have slowly weaned you off any tolerance to organic sunshine, and Half Moon Bay might as well be called "Full Fog Bay." A move from the Richmond means letting go of your old standbys Burma Superstar and the oodles of sushi places you frequent, but it's a step up in the seafood department with Bay Area icons like Sam's Chowder House, Half Moon Bay Brewing Company, and that extremely large and cold ocean you so love living next to.
If you love SoMA, move to Jack London Square
In the language of realtors, Jack London Square is what you say instead of "West Oakland." The Jack London Square-West Oakland area has that special 'best of times, worst of times' combination of scuzz and luxury that you've grown accustomed to in South of Market. From the fine-dining flair of Jack London Square's Kincaid's and Yoshi's Oakland to the Stalingrad chic of sensationally seedy Heinold's First and Last Chance and the 880 overpass, Jack London Square blends the opposite ends of the socioeconomic spectrum just like SoMa has conditioned you to love.
Sign up here for our daily San Francisco email and be the first to get all the food/drink/fun SF has to offer.