Where to See Burning Man Art (if You Missed the Burn)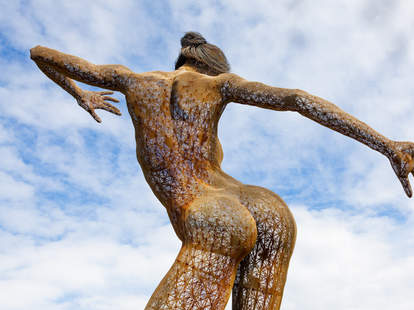 Don't be sad if you didn't make it to the playa this year -- neither did some of the most iconic, widely recognized, and beloved examples of Burning Man art. These large-scale artworks from years past are on display throughout the Bay Area, or will be soon. Thanks to some grants from Burning Man Arts and the relentless can-do of Burners, makers, and creators, these big, bright, and occasionally interactive works will dazzle away any residual FOMO.
Leo Villareal, Buckyball (detail), 2016

| Leo Villareal/Courtesy of the Exploratorium
The Exploratorium
Embarcadero
It's been installed at Madison Square Park in New York, and now this ravishing, 25ft sculpture of a Carbon 60 molecule lights up The Exploratorium at Pier 15 in San Francisco. The luminous
Leo Villareal
, founder of the LED masterpiece camp Disorient, bucks your blues from missing the burn with
Buckyball
, a composition of 4,500 LED nodes that are capable of producing a mind-blowing 16 million different colors. This trippy tribute to architect and inventor Buckminster Fuller won't be at The Exploratorium forever, but its display has been extended to February 26th, 2017.
Andy Goldsworthy, "Spire" (Looking Up from the Base)

| Flickr/H Flannery
Goldsworthy in the Presidio
The Presidio
British artist Andy Goldsworthy has inspired many Burners' art, and
Spire
-- carved out of 37 fallen Monterey cypress trees — is one of several nature and tree-themed works on display for free as part of the
Goldsworthy in the Presidio
project. These works are on permanent display in the Presidio, but it's not really "permanent": according to the FOR-SITE Foundation that helped install these works, "the natural materials used in
Spire
and
Wood Line
will decay and return to the earth."
Marco Cochrane, "Truth is Beauty"

| Flickr/Meg Lauber
San Leandro BART Station
San Leandro
Who among us has not raved at sunrise alongside one of Marco Cochrane's three-story high
Bliss Project
statues of nude women? After its tour of duty at Burning Man 2013,
Truth Is Beauty
is currently under reconstruction and it will be fully back on its feet by mid-October at the San Leandro Tech Campus next to the San Leandro BART station. We're all for it, but some San Leandro citizens
have their garments in a bunch
about this 55ft tall naked woman.
Laura Kimpton, "LOVE"

| Flickr/urbanduck
Paradise Ridge Winery
Santa Rosa
Those
LOVE
letters that you've climbed and selfied upon so many times on the Playa have actually found a permanent home at Paradise Ridge Winery in Santa Rosa. The
LOVE
sculpture comes courtesy Bay Area artist Laura Kimpton, who met her husband -- guess where -- at Burning Man. These letters will now grace generations of wedding photos, though if you go see them please realize it is the custom that you also at least do a wine tasting or a tour.
Various Galleries
Downtown Oakland
The East Bay cray gets underway once a month at the Oakland Art Murmur's celebrated First Friday functions. On the first Friday of every month, the streets of Oakland get gussied up with gallery hops, food trucks, and public art installations. And many of your favorite Oakland-based Burner art collectives like
NIMBY
and
American Steel
make regular appearances and show off their stuff.
Sherman Ave
Palo Alto
Charles Gadeken's
Tabula
is the next evolution of a previous Downtown Palo Alto display,
Aurora
, now
off in Australia
.
Tabula
is another full-scale, building-sized LED installation whose display will be controlled by actual seismic data from the US Geological Service.
Tabula
is scheduled to be unveiled on October 21st, 2016 but if you just can't wait for its opening, tide yourself over with this
YouTube preview
.
Juri Commons
The Mission
Some of the Burning Man art permanently installed in San Francisco is kids' stuff, and we mean that in a good way. Tykes, toddlers, and wee ones are delighted daily by Jennifer Alexander's
Sol Flor
, a series of colorful mosaics installed in the grass grounds of Juri Commons (25th St and Guerrero ST, San Francisco). While this isn't some giant sculpture of towering Burning Man art,
Sol Flor
was made possible by a grant from Burning Man Arts (formerly the Black Rock Arts Foundation) and the repurposing, recycling, and trash-modifying impresarios of
ScrapEden
.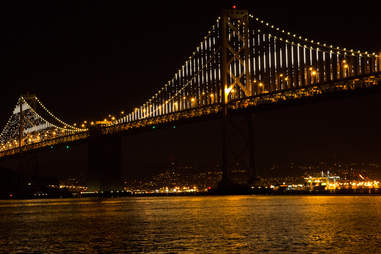 Leo Villareal, "Bay Lights"

| Flickr/GPS
Bay Bridge
No discussion of stuck-at-home Burning Man art is complete without a mention of the
Bay Lights
, the grandest work of LED light magic in the Bay Area and the only piece of Burning Man-inspired art that regularly appears on
Monday Night Football
broadcasts. The
Bay Lights
did disappear for a two-year hiatus, but they're set to stay in place all the way until 2026 thanks to some support from the State of California. Leo Villareal's 1.8-mile masterpiece blinks from dusk till dawn nightly, so take your bae to the
Bay Lights
any night.
Sign up here for our daily San Francisco email and be the first to get all the food/drink/fun SF has to offer.
Joe Kukura is a freelance writer for Thrillist who couldn't afford Burning Man this year, but tried to save face by bragging that "the town really emptied out, man" and claiming he was easily able to find ample parking. You can criticize him on Twitter at @ExercisingDrunk.