Why I Love Something You Hate: Ghirardelli Square
If you're from San Francisco -- or have lived here long enough -- there's a good chance you scoff at visiting Ghirardelli Square for many of the same reasons you roll your eyes when tourist friends drag you to Fisherman's Wharf. But just like Fisherman's Wharf, there are actually a whole bunch of reasons Ghirardelli Square is actually pretty cool and up-and-coming (again). Of course, nostalgia plays a part here, but even that couldn't convince me to visit in recent years, as more and more shops closed their doors, and there just wasn't much going on. Lately, however, that's been changing, which is why I felt it was my duty as a San Franciscan to tell you that Ghirardelli Square is staging a comeback: here are eleven reasons you should probably make a plan to visit.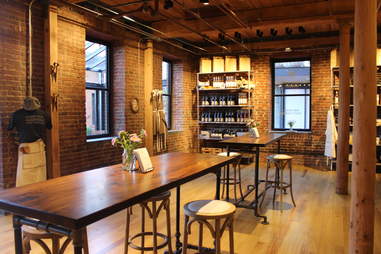 Daisy Barringer/Thrillist
This wine tasting room
You probably know all about
Bluxome Street Winery
in SOMA, but they also have a tasting room and wine shop in the Lower Plaza of the Woolen Mill Building where you can sip and buy the Russian River Valley pinot noir, sauvignon blanc, and chardonnay by the glass, flight, and bottle. The space is beautiful -- lots of exposed original brick, views of the water (if you sit in the right place), an atrium, and outside seating, making it the perfect place to hang with a friend or a group while sipping wine and enjoying snacks. Plus, they have a weekday happy hour with discounted wine and cheese, and Wednesday is "Locals' Night": they roll out the red carpet just for folks from the area (like me! And you!) with special wine pairings and tasty bites. Warning: you will almost certainly leave with either a bunch of bottles or a wine club membership. Maybe both.
Daisy Barringer/Thrillist
These pastries
Le Marais Bakery
on Chestnut St became famous almost the moment it opened, thanks to its classic Parisian techniques, farm-to-table philosophy, and bomb-ass pastries (though probably mostly 'cause of the latter). To our delight, the bakery is now opening up a 5,000sqft restaurant in Ghirardelli Square called
Le Marais Bistro
, which will be open for breakfast, lunch, and dinner. They're also going to have a full bar, so yay. It's not open yet -- construction is slated for this spring -- but in the meantime, there's a Le Marais kiosk where you can get your fill of almond croissants and fruit tarts.
This awesome happy hour deal and killer view
There's no doubt that the view from
McCormick & Kuleto's Seafood & Steaks
is one of the best in town -- you can take in the Bay, Aquatic Park, and Alcatraz -- but what I really love is that they pair that view with a killer weekday happy hour: dollar oysters, pretty good booze deals, and the hero: $5 cheeseburger and fries. Yeah, that's the price for a cheeseburger
and
fries. In San Francisco. With a view. Bam.
Daisy Barringer/Thrillist
This kitschy '50s-style diner
You may have been to
Lori's Diner
at SFO, but they also have a location in Ghirardelli Square, and this one comes with Bay views and outdoor dining, plus all the diner classics. Once in awhile, I think it's fun to forego fancy SF cuisine and just enjoy someplace that doesn't take itself too seriously. Skip the sundae (you're getting that elsewhere) and any dish that feels like it's trying too hard; opt instead for the French toast or a classic grilled cheese -- it's pretty much impossible to go wrong with either.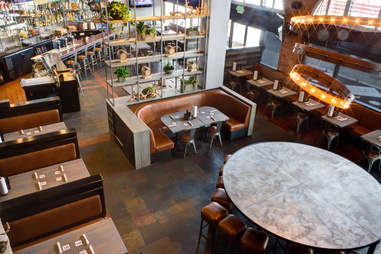 Courtesy of The Pub at Ghirardelli Square
This pub
If you're wandering around the main plaza, you might miss
The Pub at Ghirardelli Square
(it's below the square, across from Aquatic Park), but that is a major mistake, because this is
the
spot for house-smoked barbecue and Southern comfort food. It's also the best place in the area to catch the game, as there are seven flat-screen TVs located throughout the comfy space. What I really love, however, is that The Pub has an awesome late night menu with all of the food you crave after a few drinks: burgers, chili mac and cheese, Buffalo wings, PBLT (the PB stands for pork belly)... the list goes on. And the kitchen stays open until 1:30am. Get after it.
This sundae
The truth is, you can pretty much find Ghirardelli chocolate everywhere, so there's no need to buy any while you're at Ghirardelli Square -- although you will want to snag a free sample of chocolate made that day, which is obviously well worth doing. What you
can't
get everywhere is Ghirardelli's world-famous hot fudge sundae, served in a waffle bowl (it's like a waffle cone, but... you get it). So, yeah:
get one of those
. Pro tip: skip the wait at the
Original Chocolate Manufactory
location by the fountain and instead, walk back to the
Chocolate Marketplace
where there's a Sundae Bar -- which rarely has a line. Yes, you can thank me later.
The new restaurant from Jonathan Waxman
Waxman's will be Jonathan Waxman's first-ever restaurant in California, and while I clearly haven't had the chance to eat there yet (it's set to open soon), I can pretty much guarantee that it's going to be good because, hi: Jonathan Waxman. The space is ginormous, arranged to accommodate two concepts -- both formal Italian dining and a casual pizzeria. Tell me you're not into both of them. I dare you.
Daisy Barringer/Thrillist
This view
Now seems like a good time to quote that whole "a picture's worth a thousand words" thing that threatens to make my job meaningless on a daily basis.
Daisy Barringer/Thrillist
This fountain
I made so many wishes and sacrificed so many pennies to this fountain when I was a kid. It seems a lot smaller now, but for anyone who grew up in SF, it's a place where nostalgia runs rampant. Plus, wishes are only a penny. It's like the one thing inflation hasn't ruined.
Daisy Barringer/Thrillist
And last but not least... this juice shop
Because, come on, after all of those burgers, wine tastings, and sundaes, the antidote is clearly a cold-pressed juice from the Juice Shop. Even what I really want is another sundae.
Sign up here for our daily San Francisco email and be the first to get all the food/drink/fun SF has to offer.
Daisy Barringer is a writer who grew up in San Francisco. When she was in fourth grade, she loved going to Ghirardelli Square and getting a table-side Caesar salad at a long-gone restaurant, the name of which she's sadly forgotten. Follow her on Twitter @daisy.