Dinner and a movie? YAWN. Grabbing a cup of coffee? Booooooooorrrrrriinnnnng! You know what isn't boring? Throwing caution to the wind and breaking a couple rules for a truly unforgettable night on the town -- like these 10 Seattle date ideas we definitely don't recommend you try anytime soon.

Drink on the Great Wheel
How to pull it off, despite two Thrillist editors' failure to do so: The author of this piece and a senior Thrillist editor may or may not have purchased beer/some individual-sized bottles of wine for the ladies they were with at the convenience store halfway up the Harbor Steps, and then successfully smuggled them aboard the giant waterfront tourist attraction. Unfortunately, they were kicked off mid-ride when one of the aforementioned ladies they were with decided to "toast" the people running the wheel as we went past. So um, don't do that and you should be all good.
Laws you'd be breaking: Public consumption, presumably the Wheel's own rules, and whatever social norms that make you feel super embarrassed when they abruptly stop the thing and march you off before letting everyone else finish their ride.
Take a selfie at Vance Creek Bridge
How to pull it off despite us warning you that this is totally against the law: Because it's on private property, the second-tallest railway trestle bridge in America has technically been off limits since it was abandoned by the Simpson logging company in the 1950s, however the owners didn't get serious about keeping people out until the rise of social media made it an incredibly popular hiking destination. Nowadays there are barriers you'd have to climb, and police issuing tickets you'd have to avoid.
Laws you'd be breaking: Trespassing, and the laws of gravity if you somehow avoid plummeting to your death.
Light a fire on a beach that isn't Alki or Golden Gardens
How to pull it off despite our repeated pleas not to do this: It's all in picking the right beach, and there are several hidden ones on Lake Washington accessible via various staircases/at the end of residential streets/etc. Then just hope no one sees (or cares about) what is essentially a beacon. Good luck.
Laws you'd be breaking: Seattle's municipal code has all sorts of rules about fires at beaches, including what/where you can burn at the two where it's actually allowed.

Sneak into a hotel pool
How to pull it off despite not having a room, even though you know you should: First you need to find a hotel with a pool, which isn't as easy as it sounds in rainy Seattle, and then you have to actually get in. Unless you're down to swim at some second- or third-tier spot (the Nexus in North Seattle has an outdoor pool you can pretty much just walk into), it's gonna be hard: the Four Seasons' swanky rooftop pool is hidden behind not one, but two room key-accessible doors, so you might have better luck at the Westin's fifth-floor pool, which is located in a quiet hall where you can totally lurk before following an actual guest in.
Laws you'd be breaking: Trespassing, and since this is a date, probably that rule that says you shouldn't go swimming less than an hour after eating.
Use a now-mostly legal substance pretty much anywhere but your home
How to pull if off even though we're becoming increasingly disappointed in your behavior: Marijuana may be legal in Washington State, but the Liquor (and weed) Control Board makes it almost impossible to use it anywhere someone might notice. However, this is 2015 so you can cheat and get some edibles/coffee/Chapstick/etc., or hit Seattle's first, and still pretty new-ish, BYOMarijuana nightclub, Zero, in SoDo.
Laws you'd be breaking: You may or may not be violating local and state laws, but no matter what you do, marijuana is still a federally controlled substance (you rebel, you), so use at your own risk.
Have a picnic on Duck Island
How to pull it off despite our threats to call your parents: The island in the middle of Green Lake is off limits -- mostly 'cause kids get up to no good out there -- and it's an island, so you'll need a boat: luckily you can rent one at the lake, or launch your own hand-carried vessel at three different places in the park.
Laws you'd be breaking on this aquatic adventure: The island used to be a reserve, but since '83 only the Parks Department's safety concerns are keeping you away.
Sneak into the sculpture park after dark
How to pull it off despite our cries over the person you've become: If the waist-high fences/barriers at several places around Seattle's waterfront art installation keep you out, then you've got bigger problems than where to go with your significant other. Pro tip: try getting in at the end of Bay St. And by "try" we of course mean don't you dare do such a thing, young man.
Laws you'd be breaking: Obviously, you're trespassing, but you're also doing something far worse -- failing to support public art by avoiding the (admittedly) small entrance fee.
How to pull it off without paying and instead deciding to live a life of crime: Fare inspectors are supposed to come and take tickets, but sometimes they don't do it at all, and even if they do you'll probably be ready to get off at the next bar by the time they get to you.
Laws you'd be breaking: Fare evasion, which is technically a misdemeanor, could get you banned from King County Metro buses/streetcars, but you'll probably just get kicked off at the next stop... where you wanted to get off anyway.
Go Bigfoot hunting
How to pull it off despite our confusion and anger over such a strange date: Um... find Bigfoot? Or maybe just go on one of Washington's best hikes and keep your fingers crossed.
Laws you'd (supposedly) be breaking: The harassing of Bigfoot, Sasquatch, or other undiscovered subspecies is apparently a felony punishable by a fine and/or imprisonment in Washington State, but for obvious reasons, it's not a law that needs to be enforced that often. Or, like, ever.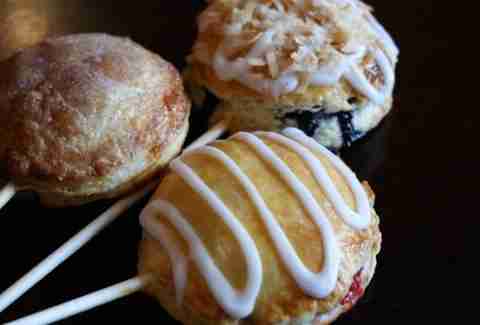 Share a lollipop
How to pull it off despite... actually, we don't care if you do this one: There is a rampant Internet rumor -- that Thrillist cannot confirm at this time -- that "all lollipops are banned" in Washington State. To flout that (possibly made-up law) just buy one and go to town on that sucker in a public place. FYI: our favorites are actually pies-on-a-stick from A la Mode Pies in Phinney Ridge.
Laws you'd be breaking: Maybe none... unless you get your hands on a lollipop -- or any other kind of candy -- laced with marijuana, which are still illegal in Washington anyways.
Sign up here for our daily Seattle email and be the first to get all the food/drink/fun in town.
Bradley Foster is a former Thrillist editor from Seattle who has it on good authority (you know who you are!) that not even flashing your boobs at security will get you into the Westin's pool after hours.