10 Must-See Abandoned Places in Washington
On the hunt for some bonafide ghost towns? You've come to the right place.
There are two types of people in this world: those who love a good scare, and those who don't. Spooky thrills are obviously an acquired taste, and let's just say Washington State is the perfect place to get your fill of them. Think abandoned World War II bases, nuclear testing sites (Manhattan Project, anyone?), rotting bridges, psychiatric hospitals, and actual bonafide ghost towns—you name it, we've got it. So put on a brave face and bring your ghost detector radar thingy. You never know what you might find out there…
Bodie, Washington
About 12 miles south of the Canadian border in northeast Okanogan County sits the ghost town of Bodie, an old mill town established around 1900. At one time the town had a store, post office, hotel, and cookhouse, but then the mill shut down in the '30s, and burnt to the ground in 1962. Luckily for the intrepid Washington explorer, a few buildings remain standing so you can reenact your pioneering dreams.
Benton County, Washington
Perched on the Columbia River in south-central Washington, the Hanford Site is yet another relic of World War II. Built in 1943 as part of the Manhattan Project, the now-decommissioned nuclear production complex can be visited, toured, and photographed to your heart's content (and since 2005, it's also been recognized as part of the Manhattan Project National Historical Park along with two other sites in Los Alamos and Oak Ridge). Unfortunately tours are currently postponed due to COVID-19, but check in later this year for an update.
Govan, Washington
In another abandoned ghost town sits the Govan schoolhouse, a super creepy building where the children of railway workers helping to build the Central Washington Railway were educated—until US Route 2 passed it by in 1933, prompting most people in the area to move elsewhere. Against all odds, the schoolhouse has resisted the high winds that cut through this farming area, making it a truly remarkable place to visit.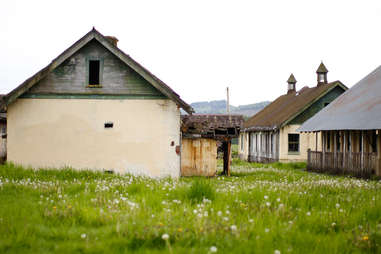 Sedro-Woolley, Washington
At Northern State Hospital's height, it employed 1,000 people and housed more than 2,000 patients who were diagnosed with mental illnesses on a 225-acre campus. The asylum closed its doors in 1973 and now houses a job corp organization and drug rehab center, but many of the old buildings are deteriorating and covered in graffiti, while a massive cemetery gives the grounds an eerie vibe that's hard to shake off.
Satsop, Washington
A 480-foot nuclear reactor cooling tower is all that is left of the biggest bond default in United States history. Construction on what was to be the largest nuclear power plant ever abruptly halted in the 1970s after nuclear energy quickly lost public support, resulting in a loss of $2.25 billion. The cooling tower in Satsop was already 76% complete at the time, leaving a beautiful landmark that is now a technology and business park.
Central Cascades
This sprawling six-mile trail built over the abandoned Pacific Northern Railroad grade in the Cascades is about 60 miles northeast of Seattle and is home to the Old Cascade Tunnel—a tunnel once used to offer protection from the snow. The massive tunnel suffered a failure in 2006, so it is unsafe to travel through right now. But a safe viewing area has been set up for hikers to marvel at the tunnel along the gently sloping trail.
Discovery Bay
A collection of several train cabooses was abandoned along Highway 101 on Discovery Bay until 2014 when someone saw the potential for these forgotten treasures. Now, the brightly colored cars house an ice cream parlor, pizza shop, and mini-golf course all overlooking the waterfront.
Vashon Island, Washington
The legend goes that local sheriff Don Puz left his bicycle leaning against a fir tree in 1954 and forgot about it. Apparently the tree grew around the bike, creating this strange landmark. Unfortunately in recent years vandals have stolen a lot of the parts, but groups have stepped up to replace them with vintage parts and have added security measures.
Redmond, Washington
This abandoned Cold War-era nuclear missile site is slowly wasting away as nature and harsh weather turn this US Army facility into something out of a post-apocalyptic wasteland. The Army used this site to store the nuclear-tipped missiles that were the last defense against an attack by the Soviet Union. Obviously that never happened, so the Army abandoned the site in 1974 and portions of the land were turned into Nike Park.
Whidbey Island
Fort Casey was constructed in 1897 as part of the "triangle of fire" meant to protect the Puget Sound from enemies by sea, although it became practically useless with the invention of the airplane in 1903. The area is now a 476-acre marine camping park that houses the Admiralty Head Lighthouse, and three miles of the Pacific Northwest National Scenic Trail wrap around the scenic park.
Cody Permenter is a freelance writer in Seattle who is about to seriously up his Instagram game after visiting these hidden beauties. Follow him on Twitter.