Along with driving a convertible and walking a dog, running is one of those activities that doesn't look like much fun in Seattle until it's summer, when suddenly, any excuse to be outside is a good one. Thankfully, the Emerald City offers lots of places to forget about the construction, the traffic, and the impending months of bad weather and simply breathe in the smell of cedars while getting buzzed on that runner's high. Now get off that couch, put the pho down, and get to stepping.
Washington Park Arboretum
If you're looking to run without having to worry about tripping over a tree root and toppling over yourself, check out the Arboretum's maze of well-kept trails. Part of UW's Botanic Gardens, it boasts more than 20,000 plants, like beautiful flowering bushes and trees, plus meadows and small lakes to distract you from how much running sucks. The walk along Azalea Way is three miles round-trip, but the park is a web of connecting trails decorated with benches to help you catch your breath. The pathways are not as well marked as you'll find in Discovery Park, but just think of all the extra cardio you'll get in if you get lost!
Discovery Park Loop Trail
This 2.8 mile trail offers a wide-open feel, more sun than most trails, and a stunning view overlooking Puget Sound. Enter the park from W Government Way and park near the visitor's center to start the loop. The elevation change is only 140ft, but mid-way through you'll find yourself on a bluff overlooking the S Sound and the sand below. If you're feeling plucky, take the side trail after the lookout to jog another half-mile down to the beach and the West Point Lighthouse. If you're not in the mood, just keep trudging along on the loop and you'll be back to your car before you know it.
Green Lake
Dammit this trail is just lovely. Embrace the banality and have a jog around a sparkling 50,000-year-old glacial lake with the rest of Seattle. But be smart. Try to get there early, or you'll find yourself nearly jogging in place in a gridlock of Bugaboo strollers and Lululemon pants. The path is 2.8 miles, but you can add another mile by looping around Woodland Park on the south end.
Burke-Gilman Trail
If you're training for a marathon, this paved trail might be your go-to for more than 18 miles of jogging. This trail is a tour-de-Seattle-neighborhoods, crossing Ballard, Fremont, Wallingford, and the University District. If you're looking to tackle the entire thing, start at Golden Gardens Park and take a deep breath whilst enjoying the views of Puget Sound. Then watch out for the roots that have raised the pavement while heading toward the Ballard Locks. The trail goes on-road for about a mile, but then meets back up with the former railroad tracks route all the way to Kenmore.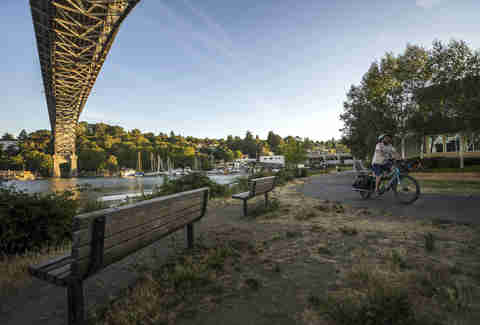 Cheshiahud Lake Union Loop
Circling this buzzing lake in the middle of the city gives you almost exactly a 10k. Mostly paved, it takes you past Gas Works and Lake Union Park. If you're more into urban scenes and people watching -- rather than trees and squirrels -- this run will offer you views of the Space Needle and Downtown, and give you a chance to watch the seaplanes landing amid houseboats and bridges. It's most convenient to get started at Gas Works Park at the north end of the lake and head east, hooking up with a portion of the Burke-Gilman Trail. This well-marked loop will take you across the Fremont Bridge, where a two-block detour can have you taking a trollfie before finishing up your run.
Interlaken Blvd
You'll barely believe you're still in the city when you start at Roanoke Park and head up Interlaken, where a swath of green trees will envelop you in a steep and winding road. However, you are most assuredly still in the city, so lookout for cars, as visibility around the curves is limited and the point of exercise is to live longer. When you need a quick but challenging jog, the pitch of Interlaken, gaining a few hundred feet of elevation in just about two miles, will do the trick.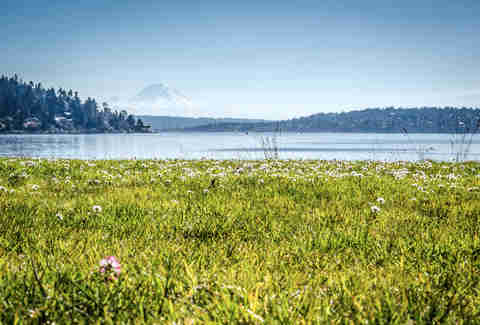 Seward Park
This park offers a paved 2.5-mile loop around the peninsula beside Lake Washington. Set on 300 acres, it also offers unpaved trails running throughout. You'll get sun on the shore loop, but the interior of the park is densely shaded and cool. Benches throughout offer sunny spots to rest and enjoy the view of the water.
Volunteer Park
Set on about 50 acres of land, this park offers sidewalks and gravel trails along with open meadows. To diligently work off those cronuts, hit the 107 steps in the Water Tower and check out the observation deck, where on a clear day you can see Mt Rainier. A few loops in the park is good for about two miles, but you could also run along 14th  -- and surrounding blocks -- to check out the beautiful homes there; just watch out for the extra janky sidewalks. The internet jury is still out on whether jogging in cemeteries is OK or not OK, but people often do it through Lake View Cemetery, to the north of the park, to visit the site where Bruce Lee is laid to rest.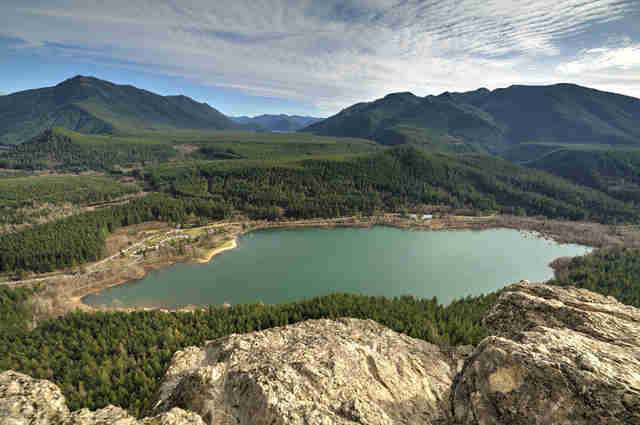 Rattlesnake Ledge
This four-mile loop with an elevation gain of 1,160ft will have you huffing and puffing and wondering why the hell you're doing this to yourself. Until, that is, you come out on the rock bluff to a sweeping view of the lake and surrounding green mountains, including Mount Si. The trail is well-maintained but busy, so get there early if you want to keep your own pace. If you're looking for more of a challenge, you can continue on to the East Peak another 2.4 miles out from the overlook.
Elliott Bay Trail
You can follow the shores of Elliott Bay for about five miles on this mostly paved trail, which runs from (near) Safeco Field to Smith Cove Park in Magnolia. You'll mainly follow Alaskan Way, with some on-road segments, passing Pike Place Market and the Olympic Sculpture Park. You can enjoy some art as well as views of the Olympic Mountains and the Seattle skyline to keep you from getting bored on the trail. Just try not to pull off the road when you smell Le Panier.
Sign up here for our daily Seattle email and be the first to get all the food/drink/fun in town.