If that $10 from Grandma is still burning a hole in your pocket or you spent all your money on Seahawks tickets and didn't have any left to buy presents, it's OK: There's a whole year ahead of you in which you can acquire cool stuff for yourself and people you like. Seattle's got plenty of businesses that are starting to flourish with people opening shops and selling products you can't find anywhere else and creating art -- both useful and purely decorative. These are the people who make Seattle great and who you should feel great supporting.
Downtown
If Etsy came to life and there were a place to browse the kinds of individual, hand-made crafts people drool over online, this would be the result. The shop sells the work of all types of independent creatives from around the Pacific Northwest, including candles, hot sauce, jewelry, ceramics, cards, popcorn, leather, and just about anything else you can think up. Trying to find a venue to sell small-batch goods can be hard for single-person shops, so this opportunity to showcase products in a giant Downtown mall is the chance of a lifetime for most artists -- it's our job, as admirers of beautiful and delicious items, to put our money in the pockets of people creating them.
First Hill
This is not your grandpa's museum gift shop: The store curates a collection of toys, household objects, books, and art that's as intriguing as it is stunning. Whether it's a kite shaped like a sailing ship or a silk chiffon scarf, the store highlights local artists and their unique pieces. Also, the shop is a non-profit supporting the museum -- which offers free entry to everyone, every day.
Fremont
A cookbook shop that doubles as a community center for the culinary crowd. Though the shelves are lined with the latest and greatest books, imported treasures, and hard-to-find gems, you may also walk in to find a cooking class, speaker, demonstration, or the occasional snack offering. While many independent book shops are struggling, this nook of a space succeeded by creating a welcoming environment for all lovers of food and literature. Shop there to support -- and become a part of -- a truly amazing group.
Pike Place Market
What started as a shoe company out of Louie Gong's living room is now a Native-owned shop in Seattle's busiest market, selling incredible wool blankets and other handmade crafts by Native artists. Much of the Native-inspired art on the market today comes from big companies taking ideas and designs -- and in turn, income -- from Native artists. Shopping at Eighth Generation ensures that you are getting beautiful and original pieces that aren't exploiting or stealing others' ideas.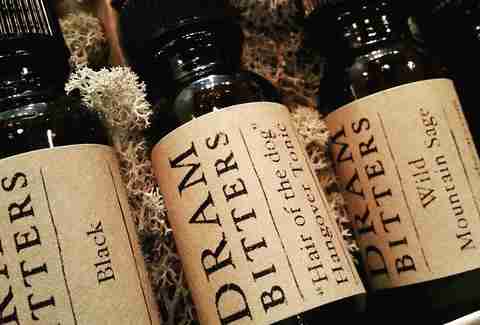 Capitol Hill
An herbal apothecary that sells everything from potions to cure the common cold to chocolate. Whether you stop in for a medicinal consultation with the on-staff herbalists or to pick up a "Fuck Trump" necklace, this shop will cure what ails you. And, the whip-smart, outspoken owner spends her words and platform fighting for equality and justice -- all while healing the people around her.
Various
Your source for all things video game related, from retro systems to the latest releases. This shop buys and sells it all -- including toys and clothing. But what really makes it cool is the fact that this shop is woman-owned... which is refreshing in a typically male-dominated industry and culture.
Ballard
Whether you're looking to expand your liquor cabinet or simply try something new, taste your way through the products at this nano-distillery. Inspired by the neighborhood's Scandinavian heritage, the tiny spot produces various flavors of aquavit and a cherry bounce (aged sour fruit liqueur). While you're there, pick up some herring: pickled, salted, frozen, or smoked. Ballard's Scandinavian history is fading into the background quickly, and it's little shops like this that will help us remember the roots of our city and neighborhoods. So watch an episode of the Ballard Driving Academy, take a shot of aquavit, and shout "Skal!" across the canal with us.
Pike Place Market
When two local artists collaborate on a shop, you get a zany, innately cheerful store full of wacky art -- and the tools you need to make your own. Explore the tiny 300sqft to find waterproof shower art, DIY craft kits, coloring books, and AT-AT sweatshirts. Not only do you get to shop for adorable toys (for adults and kids) and gifts, but you'll be supporting other artists and local causes. Last year they even held a bunny party for easter with live bunnies to raise money for charity.
Downtown
This unique and intrinsically Seattle clothing is in a shop collaborated on by former Seahawk Shaun Alexander. The colors are black, white, and maybe a touch of gray, but the shopping experience is full of local color -- including a speakeasy and live music events. It was founded to, in their words, "encourage, inform, inspire, unite, and invest in the extraordinary causes around us."
Sign up here for our daily Seattle email and be the first to get all the food/drink/fun in town.