Seattle winters are darker than a Hannibal marathon. Combine that with the city's infamous six-month drizzle, and "winter" doesn't exactly scream romance. Even if you've somehow managed to convince someone to swipe right, and you've both agreed to pull yourselves away from the TV for the night (sorry, Netflix and chill does not count as a date), you're certainly not going for a romantic walk in the park. Lucky for you, we've collected the 10 best ways to ignite a little spark in the deep, dark, frigid cave we call winter around here.
Visit the aquarium
Otters and seals. They don't get cold, are incredibly adorable, and some seals even possess an amazing voice. They swim around all day in frigid waters, even in the dead of winter, and never once do they turn to each other and say, "Holy crap, we've got three more months until we see the sun again!" Head to the Seattle Aquarium with your date to see all of them. You won't regret it.
Go skiing at Stevens Pass
The best way to fight the winter blues is to face them head-on: by going out and enjoying the cold snippets of daylight. It doesn't matter if you don't know what you're doing on the ski slopes -- you can flop around like idiots together until you both give up and go for drinks at the Foggy Goggle.
Do some tubing at Snoqualmie
It's another fun way to actually get outside (albeit one requiring far less skill and even less skrilla), and it comes complete with some added bonuses: a spike in adrenaline, a good way to waste an afternoon, and a car ride just long enough to get to know each other -- but not quite long enough to get into those awkward silences.

Treat yo'self at Banya 5
OK, forget braving the cold; it's time to cozy up. A few hours at this Russian spa will definitely chase away the winter chills as you and your date hop from the hot tub to steam room to sauna, then maybe retire to the tea room. Side note: there is no making out in the nap room.
Eat hot pot at Little Sheep
Hot pot is the ultimate winter food; it's soul-warmingly hot and served from a steaming cauldron. What makes it great for dates is the interactive portion: dipping noodles, beef, and vegetables into the broth and then your own customized sauce. "Can I fish you out a meatball?" has never sounded so romantic.
Check out a movie at Central Cinema
Don't run the risk of taking your date to a bad movie. Go watch an old favorite at Central, and have the added luxury of ordering a beer to your seats. With a full menu and a liquor license, you can watch seasonal favorites such as Elf and Edward Scissorhands as they really should be seen… from behind a pint glass.

Laugh at improv at Jet City
Nothing lifts the somber shadow of winter quite like laughing at really ridiculous stuff, which is exactly what Jet City specializes in. Tickets don't cost any more than going to a movie, but you get the bonus of a live show -- and you'll probably end up participating. They say that mutual humiliation builds bonds, right? Let's hope so.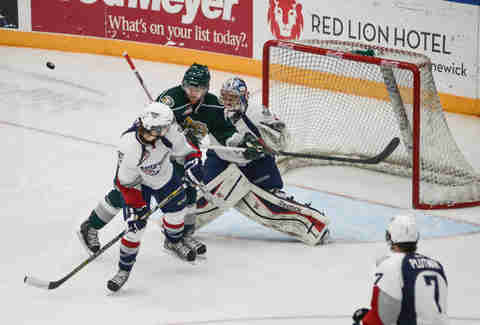 See a hockey game
We're still waiting on that NHL team, but in the meantime, there's plenty of minor league action. The Seattle Thunderbirds, ironically, play in Kent, and the Silvertips in Everett. If that's too far, just head to Highland Ice Arena, strap on skates, and try to not bust your ass practicing hockey saves.
Sip hot chocolate at Hot Cakes
Warm up from the inside out with a mug of hot chocolate from Seattle's trendiest sweets shop. Pick from the super-rich dark chocolate or the creative s'mores flavor. And, if things are going well, you can heat things up even more by adding a spirit to any of the options.

Run a winter race
OK, getting up early and exercising in the pouring rain doesn't sound like it's going to win you anybody's heart, but Seattle's an athletic city and we're willing to bet if this is something you are willing to do, you'll find a partner just as nutty as you. So pick from the Reindeer Romp, the Interlaken Icicle Dash, or the No Sun Fun Run, and give it a try.
Sign up here for our daily Seattle email and be the first to get all the food/drink/fun in town.
Naomi Tomky's favorite date in town is the date shake donut at General Porpoise. Follow her on Twitter @Gastrognome and Instagram @the_gastrognome to see how good that looks.