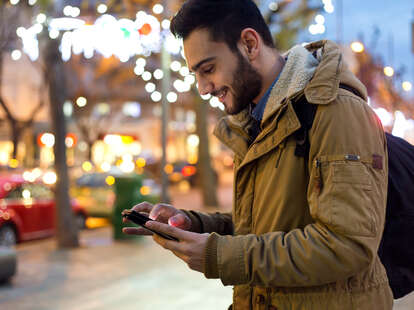 Except for finding an affordable apartment, and possibly a restaurant with some good appetizers, there's no better way to make Seattle your own than finding a few essential apps for your smartphone; ones that'll do everything from helping you pay for parking to planning a pub crawl. Luckily, The Town's the kind of tech-savvy place where you can find those things, or rather we can, so you don't have to.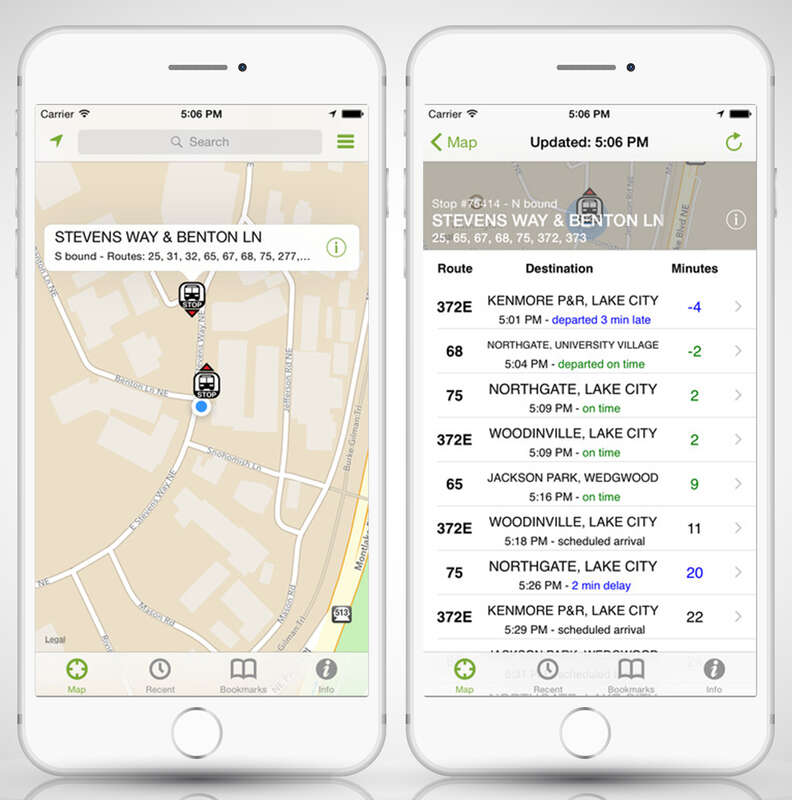 Getting around
OneBusAway
Free
iPhone, Android, Windows
What it does: Provides real-time transit info
The OG of transit apps started as a student project by a couple of guys in grad school at UW. The project soon turned into the topic of their PhD dissertations, and eventually into a massive open-source project designed to tell you when the bus (or train, or whatever) you're trying to catch will actually arrive.
WSDOT
Free
iPhone, Android
What it does: Updates you on traffic... and a whole lot more
Yeah it maps Seattle-area traffic in real time, and gives you access to live traffic cam feeds, but it also has mountain pass reports, ferry/train schedules, wait times at the Canadian border, and access to the department's occasionally hilarious social media feeds.
PayByPhone
Free
iPhone, Android, BlackBerry
What it does: Pays for parking from your phone
If you're going to pay Seattle's outrageous parking fees, you might as well do it without struggling to find a spot, getting out of your car, walking down the block to a pay station, trying to get it to take your card/money for a few minutes, then finally walking back to your car to stick the display receipt on the inside of your window. This app eliminates all that. Except the walking-to-the-pay-station part, 'cause you need to enter the correct location code. Oh, and the struggling-to-find-parking part, obviously.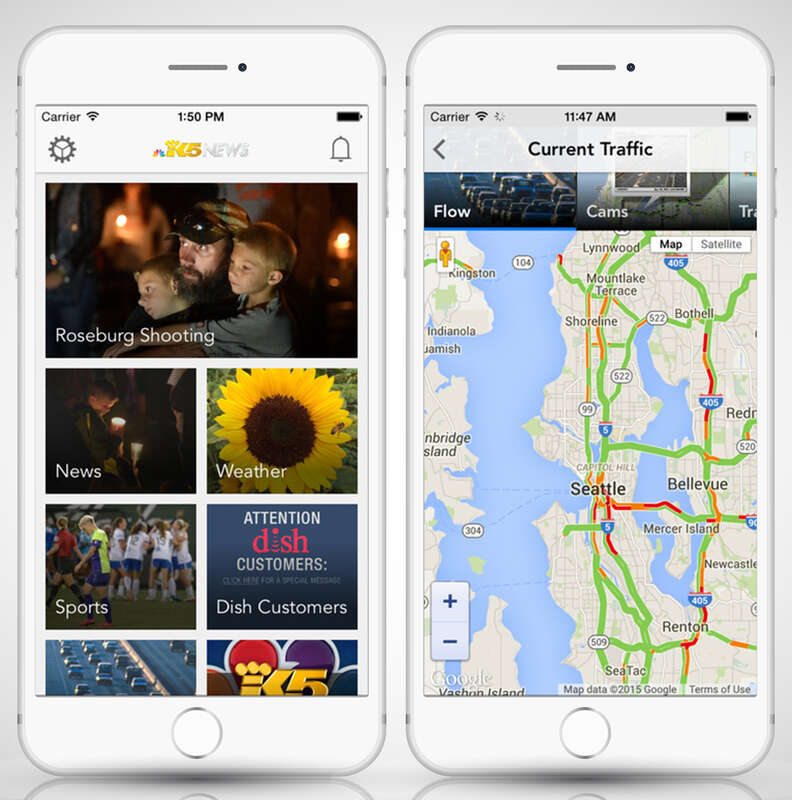 Staying in the know
KING 5
Free
iPhone, Android, Kindle
What it does: Tells you local news, weather, and traffic from Seattle's #1 local news station
Yeah yeah, we get it. Breaking news, location-based traffic/weather info, blah blah... we all know you're just here for the live news broadcasts from King 5's incredible new SoDo studio.
GeekWire
Free
iPhone, Android, Windows
What it does: Gives you only the most important tech news
This fast-growing site has all the tech news you need (including an "app of the week," local geek events, etc.), but absolutely kills it when it comes to Seattle-based stuff, making it a can't-miss source for info on the 206's biggest industry.
KUOW
Free
iPhone, Android, Kindle
What it does: Lets you live-stream public radio
Seattle's UW-based NPR affiliate has come under a little fire lately, but it's still got a solid app that gives you access to its live streams, local news, and more.

Entertainment
PlanIT
Free
iPhone, Android
What it does: Finds things for you to do... with your friends
The Seattle Weekly hasn't just put out its already-comprehensive event listings in mobile form, but it's created a platform from which you can find great stuff going on around town -- from pop-ups and happy hours, to live shows -- then make plans with your friends, and even buy tickets, etc., all without leaving the app... even if your friends don't have it on their phones.
KEXP
Free
iPhone, Android, Windows
What it does: Live-streams public radio that's actually cool
Listen to Seattle's coolest radio station's 24-hour live stream, request a song, or check out the 14-day archive if you somehow managed to miss Street Sounds last Sunday. Again.
Seattle Pipeline
Free
iPhone, Android
What it does: Tells you pretty much every event worth going to. And it's no joke. The app is essentially the Seattle Pipeline's usual robust rundown of local events but in mobile form. Plus live happy hours from all over the city, ticket giveaways, and more.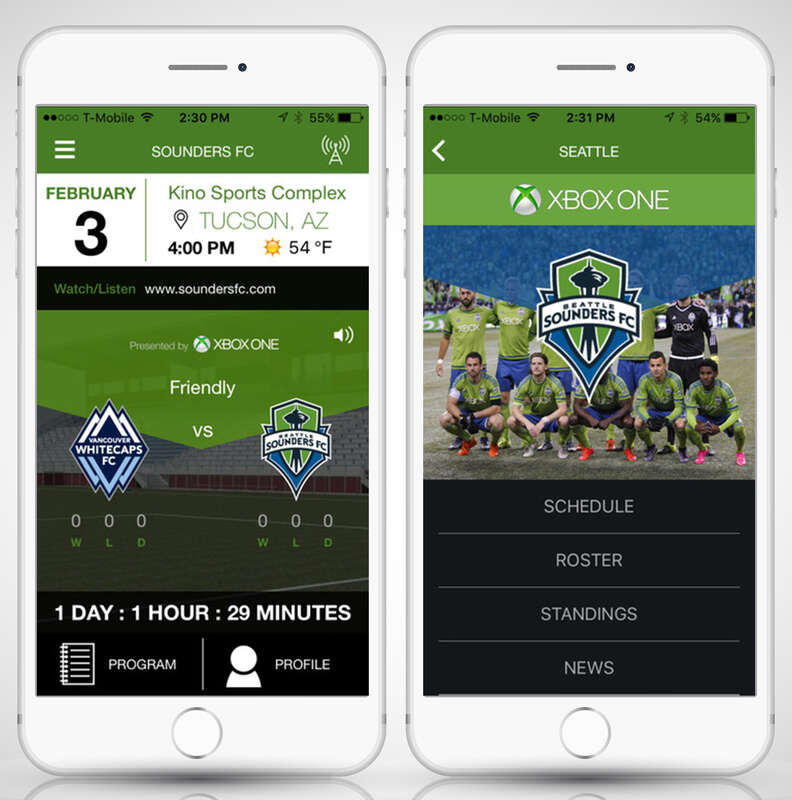 Sports
Sounders FC
Free
iPhone, Android, Windows
What it does: Gives you all Sounders, all the time
This relaunched app has live audio/match commentary for all Sounders games, up-to-date team news, access to the team's highly active social media streams, video clips, and more... like the recent first look at the 2016 home/away kits.
710 ESPN Seattle
Free
iPhone, Android
What it does: Streams local sports talk
It's just like the real ESPN radio, except these guys talk about the Seahawks, and the Mariners, and the Sounders, and... oh, who are we kidding? They pretty much just talk about the Seahawks.
Seahawks Mobile
Free
iPhone, Android, Windows, BlackBerry
What it does: Hopefully helps you forget our last two trips to the playoffs
Sure, you can check out team news/stats, manage your tickets, watch in-game video... but you can also order concessions directly from your seat, as well as check out Sea Gals photos... if that's what you're into.
Eating and drinking... and smoking
Leafly
Free
iPhone, Android
What it does: Finds weed near you
Seattle-based Leafly is the world's largest marijuana website and, just like the website, the app boasts exhaustive info on the effects, flavors, etc. of various strains, as well as an elegant map interface showing you where to find 'em nearby.
SeattleFoodTruck
Free
iPhone, Android
What it does: Helps you locate food trucks
What started as a labor of love for mobile eats has grown into one of Seattle's most crucial resources, with schedules, event listings, food photos, and more.
Twizoo
Free
iPhone, Android
What it does: Has Twitter tell you where to eat
Launched in Seattle last month, this London-based app mines Twitter for up-to-date opinions about local restaurants and uses a simple visual interface to let you know if you should eat there. Green means good, and the larger the bubble around a place, the better the buzz.
Thrillist
Free
iPhone, Android
What it does: You already know!
You don't need us to tell you that Thrillist is the place for everything from comprehensive lists of the city's hottest restaurants, to musings on The Town's best dive bars, or donuts, because you're smart. So we'll just leave this here for you to tell your friend about.
HopPlotter
Free
iPhone
What it does: Maps out all the breweries near you
No doubt inspired by our Ballard brewery crawl, this ingeniously simple app literally plots (as the name suggests) all the nearby breweries on a map, and provides some basic info on each one, seriously streamlining your crawl-planning process.
Sign up here for our daily Seattle email and be the first to get all the food/drink/fun in town.
Bradley Foster is a former Thrillist editor who's really pissed he didn't come up with that HopPlotter thing.