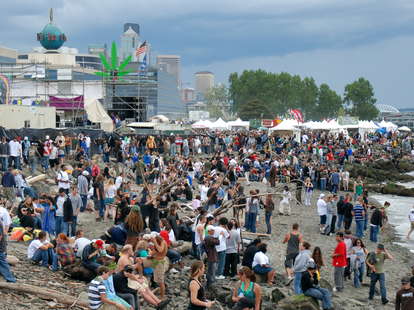 <strong>Seattle Hempfest |</strong> <a href="https://flic.kr/p/2QsAZW" target="_blank">Flickr/Paul David Gibson</a>
Sure, Marijuana is legal in Seattle, but it doesn't always FEEL like that. Washington State's strangely byzantine rules can make selling, buying, and using weed a challenge for even the most serious stoner. So what's an out-of-towner*, or someone who's just looking to have a little extra fun on 4/20 to do? Well... read this guide obviously, which should answer any questions you might have, and help you have as much fun using everyone's technically legal substance as you can this side of (ugh!) Denver.
*Out-of-towners should also totally read this too!
So weed is technically legal? What's that mean?
Yes, it is legal to possess up to an ounce of marijuana in Washington State (if you're over 21), but it's not like you can simply light up and walk down the street. You can't smoke it -- or be under the influence of it -- in public, your landlord can prevent you from using it in your apartment, and you can even get in trouble for using it on private property if it impacts other people, aka your neighbors getting pissed about the smell. Plus, you can only buy it in certain places, and don't forget, marijuana is still illegal under federal law.
Can I buy it from the places with green crosses?
Sorry, dude, you cannot. Those are medical marijuana clinics. See, before plain old marijuana was legal here, medical marijuana was, and a ton of the clinics you see opened up so they could sell to people with a doctor's prescription. However, now the state wants to do away with 'em (dozens have been closed in the last year, and dozens more will close by July 1st), so people will be forced to get their weed from state licensed legal pot shops.
Whoa OK. But there are places I can legally buy weed?
Totally! And despite the state seemingly making it as difficult as possible for store owners, more are opening all the time. Some of our favorites include Uncle Ike's in the Central District, where the staff is friendly and incredibly knowledgeable; creative weed/edible slinger Ocean Greens on Aurora, and the laid back Pot Shop that's currently in Fremont but is moving to Westlake soon.
And these places will have everything I need?
Well, not everything. They're not allowed to sell pipes and stuff like that so if you want one, you'll have to go somewhere else. Lucky for you, pretty much every convenience store has you covered, and the aforementioned Uncle Ike's has a retail shop called Glass & Goods right in the parking lot.

Gotcha. Are there private clubs I can frequent to indulge in my new legal hobby?
Sorry. A few private lounges struggled to stay open in the past, and a nightclub where you could get high even opened briefly last year, but the state passed a law banning them soon after.

So what do I do? That doesn't sound like much fun.
Don't worry, Seattle really knows how to celebrate what freedom it does have. It's hosts the world's largest hemp festival (creatively called Hempfest) every year, we just finished hosting CannaCon (the country's largest marijuana convention), people continually put on weed-inspired burlesque and comedy shows, and 4/20 is quickly becoming one of Seattle's favorite holidays.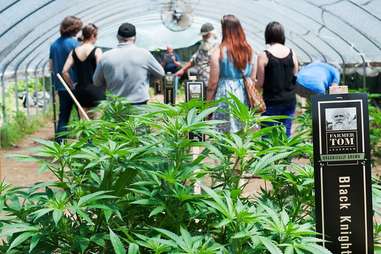 I REALLY like weed though. What else does SEA offer?
What to see the Washington weed industry up close? There are local companies that will take you on a tour of a state sanctioned growing operation, show you where people make all the delicious edibles on offer, let you watch glassblowers making pipes/bongs, and yes, take you to one of the city's sweeter pot shops.
An even better move, though, might be downloading Leafly: It's a Seattle-based app with exhaustive info on the effects, flavors, etc. of various strains, as well as an elegant map interface showing you where to find 'em nearby. Plus, it's one of Seattle's essential apps. Obviously.
Sign up here for our daily Seattle email and be the first to get all the food/drink/fun in town.
Bradley Foster is a former Thrillist editor who had the munchies all the time BEFORE Washington went and made marijuana legal. Sigh.