As the sunsets get earlier and the nights more blustery, we have to come to terms with the fact that it's fall in Seattle. But as you look out the window at 6pm and exclaim to yourself, "It's already dark?!," keep in mind we created this list with you in mind. Below you'll find a bunch of fun stuff you have to do to make the most of fall... and a lot of it won't cost you a cent.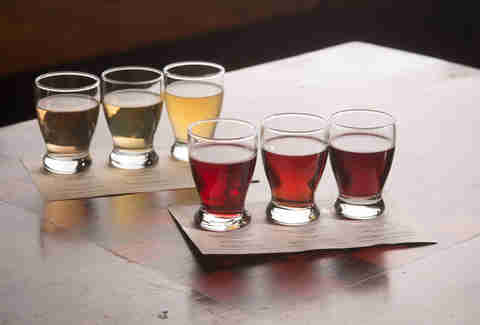 Drink some of the state's signature crop
Most of the country's apples are grown in Washington, and sure you could go pick some at a nearby farm (The Farm at Swan's Trail is the closest U-Pick orchard to the city), but why do that when you can just go to one of Seattle's leading cider establishments and drink your apples instead?
One word: Sailgating
Now that the Huskies are good again (like BCS playoffs good), fans can actually starting thinking of their still newish stadium the way the school has always wanted us to, as "the greatest setting in college football." And the best way to enjoy that setting? By boat, obviously. Sailgating is a unique Seattle tradition that combines boating on Lake Union/Portage Bay, and UW football, and makes for an unforgettable way to spend a Saturday. Boats leave from Anthony's in Ballard or Ivar's in Wallingford, so the only thing left to decide is fish or fried fish.
Go forth and catch a big-ass fish
There are few things more closely associated with Seattle than salmon, and the best time to catch a truly massive King or Coho (we're talking 50 pounds or more) is right now. So find a boat and get out on the Sound, or one of its many rivers, ASAP.
Enjoy Oktoberfest without leaving the state
There are at least a half dozen faux Bavarian towns spread across the US, but Leavenworth is unique because of its astonishing alpine setting, its array of chintzy attractions you had no idea you needed to see (like a Nutcracker Museum), and because its three week Oktoberfest celebration actually takes place in October, all of which combine to elevate it above its all too obvious architectural charm.
Drink some fresh hop beer you won't get anywhere else
Ninety-nine percent of beer is made with dry hops, but the other 1% is made with hops immediately after they're harvested. When they're fresh. And the world's best fresh hop beers are made in Washington, where America's best hops are grown, and where the style was invented back in the '90s. Learn all you need to know about this ultimate seasonal brew, right here, then go try some yourself either at Seattle's fresh hop festival or pretty much any craft brewery.
Enjoy a three-course meal. For $32.
It's the quintessential dining experience: a three-course meal at a nice restaurant. But oh boy, that kind of thing can get spendy... unless you do it during the two weeks of Seattle Restaurant Week, when a slew of the city's hottest restaurants offer prix fixe dinner options for just over 30 bucks a pop.
Pumpkin spice lattes? Go with pumpkin beer instead.
Starbucks' inescapable seasonal drink is a "Seattle" tradition that people around the world have annoyingly made their own. But it's cool, that's not even our favorite fall beverage: Pumpkin beer is. So much so there's a two-day festival dedicated to it that always sells out. This year, the event's being held at Seattle Center.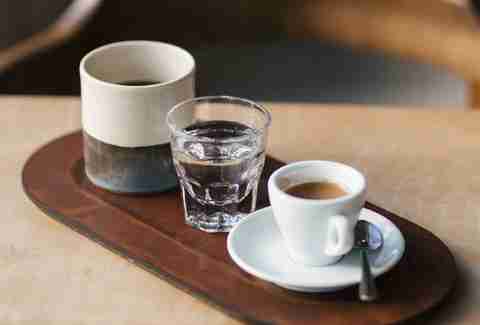 Find a new coffee shop to try instead of that one you always go to
We admit it, there's no better time of year to engage in what is probably the most Seattle activity there is: sitting around a coffee shop drinking something warm. But why do it at the kind of place you can find everywhere else? Do at one of these places instead.
Buy a new polar fleece
And/or a new flannel, obviously. This item is like the free box in Bingo.
Take someone special on a (cheap) date
You need to find someone to spend the winter with, like, now. And that means doing something fairly rare in Seattle these days: dating. Luckily we've got a ton of great date ideas that won't set you back too much, right here.
Take a hike while you still can
Western Washington is full of great trails -- including these hidden hiking gems -- that'll get you off the beaten path. Just pay a little more attention to the weather forecast, and be sure to bring some warm clothes (like that polar fleece you really should have bought already), and you'll be fine.
March to a match
Why go to a futbol match when it's football season? Three reasons: The passion on display when Sounders fans head to the stadium from Pioneer Square is even more impressive when it's raining; the playoffs are about to start; and those scarves make wayyyy more sense this time of year.
Find a car and take a scenic drive
Seattle may seem like it's in the middle of nowhere, but where else can you drive to two world-class cities (or at least one plus Portland), or to both the mountains and the beach all within a few hours? Of course, we wouldn't really recommend hitting the beach this time of year, but what we DO recommend is taking one of these 10 great road trips.
Repeatedly tell people that you can't believe how early it gets dark all of a sudden
As if a couple of months with light in the sky at 10pm is enough to make you forget what it's like living in darkness and gloom most of the year. Nice try, though.
Sign up here for our daily Seattle email and be the first to get all the food/drink/fun in town.