Jason Hoffman/ Thrillist
Jason Hoffman/ Thrillist
The wheels of my plane touched down in Florida after I had said goodbye to the Peace Corps. Soon after leaving the tarmac -- and development work -- in the rearview mirror, I found myself floating listlessly in the backyard pool at my mother's house, wondering what my next move would be. I could no longer live my life like one big insouciant shrug.
I wanted to be a writer. But for one reason or another, all I could picture myself doing was sitting at a sushi bar diligently reading and finding solace in my self-imposed seclusion. That's what a selfie of my future looked like on my mind's camera. Nevertheless, I need a goal… something to work towards, to keep me focused. I chose writing.
Of course, I knew I could write anywhere. With access to a computer and the internet, it's never been more uncomplicated. But surely I'd be more inspired in someplace like Brooklyn, bustling with pseudo-intellectuals and writer-types… or perhaps a more Thoreau approach would suit me and I'd have my revelations in a cabin deep in the woods.
I wanted to go some place where I thought I belonged, a place where people shared my idiosyncratic beliefs and ideologies.
After living for two years in a culture so different from my own (in the Corps, my host sister was fond of mocking my nerdiness: "Aren't you bored just reading?!"), I wanted to go some place where I thought I belonged, a place where people shared my idiosyncratic beliefs and ideologies. Then life decided for me: one night, I found myself making out with an old friend who was visiting from Seattle. And we decided to be crazy -- one month later, I was on my way to live out there.
Being a Floridian and not knowing much about the Northwest, I'd heard two things about Seattle: that it rains... a lot; and that it was an "artsy city" -- though I wasn't sure what the latter meant, as artsy is such an arbitrary descriptor. However, my boyfriend kept telling me I was going to love it there. And I believed him.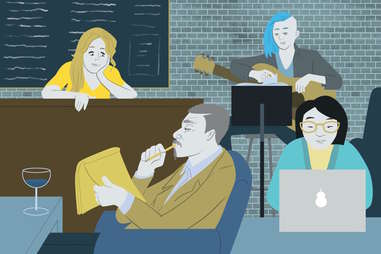 When I arrived in town, I was broke and living on couches. I eventually found work as a waitress part-time for a wine bar, and soon noticed there were many others, like myself, who led double lives. There was the bartender/letterpress artist, the retail worker/punk singer, the barista/painter. More people introduced themselves as their passion -- rather than their job -- and I found this charming. I admitted that I wanted to be a writer to only a few people, shrouded by this unwarranted shame that they might be thinking "This loser thinks she can be a writer?" To see people inviting friends to shows, making their art, and actively pursuing creative careers made me wonder why I felt so embarrassed to try it myself. Seattle was still pretty cheap then (five years ago), so a lot of people I knew worked three days a week at making money and spent the rest of the time making art. Some of the lucky ones got by on their craft alone.
My boyfriend told about this writing center that happened to be a mere six blocks from his apartment. I had sent him my writing, sheepishly, and his voice sounded encouraging. "I think this place will be really good for you," he said.
It turned out to be called Hugo House, named for a local poet, and it offered classes, readings, and open mic nights. It was like a writing camp, except no cabins to sleep in and no capture the flag. I decided to investigate. I attended my first reading, slinking with my back against the wall, watching actual, published writers say decidedly writerly things, throwing about semi-bureaucratic words I'd never thought I'd hear, like "agent" and "book launch." Later, a poet named Nicole got on stage and delivered her lines, backed by a jazz band, tapping a tambourine on her hip, and conjuring waves of laughter with poetry, a feat I'd never before seen.
Just what the hell was all this? Hilarious poetry accompanied by rigorous tambourine shaking was an option? How would a person like me, in the back, in the dark, make the kind of work people wanted to shine a light on? And did I mention I was still broke? Oh, I was. So like Oliver holding out my bowl, pandering for a second helping of the feeling I felt that night, I gave Hugo House a call. I had nothing to lose.
Like Oliver holding out my bowl, pandering for a second helping of the feeling I felt that night, I called Hugo House.
Cue the musical montage about the struggling artist in the new city! Hugo House ended up giving me my first class for free, where I sat, raised my hand, and admitted I had no idea what the three-act structure was. And, despite my own trepidation about being judged, I was met with only answers and conversations. I remember leaning in close -- at a bar after class -- while the teacher explained how to get published in a literary journal. I remember reading at an open mic night, getting my first laugh before the five-minute bell, and typing on my laptop at Victrola on Saturdays, before closing Facebook and seriously attempting to write something that didn't suck. And sometimes, once I got a better job, I would treat myself to a solo lunch of conveyor belt sushi and a book, a dream that was now my reality.
When there's a concentrated hive of people who love the same thing you love, there's an inexplicable energy there that propels you forward. And in Seattle, there were no shortage of hives. In a city populated by less than a million people, you can find your tribe without getting lost. And in the same way that I have Hugo House, dancers have Velocity; glass blowers have Pilchuck; ceramic artists have Seward Park Clay Studio; designers have the School of Visual Concepts. The culinary school grads meet their James Beard Award-winning idols, and bands hear their own music on KEXP.
Being an "artsy city" means Seattle has a marginally bureaucratic structure for art. Organizations mean funds, help, and a place to find mentors. My mentors are the authors I read, who sit across the table from me eating baby burritos at Tacos Chukis. They're the teachers who have been through it, the people I ask about MFAs and places to send essays. I live vicariously through their book deals, and they help me believe that if I keep at this, I too could sell a book.
And the city itself offers support. In fact, the Office of Arts & Culture of Seattle just paid a writer $10,000 to hang out in a bridge tower and write about it. We have Artist Trust, which supplies grants and leads workshops about how to live as a professional artist. And we have people who value what the arts bring to the soul of the city, people who pay for tickets to go to shows and buy handmade bags at the Punk Rock Flea Market.
With every person I meet who's pursuing their passion, the how becomes more clear. You simply watch. And then you simply do. Since moving here, essays I started at Hugo House have gotten me into grad school, made their way to national magazines, and landed me an agent. It's actually happening.
Admittedly, I was terrified when I first encountered the artistic community. I thought I'd have some grand realization in that moment, a miraculous epiphany that I didn't belong, that I was wrong about who I was. But I soon realized that no one is ever granted permission from some higher artistic power, or anyone for that matter. You simply jump in, and as my punk singer companion says, "throw your give-a-shitter out the window and join the party."
Sign up here for our daily Seattle email and be the first to get all the food/drink/fun in town.
Paulette Perhach lives in the last cheapish apartment in Capitol Hill, Seattle, organizes her life around the Hugo House readings schedule, and just quit her day job to pursue writing, so fingers crossed. Follow her @pauletteperhach.