Seattle's steep hills and long stretches of waterfront are basically nature's gym equipment: there's not an elliptical in the world that can work your glutes like a hike up Queen Anne Ave. Which is good, because it turns out that paying more for a fancier gym doesn't actually make you go there any more often. Since there's no reason to blow your life savings on the nicest treadmill -- or the place with the cute trainers -- you might as well work out for free and spend that extra money taking one of said trainers out for dinner. That's why we compiled the 14 best places to workout for free around Seattle for you.
Pioneer Square
In season, Kinesia Pilates offers "Pilates in the Park," a free pilates class open to the public in the tree-lined square. Out of season, you could use the trees to run a slalom course around the square.
 
Green Lake
Often compared to Central Park in New York (and designed by the same guys), the 2.8-mile track around the lake crowds together walkers, joggers, rollerbladers, and all other manner of non-motorized exerciser. For a little extra strength training, stop at the pull-up bars and other equipment on the northeast side.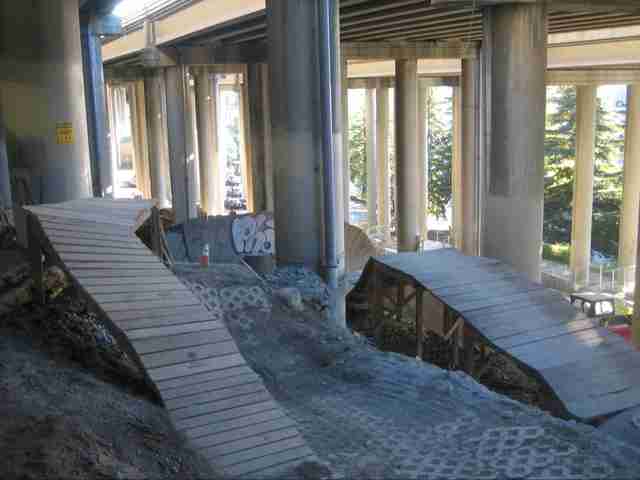 Eastlake
While many spaces under I-5 serve as impromptu homes, Evergreen Mountain Bike Alliance converted this one into a playground for riders. Learn to navigate switchbacks, ride ladder features, and take air on two wheels. The nearest place to grab a good beer after is the Zoo Tavern. And after the adrenaline rush, you'll need it.
West Seattle
The cycle track and running path along Alki Beach entices runners with panoramic views of Downtown... and up close views of plenty of beach-friendly bodies -- including those making use of the beach volleyball courts.
Downtown
Zumba, Mixxed Fit, and cross-training yoga are the kinds of free classes offered by Downtown Seattle in cooperation with the Urban Parks Activation Partnership right in the heart of the city.
 
Montlake
Baseball fields, tennis courts, and a track have long been a part of the outdoor exercise facilities at this canal-front park, but in 2014, it added an abundance of Norwell Outdoor fitness equipment.
All over Seattle
The most well known of Seattle's "rail trails" (old railroads converted into biking/walking trails), the Burke-Gilman covers just short of 20 miles, starting at the beach (Golden Gardens) and ending in Woodinville wine country.
Beacon Hill and Rainier Valley
The South-end's answer to the Burke-Gilman, the paved biking/walking trail was created in 2007 with recycled soil removed for the creation of Seattle's light rail system.
 
Central District
At the edge of the I-90 lid, this is the perfect spot to head off on a ride across the bridge, but the outdoor fitness equipment at the park offers potential for a more stationary workout.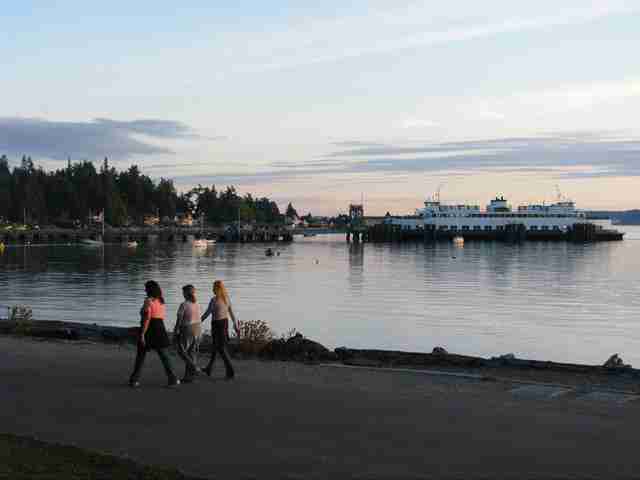 West Seattle
Take a hike -- but don't even leave the city: the wilds of West Seattle have their own private beachfront hiking trails -- five miles of walking paths and another four for biking.
Magnolia
They say running in sand is even better for you than on trails, so if the five miles of paths through 534 acres of nature reserve aren't enough path for you, try the two miles of beach for an extra challenge.
North Bend
This four-mile hike with over 1000ft of elevation gain is one of the closest and best hikes around. That means there are hordes of people running, hiking, and meandering up it with you, but it's still the perfect option for a fast track to the trails. Though, if you're looking for something less crowded, we've got you covered.
 
Ballard
Myth claims that Seattle's location was chosen for its seven hills (a la Rome), and hills mean stairs: Seattle's full of them. Like so many sets of steps around the city, the 272 that run from Golden Gardens beach up to 85th St NW are perfect for putting your quadriceps into excruciating pain -- and whipping your butt into amazing shape.
 
Downtown
The fitness-clothing chain offers free classes (mostly yoga) in their Pacific Place store, but while the class is free, the clothing isn't, and you may find yourself opening your wallet when you're finished opening your muscles.
Sign up here for our daily Seattle email and be the first to get all the food/drink/fun in town.
Naomi Tomky has been to all of these places. She looked around -- and then found the nearest good restaurant. Find her on Twitter @Gastrognome and Instagram @the_gastrognome.