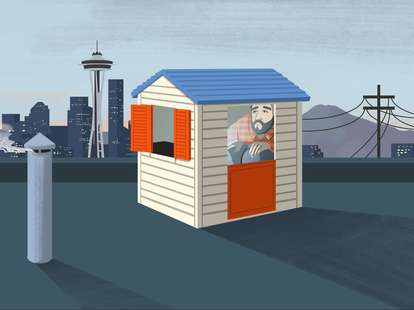 Jason Hoffman/Thrillist
Jason Hoffman/Thrillist
It was 90 degrees inside my apartment. And I use the term "apartment" loosely. It was, at best, an elevated closet I had been living in for five months. Sweat dripped down every crevice as I lay on my beanbag chair that had been turned into a summer nap station. Two fans were pointed on my body, and the patio door was wide open. "I can make this work," I whispered to myself. I turned to fill a glass of water. There wasn't a need to stand up. The sink was only a foot away, and I had just settled into Netflix with no chill. From where I lay roasting, I could see my bathroom, kitchen, bedroom, closet, and home office. Welcome to my micro-studio.
My Seattle living space was about 100sqft. It featured a small carpeted area with a folding table for my office, a ladder that led up to my lofted twin bed, a tiny sink & cabinet combo for food preparation, a sliding door leading to a balcony that is larger than my inside living space, and a bathroom better suited for hobbits. There's a shared kitchen three floors down. This is the hip trend in urban living, according to people who say such things. And the hodgepodge of transient millennials, university students, and middle-aged divorcees in my building seemed to agree.
I turned to fill a glass of water. There wasn't a need to stand up. The sink was only a foot away.
I ended up here -- like many others -- after deciding on a whim to move from Houston to Seattle for my dream job in social media. Of course, like most early 20-somethings, my savings account was a barren wasteland. The micro-studio I found offered a low down payment, a month-by-month lease, and came fully furnished. Since I had moved here with everything I owned in two suitcases, we were perfect for each other.
Micro-studios, or single-occupancy dwellings that normally range from 100 to 400sqft, started sprouting up around the city in 2012, and have increased in number and popularity every year since. They offer an alternative to expensive one-bedroom apartments, or having to share a living space with a roommate. Many of them, like mine, come fully furnished and offer flexible short term leases. Despite the noticeable lack of amenities -- like central cooling and a full kitchen -- it's half the price of a one-bedroom apartment in the city.
But living in a micro-studio is no easy feat. In fact, ask people who have lived in a miniature apartment for any amount of time, and most will tell you they hate it. One reason is that living in such tiny spaces may actually cause psychological health problems. Yet that isn't stopping people from signing leases. It raises the question, at what point does convenience trump well-being? From my own experience, I can attest that living in a micro-studio makes you feel like Harry Potter under the stairs at the Dursley's. Only no one is coming to save you. You're stuck there -- you, your thoughts, your mini fridge, and IKEA silverware.
I've lived tiny. I've eaten cereal from my one bowl. I've hit my head on a lofted bed ladder too many times to count, and I've tried to make romantic relationships "work" when a turning radius is limited to a neck pivot. I understand how difficult it can be, but I'm here to tell you it's possible. Here's how I made the best out of a tiny situation.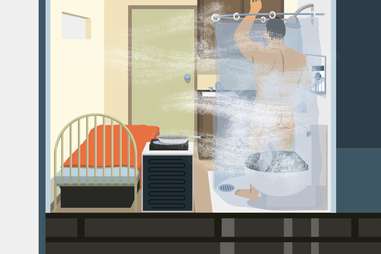 1. Everything is multi-use
My work table was also my kitchen table, crafting table, home theater, and game room. A beanbag is a couch, reading nook, and occasional bed. Your bath towel is now also your kitchen towel. OK, maybe that's a bit too far. But you understand where I'm going with this.

2. Loft everything you can
Without enough horizontal space to do a proper push-up, your worldly possessions will need to be stored vertically. Lofting a bed gives a ton of extra floor room and creates a cool space underneath for lounging about. I used hanging plants to add color to my unit while conserving desk space, and floating shelves for books and other trinkets.

3. Invest in a few expensive items
You've already made the horrible decision to live in space smaller than your childhood bedroom, so why not live it up a little? With the money you've saved from cutting your rent in half, invest in a few expensive items that will make your life more comfortable.
Does your micro-studio not have air conditioning? Get a portable air conditioner. Working from home? Purchase a quality desk with a standing option to save space. And if you're going to sleep in a rabbit hole, get a good mattress so you can at least dream of wide-open spaces.

4. Make a micro-studio a home
It's the little things that can really help you escape the solitude contained within your four miniscule walls. Sure, I didn't have a bathroom sink or a door on my closet -- but I damn sure had a vase of fresh flowers and several pieces of framed art on my walls.

5. If all else fails, escape outside
You've found multiple uses for your living space, lofted your possessions, invested in some creature comforts, and made your micro-studio a bit more homey... but you still feel like you're living in a jail cell. Your best bet is to leave and venture outside.
And if you're going to sleep in a rabbit hole, get a good mattress so you can at least dream of wide open spaces.
That's the hidden beauty of living in a micro-studio. They are often times so inhospitable that spending a few hours in the park or catching that concert you've been indifferent about attending become enticing again. For the lazy among us, the micro-studio may, in fact, be a social lifesaver.
As for me, I've moved on from my microscopic habitat. I live with my best friend in a two-bedroom, two-bathroom apartment with a full kitchen and living room. We have real furniture -- ottomans even! But sometimes I do miss living tiny. And when that emotion strikes, all I've got to do is curl up on my old beanbag and flip on a couple episodes of Parks and Recreation. If only the water faucet wasn't so far away.
Sign up here for our daily Seattle email and be the first to get all the food/drink/fun in town.
Cody Permenter is a freelance writer for Thrillist who thrived as a large man in a very tiny apartment. Follow him on Twitter.