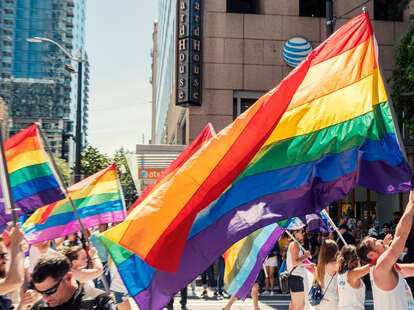 It goes without saying that Pride is a month dedicated to celebration—as it should be. But in 2021, a year and a half into a global pandemic, we can't possibly celebrate without acknowledging all that we've been through to arrive at this moment. In the face of so much adversity—pandemic-related and otherwise—Seattle's queer community proved itself resilient again and again. And, at its core, that same perseverance is what has always defined the queer community—in Seattle and beyond.
The light at the end of the pandemic tunnel is near, but not all businesses will have survived when all is said and done. With that in mind, it's up to the broader community to support those that we know and love, and make sure they can continue to stay afloat. Practically speaking, that might mean frequenting your local gay-owned coffee shop, priortizing local businesses over national chains, attending protests for Black lives, and getting involved in those life-saving LGBTQ non-profits that are doing the work. Ahead, here are all the ways to support Seattle's queer community during (and after!) the coronavirus pandemic.
Continue the resistance alongside the BIPOC queer community
A commitment to intersectionality necessitates that we continue to show up for BIPOC queers—especially with our physical presence at marches and protests. Youth For Defund Seattle PD and Decriminalize Seattle are both good accounts to follow for protest and City Council updates. Beyond that, King County Equity Now is a whole coalition of Black-led community orgs demanding an end to gentrification and predatory development in central Seattle, as well as a redistribution of $180 million from the SPD budget, among other things—all of which will inevitably affect Black queer residents living in the neighborhood.
Over on Rainier Beach, Wa-BLOC will be running its annual, weekly Feed The Beach pop-up all summer with free hot food; check their Facebook page for updates. They're also the brains behind Freedom Schools, a free summer-long educational initiative.
Last but not least, Lavender Rights Project is doing the vital work of providing legal support to LGBTQ communities all over Washington—if you're an attorney, law student, or licensed professional, there's likely a volunteer opportunity here for you. Their WA Black Trans Task Force is particularly relevant to the current crisis of police violence against Black trans folks—and playing a crucial role in the fight to save lives.
Dive into queer arts and culture
Mark your calendar for the 2021 Seattle Queer Film Festival (October 15 - 25) which is returning with a hybrid model of both in-person and virtual events this year for its 26th anniversary, and continuing its mission of "connecting and reflecting diverse communities through queer film and media." Three Dollar Cinema, which hosts the fest, is also running events for Queer Pride in June. Lion's Main Art Collective is doing similar work in showcasing queer and trans artists; keep an eye out for their next show. You can also donate to Blanket Fort Films, the non-profit empowering women, people of color, and the LGBTQ community with free film education and gear.
For a daily dose of trans celebration and healing, consider purchasing The Black Trans Prayer Book, which is the published result of an Instagram project founded by Seattle-based artist J Mase III. And if your weekend (or workweek) needs a soundtrack, tune into nonbinary Seattle rapper Da Qween, or LuluNation on KHUH Radio, a weekly Tuesday night show led by queer and trans people of color.
Donate your time, money, or skills to an LGBTQ non-profit
While volunteer opportunities are still on pause because of coronavirus precautions, there's always the option to send cash instead and support non-profits financially. Consider donating to Lambert House—which empowers queer youth—or Gay City—an all-ages community center in downtown Seattle—the next time you're itching to get involved. Ingersoll Gender Center is another important organization, created by and for the transgender and gender nonconforming communities, which they've been serving since 1977. And grassroots collective Gender Justice League is continuing their work of "empowering trans and gender diverse people" in Seattle and across Washington (both organizations are accepting donations and volunteer applications).
Spend your coin at queer-owned local businesses
If you're spending the rest of summer lakeside, why not support an LGBTQ-owned business while you lounge? TomboyX is the gender-neutral underwear company that also makes some of the best swimwear around, and the brand just so happens to be based right here in Seattle. For local in-store shopping, check out Phantom Quartz, a metaphysical boutique in Mount Baker, Station 7 in Capitol Hill, or Nomadia Creatives, a shop nestled inside of Cupcake Royale by a self-described "queer art gang." Big Little News, the little Capitol Hill shop with—you guessed it—a big selection of magazines, wine, beer, and more, also just unveiled a Pride Shop, which boasts hand-curated and limited edition books, zines, and tote bags.
Alternatively, if you're looking to create your very own merch, Brand | Pride can help—they specialize in promotional materials and are lesbian-owned and operated. And next time you need an oil change, pop by Repair Revolution—the queer auto body shop founded by Eli Allison that's committed to disrupting the industry with inclusivity and transparency.
Make your next meal a gay one
If it's a competition as to which businesses suffered the most during COVID-19, restaurants probably take the cake. But many are powering through with to-go orders and patio seating as Washington continues its phased reopening—and lots are now open for dine-in service, too.
With that in mind, support your local LGBTQ chef and pick up a sweet treat from the aforementioned Cupcake Royale, a queer-owned cupcake mecca that has ruled the Seattle dessert scene for over 16 years (The Gay, a rainbow cupcake, is available year-round). We'd also recommend the wood-fired neapolitan pizza from Tutta Bella, a six-pack of cold ones from Stoup Brewing, and an espresso to go from Fuel Coffee or Union Coffee—all four of which are LGBTQ-owned. The Station in Beacon Hill is another neighborhood watering hole worth a visit—co-owner Leona Moore-Rodriguez is a black queer woman who describes her cafe as a "social justice coffee shop." Marination has also reopened all three of its locations, which is good news if you're a fan of their Hawaiian-Korean fusion cooking (who isn't?).
Pay it forward with a cocktail (or two)
If you've ever had a damn good night at a gay bar, now's a really good time to double down on your support. Quite a few spots have reopened: try Changes in Wallingford (fondly compared to the Cheers bar), or, if you're in Capitol Hill, The Cuff Complex, Queer/Bar, Pony, Madison Pub, or Wildrose (one of the oldest lesbian bars on the west coast). Unfortunately Re-bar is still closed, and The Swallow Bar is permanently closed. For those that are open, we recommend checking on a bar's status before you go out, as things are constantly in flux. And lastly, if you find yourself in the neighborhood of Mt. Baker, check out queer-owned The Velvet Elk, which is open for both dine-in and to-go service.