If you sniff hard enough outside the 12th Ave building that once housed the original REI (and more recently the Capitol Hill Goodwill), you can still smell the creosote. You can also sit on a bench outside Kurt Cobain's house or sigh in the general direction of Seattle Center's Fun Forest, where an amusement park ghost assuredly lurks. But elsewhere in Seattle, as they say in Portlandia, our sister to the south, the dream of the '90s is alive. At these places, you can find the grunge aesthetic that made Seattle famous, drink at the same bar as Layne Staley did, eat at the same restaurants Sir Mix-a-Lot did (and does), and maybe even smoke some of the same strains of pot as Chris Cornell -- only now, it's perfectly legal.

Belltown
The 1907 theater is Seattle's oldest, but it shows its age only in the right ways with the old, painted ad on the side and the beautifully decorated interior. However, you can't see some of the most impressive parts of the Moore's history: its role as the setting for Pearl Jam and Alice in Chains videos, a Soundgarden live album, and the first full production of The Who's Tommy (featuring Bette Midler).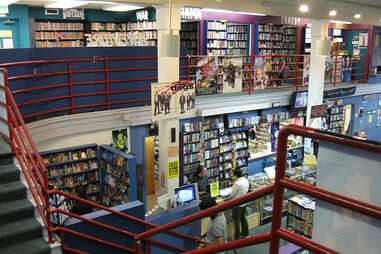 University District
You remember video stores, right? They were like Netflix, only actual humans made those recommendations about what you might like. Not many have survived, but Scarecrow Video is now one of the country's biggest, and those actual humans are why: the staff at Scarecrow know their stuff. The store itself is a treasure trove of old, rare, hard-to-find, foreign, and independent films that you probably won't find anywhere else, complete with people to help you find what you're looking for.
South Lake Union
El Corazon, these days, is a punk, hardcore, and metal venue, but it's also the latest incarnation of a space sacred to the Seattle music scene. Once the Sub-Zero, the Off Ramp, and Graceland, its walls heard the first performances of Pearl Jam and Nirvana, and served as a stepping stone for Soundgarden, Alice in Chains, Mudhoney, and more recently, Macklemore.

Queen Anne
Stepping in is always a bit of a trip back in time: you can almost smell the cigarettes that used to linger here, along with the rock stars, playwrights, low-lives, and every other breed of Seattleite that co-existed back in the day. Part diner, part dive bar, the room co-opts that noted feature of Las Vegas casinos: it could be any time of day, but it doesn't matter, because all you want is a drink and a hot, greasy breakfast.
University District
The quintessential dive bar serves as home turf to Seattle's most alcohol-soaked celebrities. Writers and rock stars alike (see Tom Robbins and Layne Staley) made their permanent roost on a stool at the U-District tavern. Though it's had to fight through multiple development and destruction attempts, even losing a battle for landmark status, the Blue Moon stands strong, just like the "Hammered Man" spoof sculpture out front.
Belltown
For hot dogs and pinball, in the words of Anthony Bourdain, this is "a legendary spot that draws all types of personalities, from professional cooks to hipster douchebags." Legendary, and a landmark now, after being marked for redevelopment, the building in which Shorty's lives was granted landmark status due to its history as one of the few buildings to survive the Denny Regrade, giving a second life to the carnival-themed bar.

International District
Once upon a time, a Belltown pizza restaurant served up a potato and gorgonzola pie so delicious that it haunted locals' taste buds for more than a decade after it closed in the late '90s. But -- like we've already mentioned -- the dream of the '90s is alive. In 2011, the Cone brothers re-opened their legendary shop in a new International District location. Furnished with couches from the Space Needle lobby and serving the same great pizza -- even that famous potato one -- it's almost like you could just walk down the street to the Sit & Spin.
Various locations
We've already ranked the offerings at Dick's, and told you about all the times you needed it and it was there for you. But Sir Mix-a-Lot said it best: "Dick's is the place where the crew hang out, the SWASS like to play, and the rich flaunt clout."

Federal Way
Any kid who grew up in Seattle (or nearby) during the '80s and '90s spent at least a third of the year looking forward to a Wild Waves trip. Because what's better than getting sunburnt in a wave pool with a few hundred strangers after hurtling yourself down a plastic water slide? Oh, right, following it up with as much sugar as you can afford on your allowance. The Fun Forest at Seattle Center might be gone (RIP), but cheesy, old-school amusement parks aren't dead yet.
Belltown
Though it's a reincarnated version of the Crocodile Café that was a stalwart stop for musicians passing through Seattle in the grunge era, it still holds much of the appeal. The Posies played the first show at the venue, followed later by Nirvana, Pearl Jam, and Mudhoney, Cheap Trick, R.E.M., and Yoko Ono, before it shut down in 2007. But since re-opening in 2009, the A-list is back, including the Beastie Boys and Macklemore, and it remains a great venue for good music and a bit of classic Seattle feel.
Belltown
One of only three theaters left in the world that can show three-panel Cinerama films, this was saved in the '90s from getting turned into a rock climbing gym. Loaded with new technology (it's undergone renovations a number of times, most recently in 2014), comfy seats, and the best concessions in town (chocolate popcorn, for the win), there's nowhere better to watch movies -- and immerse yourself in theater history.
Sign up here for our daily Seattle email and be the first to get all the food/drink/fun in town.
Naomi Tomky grew up in these spots and used to stalk the Real World Seattle housemates to them. Follow her more current adventures on Twitter @Gastrognome and on Instagram @the_gastrognome.