Getting into the holiday spirit is actually pretty easy. Simply throw on some Vince Guaraldi, spike the eggnog, and watch A Christmas Story for the 14th time. Or just go hit one of these festive events happening in Seattle during the holidays. Either way, it's a win/win.
Watch it snow inside a mall
You've gotta do some shopping anyway, so why not do it under a nightly flurry of fake snow at Pacific Place every night at 6 and 7pm (5 and 6pm on Sundays) through December 24th.
Hit a free winter festival
Model trains running through a turn-of-the-century village, ice sculptors, 100s of live performances by local student groups, carolers, and ice skating in the Seattle Center Winterfest Ice Arena. And it all goes down every day between 10am and 8pm through December 31st.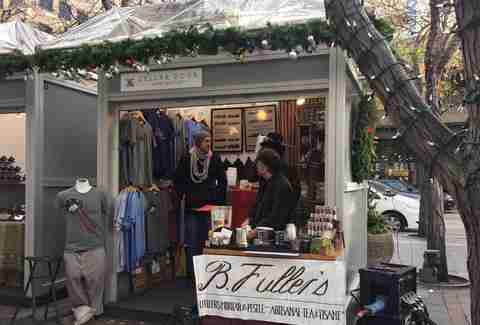 Shop at Seattle's version of a Christmas Market
The crew at Urban Craft Uprising have 24 unique vendors (they change every week through December 23rd) posted up inside 12 holiday themed huts at the Holiday Market in Westlake Park, right in the middle of Seattle's already busy Downtown shopping district.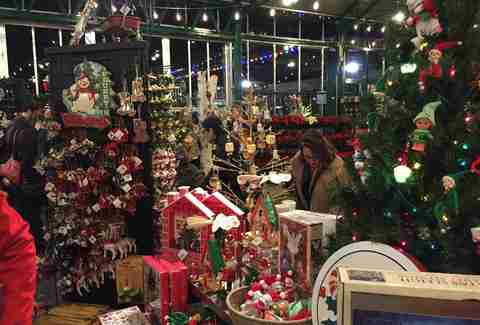 No you can't ride the model trains... or the reindeer
But you can see both of them at Swansons Nursey's Reindeer Festival. It'll feature some of Santa's favorite horned creatures as well as model trains winding through a winter wonderland, now through December 24th.
Look at (but don't touch or chew on) a bunch of gingerbread houses
Every year the lobby at the Downtown Sheraton Hotel is filled with elaborate (mostly edible) displays during their Gingerbread Village celebration, which runs through January 1st. The event is totally free, and best of all, open 24 hours. But again, no late-night snacking!
See the zoo like you've never seen it before...
... at night. And lit by 500,000 Christmas lights lining the paths, twisted into animal shapes, etc. There will also be real reindeer, nocturnal animals, and carol singers at the Woodland Park Zoo's WildLights though the new year (but closed on December 24th & 25th).
Toast the holidays on a boat
Seattle's unique Christmas Ship Festival (it's even trademarked!) features a boat full of carolers sailing to a total of about 65 different Puget Sound communities and entertaining people gathered on shore. And you can totally tag a long any night between now and December 23rd.
See a really damn good ballet
Seattle boasts one of the America's best ballet companies not in New York City, and as usual they're putting on a pretty spectacular version of The Nutcracker by George Balanchine. There will be a live orchestra, magnificent sets and costumes, and a huge cast in McCaw Hall through December 28th.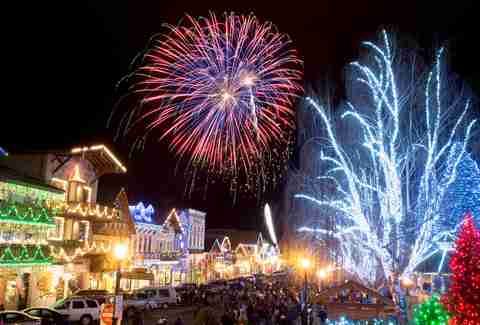 Celebrate Christmas in Bavaria. Sort of.
The picturesque faux German village of Leavenworth is the perfect place to enjoy seasonal lights twinkling on snow, roasted chestnuts, sleigh rides, and caroling during the town's annual Christmas Lighting celebration from Friday, December 9th through Sunday, December 18th.
Ride Santa's train
The Northwest Railway Museum runs a 20-minute Santa Train from North Bend to the Snoqualmie Depot (December 10th & 11th, 16th & 17th) for cookies and a visit with Santa. This is primarily for kids, but you're never too old for Santa, right? Right?!
Feast at the Fisher Scone food truck
Ordinarily a beloved state fair tradition (and one of 17 reasons you should totally look forward to summer) this local scone operation will be posted up at Westlake Park though Christmas Eve filling you with fresh baked treats until 9pm (8pm on Sundays).
Get wild at the Northwest's best amusement park
Wild Waves' Holiday with Lights runs through December 23rd and promises nighttime rides on 25 different attractions all lit with a total of more than 1 million Christmas lights. There'll also be a variety of other (mostly kid friendly) holiday attractions like sing-a-longs and hanging with Rudolph.
See the world's shortest parade
Every night at 7pm, dancers, uniformed drummers, and more will take over "Snowflake Lane," aka a one block stretch of Bellevue Way for a 20 minute pageant/parade that culminates with a flurry of snow falling onto the crowds below.
Sign up here for our daily Seattle email and be the first to get all the food/drink/fun in town.