Seattle's a relatively laid-back place. And it takes more than eight straight months of rain (we're still not buying an umbrella) or other people seriously underrating our beer (it's cool, more for us) to get us feverish. It takes any number of these 10 things -- like Cuban sandwiches, a form of transportation only 4% of Seattleites use, and a team everyone else calls the Oklahoma City Thunder -- to really, truly get us going.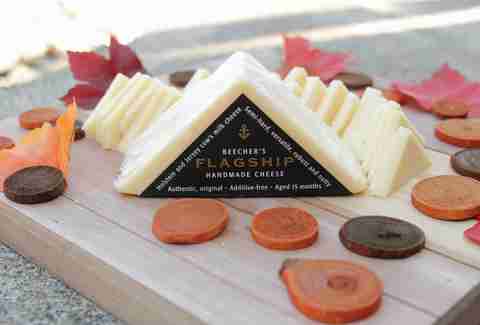 Beecher's Cheese
It's on every menu. It's in every grocery store. And the guy behind it is busily opening swanky steakhouses, and popular bistros, where, guess what? Beecher's is on the menu. It's inescapable, and yet, instead of feeling like it's being foisted upon us, we feel proud. After all, it's local -- and local sourcing is something else we're pretty obsessed with, as we can't seem to stop writing about it. So it must be good, right? Right.
Paseo vs. Un Bien
Ah, Paseo. Nothing really seems to change with this beloved (we're talking lines-down-the-street-at-lunchtime beloved) Fremont sandwich shop that reopened under new ownership after closing in late 2014. In fact, things seem to be going so well that the new owners have opened a second location in SoDo. So, crisis averted, right? Well, kind of. The original owner's sons opened Un Bien in Ballard and started slinging sandwiches made after their father's recipes, and then opened a second location in the old Paseo location on Shilshole Bay. Most people seem confused about which place makes the better Cuban sandwich, so you'll simply have to hit both and choose a side.
New people moving here
If you live in Seattle, then your rent probably sucks; your favorite bar is probably about to get torn down; and your friends -- especially if they live in one of Seattle's formerly lower-income 'hoods -- are probably planning to move to, like, Renton. Why? Because The Town is one of America's fastest-growing cities. The median income is now over $70,000, and this is changing almost everything about the city. Beloved buildings are being torn down left and right, long-time residents are being priced out of the city, and even the ratio of women to men is tipping noticeably in the direction of the latter (tech jobs). All of which have people right on the edge of up-in-arms. Sometimes. This is Seattle after all.
Amazon
Speaking of people moving here, Amazon -- a company Seattle has always rooted for -- is responsible for many of the changes taking place. This makes it both the hero (wow, my AmazonFresh order is already here?! There's a yellow box in my apartment building?! There are so many great food trucks in South Lake Union!), and the pantomime villain (my rent's going up? Again?! Why can't I find parking near all the food trucks in South Lake Union?!) in the discourse of Seattle.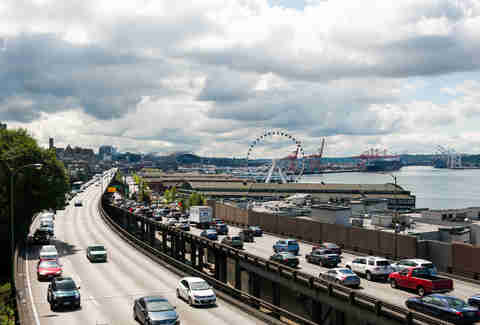 Traffic & parking
There's nothing more frustrating than sitting in Seattle traffic (some of the worst in the nation), dealing with the city's terrible drivers (which studies claim are some of the worst in the nation), and then, when you actually get to where you are going, having to walk all the way down the block to pay the highest parking fees in the nation. Oh, except for having to listen to all your friends complain about how frustrating those things are like you don't already know. You totally know.
Bicycles
On the one hand, they're great for the environment; but on the other hand, they're horrible for traffic. And while it's totally great that our last mayor used to bike to work, it's not cool that he shut down entire street lanes Downtown for his fellow two-wheeled enthusiasts. It's good that the city stepped in to save our bike-sharing system, but it sucks how badly we got screwed on the deal. See a pattern here? There are few things that divide opinion in Seattle like bikes, which is strange (irrational, perchance?) when you consider that only 3.7% of the population actually bikes to work.
Teriyaki
Forget salmon, or oysters, or even Beecher's. Teriyaki is Seattle's signature food. And while teriyaki is almost unheard of in most cities, we take it for granted around here. After all, almost 10% of Seattle's restaurant serve this quick, deliciou… wait, what? There are a third fewer teriyaki restaurants than there were a decade ago? This is a disaster!
Garbage
First they basically banned garbage -- everything either has to be recycled or composted -- but no one could figure that out, so now they're working on new, and probably more complicated, rules. Meanwhile, they banned plastic shopping bags because too many were ending up in landfills, which forced grocery stores to charge you for paper bags. And so we tried reusable bags. But if you didn't have one in the checkout line? You better be prepared for the nasty looks. People outside of The Town will never understand what it's like to really take out the trash.
Dick's Drive-In
You know how the rest of the country has Whataburger, or In-N-Out, or White Castle to obsess over? Well, we don't. And we don't need 'em. We've got this old-school drive-in, with an old-school menu, that everyone in Seattle knows and loves (even if they don't know everything about it). Need more proof we're obsessed? Just check one out after a football game, or after the bars close, or after people get out of work, or church, or when Macklemore's filming a music video, and you'll get the idea. Oh, and make sure you stop for a Deluxe and a Cheeseburger.
The Sonics
OK. Our love for the Seahawks (we're the loudest fans ever) and the Sounders (we have twice the average attendance of the next most popular MLS team) probably seems irrational to some people. But at least those teams exist. When people are making threats against city council members over a stadium vote for a team that isn't actually a real team... that's the definition of irrational.
Sign up here for our daily Seattle email and be the first to get all the food/drink/fun in town.