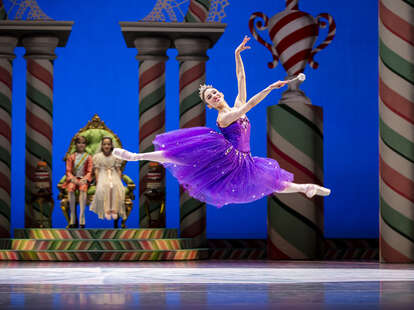 If your holiday plans include a TV marathon and some leftover Thanksgiving turkey, let us encourage you to spread your wings. The Nutcracker! Santa-themed booze! Hip holiday shopping! Seattle knows how to celebrate, and, clearly, won't be deterred by the pandemic. Lots of events have moved online this year—meaning you don't even have to leave your couch to partake—while others have been altered for optimal social distancing. So pull up your Google calendar and get ready to make some actual plans—and, here's hoping, actually have a good time this winter.
December 11 - 26
Your home
There is perhaps no holiday tradition quite so timeless as The Nutcracker. This year's presentation is—unsurprisingly—virtual; grab your tickets at the link above and get dressed up for a night in like no other.
Cost: $39 or $55 (early access)

Through December 24
Your home
Sometimes the best way to celebrate a holiday is with some themed booze. Enter Miracle on 2nd: the self-proclaimed "cheeky little holiday pop-up" on 2nd Avenue. Pre-order cocktail kits and limited edition glassware online, then pick up between 3 - 9 pm on Tuesdays and Wednesdays, or between 12 - 9 pm Thursday through Sunday.
Cost: $-$$

Wednesday - Sunday, through December 30
Downtown Issaquah
There's never been a more appropriate time to shop local. Stop by this marketplace that's both hip and historic for some unique gifts, global cuisine, and more. Private shopping appointments are available if you don't want to brave the crowds; just give them a ring ahead of time.
Cost: $-$$

Through December 27
Your home
Take home a mystery (and help solve it!) this season courtesy of Cafe Nordo, which is celebrating its fifth annual collaboration with local playwright Scot Augustson. This year's box includes a slew of things pertaining to "interactive fun", like a cocktail kit and holiday cookies—both of which may or may not assist you in figuring out who done it.
Cost: $118+
5 - 10 pm; multiple dates through December 30
Stanwood, WA
Hop in your car and head to Stanwood for your most dazzling drive-thru experience yet. The Lights of Christmas is a cars-only tour of some of the most elaborate Christmas decor in Snohomish County. Reserve your timed ticket via the link above.
Cost: $20-25

6 - 8 pm, December 4; marketplace open through December 8
Your home
Get some holiday shopping done from the comfort of your couch. Tacoma's Handmade Market is 100% virtual this year, and you can take your pick from two events (or attend both): a Zoom party on December 4, complete with vendor spotlights and a giveaway, or the market itself, which is open now through December 8.
Cost: $ - $$

December 4 - 11
Your home
You won't see any carolers roaming the streets of downtown Seattle this year, but don't worry—they're still singing, and you can catch the annual caroling competition without ever leaving your house. Tune in for nightly streams starting December 4, and mark your calendar for a big wrap-up celebration show on December 11.
Cost: Free

December 4 - January 3
Redmond, Washington
Is everyone in Redmond obsessed with Christmas? Probably not, but you'd be hard-pressed to find a person in this town who isn't full of holiday cheer. Pay a visit to the town's annual Redmond Lights fest for a month-long art and light installation that's sure to put you in good spirits.
Cost: Free
Through December 30
Cougar Mountain Zoo
Winter is sort of an odd time to go to the zoo, because it's cold and wet outside, but visiting Santa (and his reindeer pose) makes it worth the trip. Stop by Cougar Mountain Zoo to pay homage to these Christmas icons and hand off your wish list to the big man in the red suit.
Cost: $16.50 adult admission

Through January 9
Downtown Seattle
Westlake Park is shining with over 80,000 individual lights this year, making it one of the brightest (and most cheerful?) holiday celebrations around. Visit this winter wonderland and go on a self-guided tour of the extravaganza any day this month. There's also an augmented reality adventure; just bring your smartphone and go between the hours of 10 am - 5 pm.
Cost: Free

Through December 31
Your home
This year's Winterfest is virtual, meaning the Seattle Center website is now bursting with lots of very cool, very seasonal, videos, all available 24-7. Tune in for performances from the likes of Dunava Balkan Choir (Seattle's premier Balkan women's choir), Geoducks Youth Old Time Band, an art show, cooking classes, and more.
Cost: Free

7:30 pm, December 12 & 4 pm, December 13
Your home
If you love choral concerts, here's your chance to participate in one. This year's Seattle Pro Musica includes songs by composers old and new, and a finale singalong led by conductor Karen P. Thomas. The best part? This virtual gathering is free—no registration required.
Cost: Free
Through December 27
Your home
At 45 years and counting, A Contemporary Theatre's production of A Christmas Carol might be one of the longest running holiday traditions in Seattle. Of course, this year's play is just a little different—it's radio-style, so you can listen in anywhere, anytime, now through December 27. Gather round for this special adaptation of a Dickens classic.
Cost: Sliding scale; $25-$100
Whenever you want
Your home
Spice up your celebrations this year with a holiday special hosted by Jinkx Monsoon and BenDeLaCreme. The dynamic duo—known for their knockout performances on RuPaul's Drag Race—is bringing a one-of-a-kind show to your home this season that's "equal parts sacrilegious and sweet."
Cost: $13.99 rental for a 48-hour streaming period

December 5 - January 4
Your home
Speaking of shows "on the naughty list": Scott Shoemaker's War on Christmas is back for its third year this season, with more comedy, dance, and laughs than ever. Pick a ticket on the sliding scale and get ready for some extra spicy holiday fun.
Cost: Sliding scale; $10-50
December 4-January 2
Your home
If "jingle all the gay" sounds like the ideal soundtrack to your holiday season, this one's for you. Join Kitten N' Lou for an online production of their annual show; you can either stream at your leisure, or tune in for a viewing party on December 11, 13, 19, or 20.
Cost: Sliding scale; $15 - $200
December 3 - January 31
East Queen Anne
Canlis has been expertly adapting to pandemic times since day one; for the holiday season, they're rolling out a bonafide Yurt Village to serve patrons while still adhering to social distancing guidelines. Reserve your table for the prix-fixe menu that dreams are made of.
Cost: $145 per person

11 am - 3 pm, December 5-20
Your home & Rainier Beach
Complete your holiday shopping whirlwind by supporting the Rainier Beach arts community at this online seasonal market. There's also an opportunity to take a peek behind the curtain and see the magic happen IRL—just head on down to the studio tour on December 5 from 11 am - 3 pm.
Cost: $-$$

10 am - 3 pm, December 3 & 10
Burien Town Square Park
If nothing else, holiday season is an opportune time to indulge your sweet tooth. Take a tour of Downtown Burien via their annual Cookie Crawl, where a map will guide you to lots of holiday-themed treats. Timed tickets are required; grab yours via the link above.
Cost: $20
Through December 31
Belltown
We're capping off our list with—you guessed it—more booze. Stop by Sippin' Santa for a "tropical holiday paradise" courtesy of Navy Strength. Grab cocktail kits and glassware to go, or pick a table on the patio for some socially-distanced festivities. Reservations are available via Tock; Navy Strength is open 3 - 11 pm Monday through Friday, and 12 - 11 pm Saturday and Sunday.
Cost: $-$$
Sign up here for our daily Seattle email and be the first to get all the food/drink/fun in town.