If you haven't noticed the continual gray skies, the way the sun goes down before 5pm, or that your favorite polar fleece suddenly isn't warm enough to wear every day even though you totally want to, then we've got news for you: You don't live in Seattle and are reading this as you prepare to visit. We hope you enjoy your stay.
Truth be told, winter has pretty much already wrapped its icy arms around Seattle, but that doesn't mean you have to stay in the house for the next three months. To help motivate your ass to get outside, we've put together a list of events that are actually worth putting a winter coat on for. Here's everything you need to do this winter.
Have some kitschy Christmas cocktails
Through Dec 24
Roby Roy
For the 3rd straight year Rob Roy is turning itself into a cozy christmas pop-up bar it calls Miracle on 2nd. The cocktails will come in tacky but seasonally-appropriate glassware (Santa mugs, etc.), and the drinks will have names inspired by pop culture like, Bruce Willis' best line from Die Hard... and this is still one of Seattle's best bars so they'll be damn good too.
Cost: Pretty spendy for cocktails, but you've gotta get something nice for yourself, right?
Through December 28
Pacific Northwest Ballet
We're still we're still a little upset the PNB ditched the iconic Maurice Sendak-designed sets they used for 32 years, but their performance of George Balanchine's classic version (with sets/costumes by the guy behind beloved children's book Olivia the Pig) has pretty much made up for it. It runs through the 28th , so grab your tickets before they all sell out.
Cost: Tickets start at $32.
Through December 30
Safeco Field
A Christmas market, an ice skating rink, holiday food & drink, live entertainment and, most importantly, a giant Christmas light maze that takes up the entire outfield at Safeco.
Cost: Starting at $19.99
Through mid-January
Loews Hotel 1000
The Bellhop Bar is a happy hour pop-up bar serving locally-sourced cocktails from a retrofitted steamer trunk packed with bespoke beverages stored in antique apothecary-style bottles, on display in Bell Lounge from 5-7pm daily.
Cost: It depends on how many drinks you order
December 6
Ivar's Acres of Clams
Enjoy some of the Northwest's best winter beers paired with bites including onion roasted pork poutine with braised pulled pork, mini chicken pot pies & more.
Cost: $45
December 7-8
Magnuson Park
The people behind Seattle's first ever Winter Solstice Night Market (check out our holiday calendar for more deets) are also bringing you Seattle's first ever Winter Solstice Beer Festival, featuring over 30 Northwest breweries.
Cost: $25
December 7-15
Columbia City Theater
For two straight Fridays and Saturdays some of the Northwest's best cabaret performers are putting on a show that is a "throwback to your childhood Christmas pageants". But for adults, obviously.
Cost: $26-$170
December 10 or 17
Delancy
Need another reason to go to one Seattle's best pizzerias? This cozy Ballard spot's lavish Feast of the Seven Fishes (a traditional Italian Christmas supper) featuring seafood and shellfish dishes ranging from wood-oven roasted oysters to Dungeness crab, Penn Cove mussels, and lobster is definitely a good one.
Cost: $125 per person. But it includes tip!
December 11-12
Neptune Theater
Legendary funk pioneers George Clinton & Parliament Funkadelic are filling the Neptune for two nights with their boisterous '70s era sounds. Grab your tix and get after it.  
Cost: $45
Advertisement
Between the holidays and finishing out the year at work, your calendar can fill up fast in the colder months. But whether your winter plans involve heading out to a new bar opening, onto the open road, or to the office, Wrangler has new styles and comfortable fits made for wherever life takes you -- so you won't have to think twice about what to wear.
December 21-23
Flying Lion Brewing
For the 5th straight year, this Columbia City brewery is celebrating the solstice with not one, but three very short days of nothing but dark beers. At least 25 of 'em, picked from the "darkest, richest, tastiest beers" they brew, plus a few from other suds-makers.
Cost: Free… until you start drinking.
December 22
Waterways Cruises
Enjoy festive spirits, appetizers, and a live DJ during a two-hour cruise on Lake Union and Lake Washington. Oh yeah, and the tackier the sweater the better the prizes you can win.
Cost: $45… and maybe a smidgen of your dignity
December 29
The Nest at the Thompson Hotel
One of the best rooftop bars in Seattle is hosting a "down and dirty" take on low tea (aka afternoon tea) that involves decidedly boozier beverages than the traditional version, and a last chance for some holiday mischief.
Cost: Just what you spend on all the drinks you need after a holiday with you family.
December 31
Space Needle
For the first time ever, the Space Needle's New Year's party will span two floors in the newly-transformed Space Needle, where dance the night away on world's only revolving glass floor.
Cost: $275
December 31
WaMu Theater
And Porter Robinson, and some more big time EDM acts at Seattle's Resolution Festival (if by "Festival" you mean just one show), which promises to pack the WaMu Theater with dance fans wearing eye-catching clothing that belies the winter weather. And because this is Seattle, probably some people in flannel too.
Cost: Starting at $99
December 31
The Thompson Hotel
The Thompson's 24K Soul shindig to ring in 2019 starts with a special prix fixe dinner at Scout PNW, followed by a party at The Nest, featuring a DJ set and live performance by hip-hop legend Talib Kweli... and plenty of champagne.
Cost: $220
Take part in a polar plunge… or don't. It's your life.
January 1 - February 9
Various locations
Seriously, that shit is crazy. But if you absolutely have to dive into icy cold water in the middle of winter, then you've got options: a 5K followed by a dive at Magnuson Park; a plunge at nearby Matthews Beach; and another at Point Defiance Park in Tacoma; or you could wait a few weeks and help Special Olympics Washington break the world record for most plungers of six plunges.
Cost: Free - $40
January 4-12
Get cultured at the ACT Theater's 14/48 fest which gathers writers, actors, directors, set designers etc. together on Thursday, and gives 'em 24 hours to put on 7-to-10-minute plays on Friday. Then does it all over again the next night.
Cost: Starting at $17
January 5
McMenamins Anderson School
Historically the coldest and wettest day of the year in Washington is this week, so the Anderson School is encouraging you to… um, get outside... and then run through Bothell. But don't worry they're also hosting a heated after party where they'll be serving warm homemade soups, pouring beer, and giving out other stuff to try and get you through what promises to be a miserable day. Even without all the extra exercise.
Cost: $39 but that includes a winter hat and a bowl of soup
January 6 - 7
The Crocodile
It's hard to find good live music this time of year, so for the sixth straight January, The Croc is doing something about it and putting on the Big Ass Boombox Festival, aka shows from a dozen or so local bands over two days.
Cost: Free... aside from what you spend on parking and drinks.
January 6 - 17 (Except Fridays and Saturdays)
Restaurants all over Seattle
A bivalve version of Restaurant Week, Seattle's Shellfish Showcase invites some of Seattle's best seafood purveyors to create exclusive menus featuring four dishes (at least two entrees) made with, you guessed it, shellfish!
Cost: There is no set menu price.
February 2
Fisher Pavilion at Seattle Center
Belgianfest is back at Seattle Center, and that means over 100 beers brewed in Washington using yeast from Belgium. Sample styles like dubbels, tripels, saisons, abbeys and lambics. There will also be food, but the vendors are TBD at the moment.
Cost: $37 advance and $45 at the door (includes tasting glass and 10 tasting tokens)
February 10
Pike Brewing Company
Over 50 breweries, wineries, distilleries, restaurants, cheese makers, bakers & chocolatiers are posting up at Pike Chocofest, which'll feature rare beers, and all kinds of food, made with -- or made to go with -- everyone's favorite ingredient: chocolate. The event is for those 21+ and proceeds go to Washington Trails Association -- an organization dedicated protecting trails and wild lands.
Cost: Around $60, and that includes 10 drink tickets and unlimited bites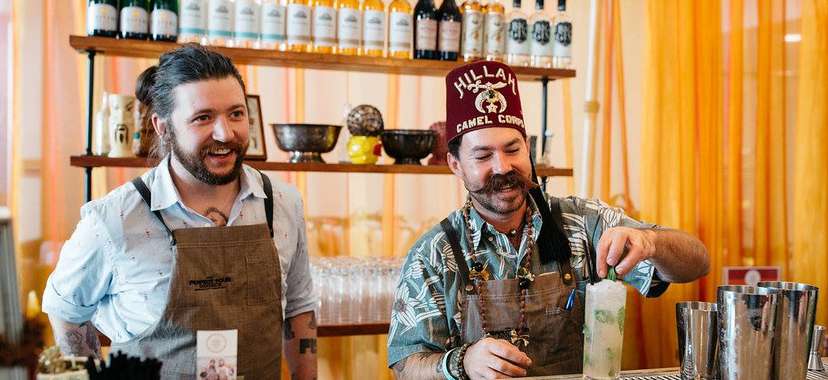 February 21-24
Various Locations
The Seattle Food and Wine Experience is basically four phenomenal food events -- a casual comfort food-based affair (mac and cheese, fried chicken, beer, etc), an upscale evening of seafood and sparkling wine (oysters, specialty cocktails), a "Grand Tasting" that's pretty damn grand (you'll literally take an immersive walking tour where you'll eat and drink the best of the best), and a brand new "Sunday Supper".
Cost: $55 will get you into the cheapest event. Or you could spend up to $250 on three of 'em.
February 24
Fremont Foundry
Seattle Cake Con -- yes, a convention dedicated to the most celebratory of desserts -- is giving Seattle's best dessert-makers a chance to show what they do best. And you a chance to do what you probably do best: eat desert.
Cost: $24
March 2
Various Locations
Well, at least in theory. That's how many Washington breweries are opening their doors for a statewide open house between noon and 5pm, when they'll be talking about beer, pouring new creations, and serving food. Participating breweries are TBD, but you can bet they'll be good ones.
Cost: Free to enter… beers will cost ya
March 14-17
Washington State Convention Center
Emerald City Comic Con is like the Goldilocks of Seattle geek conventions: Pax is too serious, Sakura-con is too niche, but ECCC is just right. There's a slew of comic illustrators for the real fans, actors from Star Trek, and a slew of SyFy Channel shows for everyone else, plus a cosplay competition, live music, and more.
Cost: $30 - $50... and some serious embarrassment when someone overhears you complaining that that dude who plays Castiel on Supernatural didn't show up. He lives in Bellingham, how hard could it be?!
Sign up here for our daily Seattle email and be the first to get all the food/drink/fun in town.