12 Seattle New Year's Resolutions You've Definitely Already Broken
Everyone knows the new year is the perfect time to reinvent yourself... to get in shape, to eat better, to finally learn how to take a decent selfie that makes it look like you've gotten in shape and started eating better. But be honest, if you've made one of these 12 Seattle resolutions, you've absolutely already broken 'em:
Bike to work more
It seems like everyone's always riding their bikes. Seattle is, after all, one of the most bicycle-friendly cities in the country and even has two major bike trails under construction right now. But your promise to start peddling didn't survive the fact that -- technically -- it snowed on the first day back to work after the new year and you should probably get a tune up before you start riding seriously...
Dan Gentile/Thrillist
Stop going to Starbucks
Sure, the world's biggest coffee purveyor is super convenient, but it's about time you started supporting The Town's best craft coffee shops... just as soon as the money on your Starbucks gift card runs out.
 
Stop wearing that polar fleece
It's a new year, so by definition you're getting older, and really should wear someth... hahaha. Who are you kidding? You're wearing your North Face right now. At a Starbucks. Whilst thinking about tuning up your bike.
Avoid South Lake Union at all costs
All the cool new restaurants about to open there don't make up for the fact that it is a total nightmare to find parking, to find the food truck you're looking for, to, well, do anything. So that's it, you're not going. Ever. At least not after you hit the 'hood's brand new Marination location.  
 
Never turn left off of Denny
Not only is it a pain in the ass, it's the kind of thing Seattle's worst drivers do... but how exactly were you gonna get to Marination otherwise?! Riddle me that, smart guy! 
Not. Lose. Your. Sunglasses.
You know that rumor about how people in Seattle buy more sunglasses per-capita than any other city? That can't be true, can it? And besides, it doesn't matter to you, 'cause this year you're definitely not gonna lose the ones you... annnnnnd they're gone. 
 
Smoke less pot
You're probably breaking this one right now, but hey, it's not a bad idea: you're not a kid anymore, and smoking anything can't be great for your lungs. But don't worry, thanks to the edibles/drinkables at Seattle's growing number of weed retail outlets, you don't actually have to smoke anything at all.
 
Take more vitamin D
It's just one of the ways you can cope with the Northwest's interminable darkness... but admit it, you've been so depressed about the sun setting at 4:45 that you totally forgot to take it and took a nap instead.
Andrew Zimmer/Thrillist
Eat something instead of pho
Seriously there's lots of other soups/noodle dishes you could be eating instead... but it's just so damn convenient to hit the Vietnamese place down the street. And this being Seattle, there is one.
 
Go to a Seahawks game this season
If you live IN Seattle (instead of, like, Kent) chances are you're more likely to go to a Sounders game than go see the 'Hawks, but you should totally go see what all the fuss is about... except you missed your last chance on January 3rd. Oh well. There's always next season.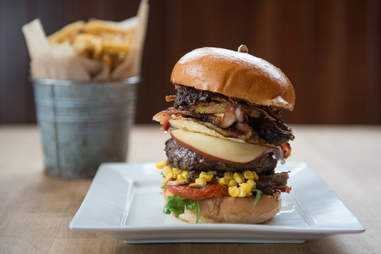 Chona Kasinger/Thrillist
Order something besides burgers
Seattle stays turning out can't-miss burger options -- even the city's best restaurants have 'em --  but trying to switch it up every now and then seems like a good idea... or it did until you drove by Dick's/cruised to CaliBurger in the U-District to try Seattle's best new burger (and the closest thing we have to In-N-Out).
 
Give up drinking for January
New year, new you. You're ready to face 2016 head on, with a head full of clarity and hawk-like focus. But then you drove by one of these breweries and thought to yourself "Just a taste... " Hey, aren't resolutions just setting high expectations that you'll never be able to reach? Everything in moderation, right? RIGHT?!
Sign up here for our daily Seattle email and be the first to get all the food/drink/fun in town.
Bradley Foster is a former Thrillist editor who has resolved to stop writing pieces that perpetuate stilly stereotypes about Seattle. Starting now, anyway.