It isn't summer in Seattle until you go to Fred Meyer to buy a fan... only to discover that they're completely out of fans because everyone else in the city already went to Fred Meyer to buy a fan. But that shouldn't be the only experience you share with the rest of the city this summer, so we've put together a list of 30 things that everyone needs to definitely do before our spectacular, but all-too-brief, sunny season is over.
Recommended Video
France's Fête des Lumières Is a Light Festival Unlike Anything You've Ever Seen
Go kayaking... at night
In addition to serving up some mean margaritas/Mexican eats on its Portage Bay patio, Agua Verde also rents kayaks/paddleboards by the hour, and offers guided tours, including some that only take place under the full moon.
Wait in line at Molly Moon's
This artisanal ice creamery has seven locations around the city, and always seems to have a line out the door at the original Wallingford spot (which is why I usually hit Full Tilt down the road in Ballard instead). But on a warm summer night when you can comfortably watch the world go by from the parklet outside on 45th St, it's 100% worth the wait.
Run around Green Lake
It's only 2.8 miles, but it's cool... you can tell everyone it's three.
Sit in the bleachers at Safeco
Most years you sit in the center field bleachers because it's not worth spending more than $7 on the Mariners, but this year the cheap seats -- and the nearby bar next to the bullpen -- will be even more fun since the team's actually winning.
See the last screening at Fremont Outdoor Cinema
Nowadays there are outdoor movies all over the place, but when Seattle's "almost free" alfresco movie theater opened 25 years ago, it was only the second of its kind in the country. Now, it's being forced to move to South Lake Union after a final show July 16th.
Ride the Burke-Gilman Trail
Did you know you can pedal from the original Redhook in Fremont all the way to the new one in Woodinville? After a 20-mile bike ride, you'll definitely deserve (read: need) a beer.
Go out on a friend's boat
It's a time-honored Seattle tradition to invite yourself out on your friend's, or friend-of-a-friend's, boat. Especially during Seafair.
Go for an Artwalk
Almost every 'hood in the city has one every month or so. Our favorite? Belltown, every second Friday of the month from 6-9pm, if only because it transitions so easily into a bar walk once you're done.
This utterly charming wine shop/bar in an old house in Madrona has a surprisingly large and shady deck where -- as afternoon turns to evening -- you can drink wine/craft beer, eat a solid if small selection of plates, and totally forget you're not in your own backyard.
See one of KEXP's Concerts at the Mural
Every Friday this August, Seattle's hippest radio station is putting on free concerts in Seattle Center.
Eat some oysters
… or a burger on the deck at Westward. The sprawling patio on the north shore of Lake Union might be the best place to eat/drink outside in Seattle.
Hit brunch on the roof at Terra Plata
Everything on the "earth to plate"-inspired menu tastes better when you're surrounded by an edible garden, one story above the considerable fray of the always-busy Melrose Market... especially the churros, or the steak & eggs.
March to the match with the Sounders
The only other way to get this close to Drew Carey is to try your hand at this "foolproof" system.
Ride the Seattle Great Wheel
Just please don't do anything stupid and get kicked off for drinking like the author of this list. My tale is a cautionary one, dear readers.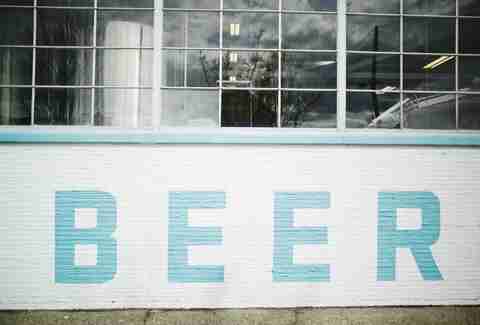 Go on a Ballard brewery crawl
Go to the beach, duh!
Fighting the crowds at one of Seattle's few beaches is a summer tradition, and while the always-packed Alki does have its attractions -- volleyball courts, a line of beachfront bars, stunning city views, etc. -- our pick for overpopulated public beach is Madison Park, if only because one of the city's best pizza spots is right across the street.
Build a bonfire at Golden Gardens Park
Seattle's other big public beach might be the best place in the city to watch the sunset, and then, as daylight fades, light some stuff on fire... in an approved fire pit, obviously.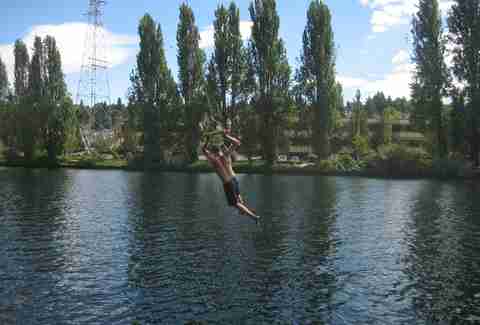 Rope-swing into the ship canal
Nothing says summer like swinging out into a narrow, boulder-lined shipping canal that's dangerously crowded with commercial boats and pleasure crafts!
Watch the salmon run at the Locks
This display of animal/food most closely associated with Seattle swimming upstream never fails to mesmerize... no matter how many times you've seen it.
Watch 4th of July fireworks from The Lookout
Almost completely overlooked the rest of the year, this bar has stunning views of Lake Union's annual firework display, so expect it to be packed... though not nearly as bad as trendier places on Eastlake.
Hit Seattle's biggest block party
Six whole city blocks will be cordoned off just so the Capitol Hill Block Party can bring you music from Odesza, Chvrches, and probably some other bands that spell their names with actual vowels in all the right places.
Don't miss the Seattle Street Food Festival
Dozens of mobile eateries serving some of the best food you'll find outside a restaurant, all in one place!
Do the Puyallup!
Why do more than 1.3 million people head to a town most people can't pronounce every year in September? If you're us, it's mostly to eat scones... but there's probably some other good stuff at the Washington State Fair too.
Browse the Ballard Farmers Market
Every Sunday, most of Ballard Ave closes down to accommodate Seattle's best farmers market (after Pike Place, of course), and by best, we mean the one with the most food.
See some Shakespeare in a park
For five weeks starting the first weekend in July, Seattle has not one, but TWO theater companies busting out the Bard's plays in various city parks. There's no excuse for you not to get some culture.
Hit a beer festival
The two biggest ones, the Washington Brewers Festival and Seattle International Beerfest, are going down June 17th-19th and July 8th-10th, respectively. Our advice: grab your pops and spend Father's Day at the first one.
Complain about the heat
We really do have the best summers here, and we're not just saying that. We swear! Weather experts can't stop talking about our low humidity and mild summer temperatures, but when you haven't seen the sun in seven or eight months, and it hits 85 the first weekend in June, it sure doesn't feel mild. It feels like you need to find an apartment with air conditioning. Like, now. So go ahead and complain a little... your secret is safe with us.
Sign up here for our daily Seattle email and be the first to get all the food/drink/fun in town.