If you've ever seen Dark Angel, then 1) you already know what Seattle and the Northwest look like when they're run-down and mostly abandoned, and 2) what Jessica Alba looks looks like in black leather. But just in case you haven't, we've rounded up a dozen hauntingly beautiful abandoned spots -- that should give you some idea about the former, but sadly not the latter (hint: it's really good).
Bodie, WA
About 12 miles south of the Canadian border in northeast Okanogan County sits the ghost town of Bodie, an old mill town established around 1900. At one time the town had a store, post office, hotel, and cookhouse, but then the mill shut down in the '30s, and burnt to the ground in 1962, but luckily for the intrepid Washington explorer, a few buildings remain standing so you can reenact your pioneering dreams.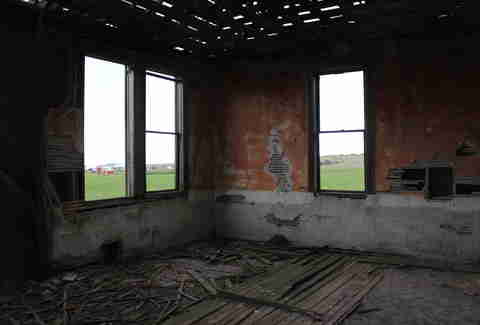 Govan, WA
In another abandoned ghost town sits the Govan schoolhouse, a super-creepy building where the children of railway workers helping to build the Central Washington Railway were educated -- until US Route 2 passed it by in 1933, prompting most people in the area to move elsewhere. Against all odds, the schoolhouse has resisted the high winds that cut through this farming area, making this a truly remarkable place to visit. 
Sedro-Woolley, WA
At Northern State Hospital's height, it employed 1,000 people and housed more than 2,000 patients who were diagnosed with mental illnesses on a 225-acre campus. The asylum closed its doors in 1973 and now houses a job corp organization and drug rehab center, but many of the old buildings are deteriorating and covered in graffiti, while a massive cemetery gives the grounds an eery vibe that's hard to shake off.
Satsop, WA
A giant 480ft nuclear reactor cooling tower is all that is left of the biggest bond default in United States history. Construction on what was to be the largest nuclear power plant ever abruptly halted in the 1970s after nuclear energy quickly lost public support, resulting in a loss of $2.25 billion. The cooling tower in Satsop was already 76% complete at the time, leaving a beautiful landmark that is now a technology and business park.
Central Cascades 
This sprawling six-mile trail built over the abandoned Pacific Northern Railroad grade in the Cascades is about 60 miles northeast of Seattle and is home to the Old Cascade Tunnel -- a tunnel once used to offer protection from the snow. The massive tunnel suffered a failure in 2006, so it is unsafe to travel through right now. But a safe viewing area has been set up for hikers to marvel at the tunnel along the gently sloping trail.
Discovery Bay
A collection of several train cabooses was abandoned along Highway 101 on Discovery Bay until 2014 when someone saw the potential for these forgotten treasures. Now, the brightly colored cars house an ice cream parlor, pizza shop, and mini-golf course all overlooking the waterfront.
Vashon Island, WA
The legend goes that local sheriff Don Puz left his bicycle leaning against a fir tree in 1954 and forgot about it. Apparently the tree grew around the bike, creating this strange landmark. Unfortunately in recent years vandals have stolen a lot of the parts, but groups have stepped up to replace them with vintage parts and have added security measures.
Nike missile site
Redmond, WA
This abandoned Cold War-era nuclear missile site is slowly wasting away as nature and harsh weather turn this US Army facility into something out of a post-apocalyptic wasteland. The Army used this site to store the nuclear-tipped missiles that were the last defense against an attack by the Soviet Union. Obviously that never happened, so the Army abandoned the site in 1974 and portions of the land were turned into Nike Park.
Fisher Flour Mill
Harbor Island 
On Harbor Island sits one of the best places to see graffiti art in the Pacific Northwest: the decaying 13-story Fisher Flour Mill. Under the cover of night, street artists (and the occasional drifter) sneak into the giant building to make it their home. The spot has become a favorite of photographers and urban explorers as well, but everyone is "technically" trespassing. So if you do decide to make the trek, do so with caution.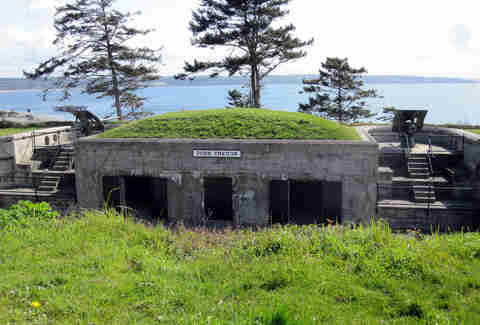 Whidbey Island
Fort Casey was constructed in 1897 as part of the "triangle of fire" meant to protect the Puget Sound from enemies by sea, although it became practically useless with the invention of the airplane in 1903. The area is now a 476-acre marine camping park that houses the Admiralty Head Lighthouse, and three miles of the Pacific Northwest National Scenic Trail wrap around the scenic park.
Shelton, WA
About 347ft above the Skokomish River on the Olympic Peninsula sits America's second-tallest railway trestle, the 442ft-long Vance Creek Bridge. The 1929 logging bridge became a viral sensation in the last few years when explorers began taking some pretty epic photographs and posting them on Instagram. Not so fast though! The bridge sits on private property, and the owners aren't too keen on people trespassing on this dangerous bridge any longer.
Miss Everett
Everett, WA
This abandoned hydroplane is actually called Miss Everett -- appropriately enough, given that it was left on the side of the road outside its namesake town, overgrown with weeds and infested with spiders -- and harkens back to a time when... um, whoever owned it could afford to race boats and when "miss Everett" wasn't just really good advice for people looking for a place to live around here.
Sign up here for our daily Seattle email and be the first to get all the food/drink/fun in town.