Do you feel lucky? Well, do ya? If you live in Seattle, you should.
A land of delicious buffets, raucous concerts, and rows of slot machines is closer than you think. Cancel the flight to Las Vegas -- you won't need it. With several casinos and resorts within an hour of the Emerald City, you don't have to go far for a chance with Lady Luck. Whether you're a card shark or just like to sip a cocktail and take in the scenery, these seven vice-fueling casinos have their bright lights cranked up and are just a quick trip up the road.
Snoqualmie, WA
Travel time: 30 minutes
Since no one likes spending time on the road when you should really be winning money on the roulette table, let's start with the closest casino to Seattle: Snoqualmie Casino. Located on the Snoqualmie Reservation and about 30 minutes east of the city, this 170,000sqft space is home to over 50 classic Vegas-style table games and 1,700 slot machines. The casino also houses six restaurants and a massive space for concerts and special events.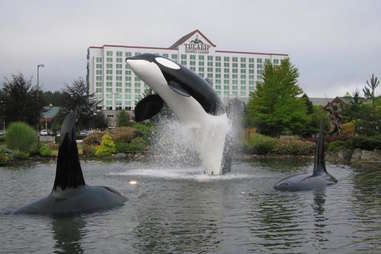 Tulalip, WA
Travel time: 40 minutes
Just north up the 1-5 from Seattle sits Tulalip Resort and Casino. It's a massive amalgamation of casinos, an amphitheatre, a bingo hall, and outlet malls that are just waiting for you to spend all of your newly-earned winnings. The 200,000sqft gambling kingdom is home to 50 table games and 2,200 slot machines, with games all the way from Ancient Greece to Zombie Outbreak.
Olympia, WA
Travel time: One hour
This flashy casino is a bit farther away from the city, in Olympia, but is worth the extra miles for serious gamers. With over 1,400 slots and dozens of table games (like craps and three-card poker) this casino could just be where you really cash in big. Gambling not your thing? The casino's also home to Coho Cabaret, a live-entertainment venue with delicious food and a deluxe 150" TV.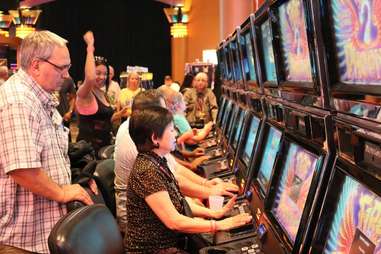 Auburn, WA
Travel time: 35 minutes
It's clear that Muckleshoot Casino is a local favorite spot to win some dough from slot machines. Why? Probably because there are over 3,100 video gaming machines under one roof. If you're not over 50 and into slots, the casino also boasts the largest non-smoking poker room in the state, with over 30 tables at a variety of experience levels.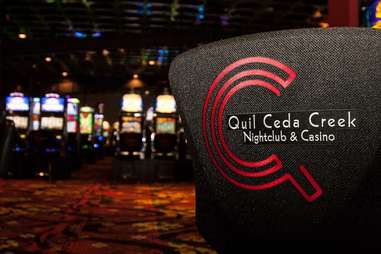 Marysville, WA
Travel time: 40 minutes
Here are some numbers for you: over 1,000 slots, $3 blackjack games every day, and get this, over $2.5 million in jackpots paid out every month. EVERY MONTH. You don't even have to be a gambling man to know that this place is a sure thing.
Shelton, WA
Travel time: One hour 15 minutes
The farthest drive on our list, Little Creek Casino is a relaxing spot if you just want to get away from city life for a few days in a more intimate (but also gambling) setting. About 230 different slots line the casino floor and table games like Texas Hold'em and Spanish 21 are available in smoking and non-smoking rooms. Oh, and don't forget to hit the Creekside Buffet, featuring a decadent prime rib and locally-harvested seafood.
Suquamish, WA
Travel time: One hour (by ferry)
So you've got all these Abraham Lincolns burning a hole in your pocket and you feel like tonight's YOUR night... but it's already 3am. Not a problem. Suquamish is open 24-hours a day, seven days a week. And you don't have to be rolling in the dough to hit up the table games here. Special $1 per hand blackjack, roulette, or craps days are perfect for a beginner who doesn't want to break the bank. Or a really cheap person who sucks at gambling.
Sign up here for our daily Seattle email and be the first to get all the food/drink/fun in town.
Cody Permenter is a freelance writer for Thrillist, and he always double downs on 11. Follow him on Twitter.