The 9 Coolest Jobs in Seattle
It seems like everyone has a job in Seattle. The economy is so good here that local media outlets -- even ones whose names don't rhyme with "illest" -- have (embarrassingly) started calling it the "Region of Boom." But not everyone has a good job. And even fewer people have jobs as cool as the nine people below, who you can jealously read about on one of your state-mandated 15-minute breaks.
Jennifer McEwan
Co-founder & VP of product development, MiKandi adult app store
Lake City
How she got her job: "I created it! I come from a family of small business owners, so the entrepreneurial spirit is in my blood. Ever since I was a young adult, I knew I wanted to do something unconventional. In my 20s, I started working with my boyfriend designing and manufacturing sex toys. We did that for almost 10 years, and eventually moved to China to produce a new line of products. So clearly, I gravitated toward industries related to sex. About six years ago, I was out drinking with friends, when we had one of those, "You know what someone should do?" kind of conversations. Android mobile phones were just picking up traction, and unlike iOS, the Android OS was open, so you could build any kind of app you wanted. Including a third-party app store. Or adult apps. Or, a third-party adult app store. Surprisingly, we discovered there were no adult apps on Android yet. So we thought, "Well, why don't we do it?" Later that year, MiKandi launched."
What she does: "As an entrepreneur, you have to do a lot of everything at your company. I like to keep my finger on the pulse, so I work closely with our developers and customers. My tasks vary each day, but in general I oversee the development of our existing and new products, which includes product design & development, partner & content acquisition, and marketing. Most recently, that means working with T-Mobile to make MiKandi the first adult company to join their Binge On program, which allows their customers to watch our videos without burning their high-speed data."
 
Katy Radtke
Katy Radtke
Product development associate, Theo Chocolate
Fremont
How she got the job: "While working towards a degree in business with the hope of starting my own restaurant, I made it my mission to grab any opportunity I could to learn about food. After graduation, I helped open a restaurant, and served as the assistant general manager and pastry chef -- it was a dynamic mix of business, hands-on creativity, and problem solving that laid the foundation for my work here at Theo Chocolate. When I relocated to Seattle from Madison, WI three years ago, I was immediately drawn to Theo because of its mission and dedication to fair trade. Of course, the chocolate didn't hurt, either. I jumped on the chance to learn the ins and outs of the chocolate world by training and working as a chocolatier. During my time crafting decadent treats in the Theo confection kitchen, I developed several new products and led popular tasting events. This winter, I moved to our product development team full-time."
What she does: "I help take new products from concept development through implementation and launch. The position offers an eclectic mix of responsibilities, from experimenting in the kitchen, to problem solving, and, of course, tasting copious amounts of chocolate. At the beginning of a product's life, I spend most of my time experimenting with new flavor profiles, formats, packaging options, and ingredients. My role also requires a great deal of research and troubleshooting. Obviously, we want to launch innovative products, but that does not come effortlessly. We often wrestle with best manufacturing methods, ingredients, and timelines. It takes the effort of so many people to make a successful product, even if I am the one developing the recipe. It is a truly rewarding, dynamic, and absolutely delicious role."
John Osgood
John Osgood
Artist/muralist/curator
Greenwood
How he got the job: "I would not be in the position I am if it weren't for me asking out my (now) wife. When I met Michele, we had an instant connection, and we started dating. I was working in the produce department of Albertson's and painting every free moment I had. Being the inquisitive person she is, she started digging in on my passion of art. One of the questions she asked me was, 'If you could do one thing, what would that be?' I said I wanted to learn how to silk screen. The next day we had a starter kit on silk screening. Taking our lumps, we found out we needed a better setup, and actually taking a class might be a good idea. By this time, I was moving in with Michele, who was living in Greenwood. She liked that I was moving in, but put the brakes on me using the kitchen as an art studio. That is when Michele came up with the idea that we were going to run a gallery where I could use the back as a studio for me to create my personal work! From there, we figured out how to run a gallery, we started meeting like-minded individuals, meeting the community, and selling artwork. That was the best thing that happened to me for my job as an artist."
What he does: "I create (urban) contemporary artwork for shows and for commercial work. I create murals for the public to enjoy and to communicate about; I build things out wood; I organize art projects and shows; and, after running a gallery with my wife for eight years, I am now part of the team that runs the magazine WEAVE. I also am a husband and a father."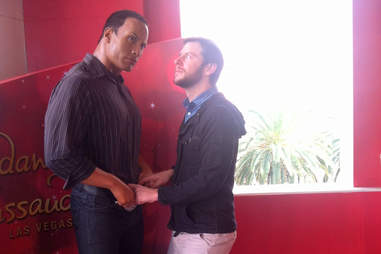 Doug Willott
Doug Willott
Program director, Central Cinema
Central District
How he got the job: "I am a lifelong cinephile, and one of my favorite events Central Cinema hosts is MovieCat trivia night, run by my friends Jessica and Brian. When I went this past November, Jessica was also the program director for Central Cinema. She [told] me how she's moving on from the position to focus on her other job at a local game company. Mid-conversation, she says, 'Hey, you'd actually be really good at this job. You should interview for it.' Flash forward to that interview with the owners, Kate and Kevin, which felt more like a two hour conversation about loving films, with occasional talk of my history producing and directing theater, or my time as a video store clerk. I think it just felt like the right fit for all parties involved."
What he does: "There's a creative team that meets monthly to discuss what to play roughly three months out. We brainstorm some solid pairings, and figure out if the timing is right for the titles. My job then becomes scheduling the finalized films from these meetings, as well as any special events, into a month of awesome programming. From there, it's securing rights (or figuring out substitutes if we can't), then crafting lobby posters, ad art, and website banners. In addition to all this, the job includes coordinating or creating special screening events, ranging from screenings of The Hunger to celebrate David Bowie, to a showing of Twister with speakers beforehand from the Seattle Office of Emergency Management and the National Weather Service. I'm learning it's quite the balancing act. We want to play movies we're proud to show and a good portion of the world would enjoy, but also need to make sure we sell tickets and food. All said and done, the job is a dream for a film lover with Photoshop skills."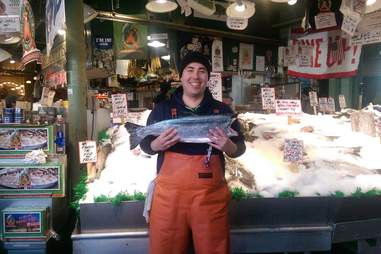 Ryan Yokoyama
Ryan Yokoyama
Fishmonger, Pike Place Fish Market
Downtown
How he got the job: "I have a long history with Pike Place Fish (as do most of the guys I work with). I basically grew up at the market. My uncle owns Pike Place Fish and my dad was the manager for longer than I have been alive. So I started there when I was around 14, making boxes at Christmas. That eventually evolved into me working there during my breaks from school, and finally, full time for the last 10 years."
What he does: "My job is to make a difference for people. All of us at Pike Place Fish are in the industry of making a difference. While providing what we call 'world-famous' customer service, we offer people a chance to purchase amazing, high-quality, and sustainably sourced seafood. What I mean by 'world-famous' customer service is loving to serve the people, and we truly love what we do... and yes, occasionally throwing fish."
Ryan Reiter
Creative director at the Piranha Blonde Interactive
South Lake Union
How he got the job: "Well, it's kind of funny, I really made it up out of necessity. My father always said, if you can't find the job you want, then create it. I went to Vancouver Film School years back and always dreamt of being a film director. So I moved to LA to pursue my dreams, did a few short films and worked for 20th Century Fox, AFI, and Sundance. I learned how to produce large scale events quickly. Five years later, after a family emergency, I found myself back in Seattle starting over and in a tough job market. So I just started producing events to stay creative and keep myself liquid. Next thing I know, we got a call from the XBOX team to design a 360-degree, Guinness World Record Zombie Walk in Fremont, and we just blew up from there.
"Since then, Piranha Blonde has been busy creating some of Seattle's tastiest food festivals at the Mobile Food Rodeo's own Taco Libre Truck Showdown (May 1st), Seattle Street Food Festival (Aug. 20-21st), and now Trucktoberfest (Oct.1-2nd) in South Lake Union."
What he does: "My job is to be a crowd magnet in a sense, helping to attract over 200,000+ people last year to our festivals. Fun rules everything at Piranha Blonde, and our belief is: if we aren't having fun, then how can we expect our audience to be? We are driven to design community-spirited, experiential events that engage audiences, drive awareness, and celebrate our city. What more could I ask for? We'll do whatever it takes for attendees to enjoy themselves. Be it for Seattle's largest food festival, luchador wrestling, Lebowski Fest, or raising the dead for a Guinness World Record, we're into it and always open to working with clients to achieve their goals."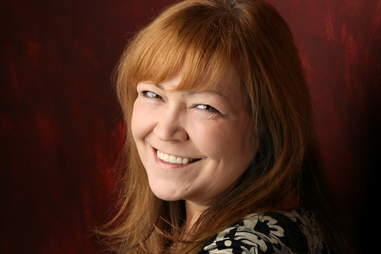 Kate Becker
Kate Becker
Director, Seattle Office of Film + Music
Downtown
How she got the job: "A long time ago, I started the Old Fire House in Redmond, which is now the longest-running all-ages venue north of San Francisco. This was a creative commons for young people interested in art, music, and media. I also co-founded the Vera Project at Seattle Center, a music-centric program for young people interested in music and the music industry. Throughout this time, I was also producing all-ages shows. I produced over 1,000 throughout the '90s and the early part of the '00s. After starting two nonprofits, as well as my own businesses, I was on the leadership team of one of the largest arts organizations in town -- Seattle Theatre Group -- for five years. I learned a ton while I was there. I've been really fortunate to always have work that I've loved, and that led to Mayor Ed Murray appointing me to the position of director of the Office of Film + Music in February 2014."
What she does: "These days, my role is to evolve and grow Seattle's film and music industries. I also work on behalf of these industries within the city and help elevate their voices at the cabinet level. Additionally, my office issues over 400 film permits and more than 500 special event permits per year. This is a complex body of work that is handled by my brilliant team. I work closely with the Music Commission, a group of truly engaged community and industry luminaries dedicated to advancing the music ecosystem in Seattle. I also get to work with a deeply committed film and media industry, and related creative industries, on growing the landscape and opportunities for film & content production in Seattle. Promoting the talent in our city and recruiting business are part of my approach. I can honestly say that I haven't had a boring minute since I've been in this role. It's never-ending, perpetually intriguing, and always politically interesting. I meet amazing people, I get to engage with complex industry & community issues, and I get to help shape the future of this incredible city of ours."
Steven Severin
Steven Severin
Owner/talent booker, Neumos
Capitol Hill
How he got his job: "I've been a music junkie and going to shows for 30+ years now. Yes, that makes me sound old, but I did get an early start. I never knew I could work in the music industry until I met Lori LeFavor and she brought me in as her assistant at RKCNDY. I worked for her for a few years and was hooked. Some years later I was booking and running I Spy, and that's when I decided I wanted to go work for Linda Derschang at Chop Suey and learn how to run a business. My plan was to open a little bar, Liberty, which was the very first business other than my Wake Up promotions and consulting company I was involved with. The next thing I knew, I was taking over Neumos and what would become Moe Bar, Barboza, and Pike St. Fish Fry. Opening businesses is a little addictive. I hear it's kind of like getting a tattoo. Once you have one, you want more."
What he does: "As for my day, it always starts with my mocha, waffles, and yogurt, and then I'm ready to rock. If I'm not off to a meeting with new potential clients or business partners, then I'm at my home office working on my computer. I generally either have basketball games, news, or CNN in the background, or new music that keeps me grooving while I respond to the couple hundred emails that I get every day. My time is spent researching artists that we want to send an offer to, and putting together information to send to their agents. I spend a lot of time working with my production managers talking about how we can promote the shows we have going, and going over all of the day-to-day stuff it takes to make shows happen."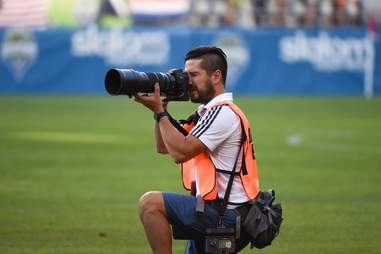 Dan Poss
Dan Poss
Team photographer, Seattle Sounders FC
SoDo
How he got the job: "A few years ago, I was able to photograph a couple matches for the club as a freelancer. The marketing department liked what they saw and eventually (and thankfully) they decided to bring me on board for the whole season."
What he does: "I get to travel with the team so I can capture and document the players both on and off the pitch."
Sign up here for our daily Seattle email and be the first to get all the food/drink/fun in town.
Bradley Foster is a former Thrillist editor who is one of the few people in Seattle who doesn't technically have a job right now. Feel free to hit him up with offers!