Things People in Seattle Say, and What They Actually Mean
People from Seattle generally aren't afraid to speak their minds. They make famously angsty music, protest in support of causes large and small, cheer louder than any other sports fans in history, and proudly rep their city's achievements. But sadly, sometimes the words they speak don't convey what they actually mean. So we came up with this handy guide to what people from Seattle really mean when they say...
"Hiking? Dude, I'm totally into hiking!"
Translation: I'm willing to tackle Mount Si with you in an effort to demonstrate the requisite amount of outdoorsiness. Plus I've got, like, a ton of stuff from Patagonia that I should probably eventually use.
 
"I prefer Macklemore's early stuff"
Translation: I actually don't like Macklemore. But I'm afraid people will look at me funny if I admit it. And "Irish Celebration" is a banger.
 
"Living on Capitol Hill is great"
Translation: I am thiiiiis close to ditching my five roommates and moving to Shoreline.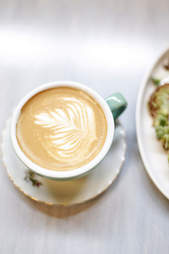 Courtesy of Little Oddfellows
"I usually go to [insert Seattle independent coffee shop here]"
Translation: I usually go to Starbucks.
 
"Seattle was WAY better 10 years ago"
Translation: I've been living in the same place for five years and I'm pissed my landlord keeps raising rent.
 
"Ugh. It rains here all the time."
Translation: Californians, please don't move here. There are enough of you already.
<strong>Portland, Oregon |</strong> <a href="https://flic.kr/p/fDrNqY" target="_blank">Flickr/Sean Kimmel</a> (edited)&nbsp;
"Dude, Portland sucks"
Translation: I'm thinking of moving to Portland.
 
"It was great meeting you. We should get together sometime!"
Translation: You're great, but we're not ever going to get together: I've already got friends, and I'm way too polite to intrude on your life with something like an invitation to drinks, or whatever, even if you're new in town and are actually sitting at home by yourself.
 
"The majority of our ingredients are locally sourced"
Translation: We get our beef from Painted Hills, and our cheese from Beecher's. Oh, and we definitely use Mama Lil's peppers in a couple recipes... just like everyone else.
<strong>Ballard, Seattle |</strong> <a href="https://flic.kr/p/m651bZ" target="_blank">Flickr/Ram Joshi</a>
"You got a place in Ballard? That's such a charming neighborhood."
Translation: Do you know how much it will cost to take an Uber back to my place from there? And what if the bridge is up? There is literally no way I am ever coming to see you. Our friendship was nice while it lasted.
 
"I could totally use a wild night out"
Translation: Let's hit a happy hour so I can be home around 7-ish and finally start the new Daredevil season on Netflix.
 
"I'm so glad we passed I-502"
Translation: There's no way I would have voted for the damn thing if I knew it meant the guy in the apartment below me would smoke this much weed.
"The rain here isn't bad at all. It's just drizzles sometimes. And the summers are GREAT!"
Translation: It is necessary to repeat this to yourself, and others, so often that you start to actually believe it. It's the only way to survive the eight months of constant gray we call fall, winter, and most of spring until Seattle's actually amazing summer gets here.
 
"I'll have a Rainier, please"
Translation: I'm too cool to admit I'm really just drinking a PBR.
 
"I can't believe how bad traffic is"
Translation: I'm oblivious to the deleterious effect my decision to exit 520 onto I-South and then cross all four lanes in time to get off at Mercer is having on traffic for miles behind me. Miles. Later I will probably take a left off Denny or do one of these other incredibly stupid things.
 
"I never go to the Eastside anymore"
Translation: I'm too cheap to pay the toll on 520, besides I can just take 90. But, um, like I said, it's not like I ever go over there to eat at Chick-fil-A, or The Hollywood Tavern, or anything else.
"Go Hawks!"
Translation: I only started following football in 2011 or so, but I LOVE DangeRuss, and the Legion of Boom, and I've got my 12 flag and everything! What? No, I've never heard of Shaun Alexander. Is he on the team?
 
"I went to Seattle Prep"
Translation: UW was my backup school.
 
"I went to Roosevelt"
Translation: WSU was my backup school.
<strong>Capitol Hill Block Party |</strong> <a href="https://flic.kr/p/57QSG2" target="_blank">Flickr/Ron henry</a>
"I'll see you at the Block Party this year"
Translation: I want you to think I'm still cool enough to put up with spending hours finding parking, and shoving through four square blocks of people who are all younger, more inebriated, and less clothed than I am, just to find a decent spot to see The Joy Formidable. And spending $150 on tickets, for the privilege.
Sign up here for our daily Seattle email and be the first to get all the food/drink/fun in town.
Bradley Foster is a former Thrillist editor who, despite having generations of family from Seattle and living here on and off for over 20 years, was actually *gasp* born in California.