11 Cold-Weather Activities That Will Remind You Why Winter in Minnesota Is Actually the Best
Three Rivers Park District
Three Rivers Park District
Summer is easy to like. It's got sunshine, water sports, and the built-in nostalgia of time off from school. But winter? That takes some more gumption to appreciate. While other parts of the country are either freaking out over a light snowfall or counting down the days 'til spring, living in Minnesota -- where temps are regularly below freezing and the average annual snowfall is more than 70 inches up north -- means you learn to relish the freezing weather rather than hide from it. With the right mindset, winter is secretly the best time of the year, with plenty of cold-weather activities in the Twin Cities and around the state to keep you active and engaged with your fellow Minnesotans. From dog sledding to ice sculptures to a truly epic foraged tasting menu, we have a little bit of everything here to help you brighten up the coldest months.
Train your dog for extreme winter sports
It's pretty well known by now that Minnesota has some of the best park spaces in the country, and snow on the ground shouldn't stop you from enjoying them -- in fact, it can be a bonus. If you live near the Twin Cities and have a dog weighing over 30 pounds, visit the Three Rivers Park District with your pooch to try out dog sledding or skijoring (which is like dog sledding but on skis instead of sitting down on a sled). Need an introduction from a knowledgeable expert first? The Loppet has ongoing workshops about how to get started with your dog, including training and command tips.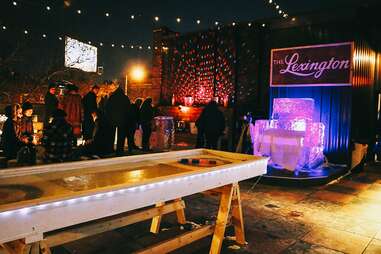 Create your own ice sculpture tour
For some DIY fun this winter, spend an afternoon appreciating Minnesota's most badass seasonal artists: ice sculptors. Last year was a banner year for Twin Cities ice sculptures thanks to the Super Bowl, but you can still find plenty of impressive work at places like Urbana Craeft Kitchen in Bloomington, which sports a beautifully detailed ice bar on the patio; The Lexington in St. Paul, which has a rooftop ice bar, miniature curling tables, and a perfectly Instagrammable throne made of ice; and more to be announced as temperatures drop. For the insider's scoop, be sure to follow Liam Flahive, one of the top local ice sculptors whose work will be featured around the area this winter.
Warm up with a cocktail from a local distillery
Cold winter nights (and days) call for drinks that will warm your belly, and thankfully there's a bevy of distilleries around the Twin Cities that allow you to sip liquor that's locally-made. Head to Norseman and sample their original vodka, a chameleon that can shine in many kinds of cocktails (or upgrade to one of the aquavits, if you're hardcore). Du Nord is a family-owned distillery that sources all their grain for distilling from local farms, including the award-winning Apple du Nord, a spirit made from heritage Minnesota apples grown on a nearby orchard. Tattersall's spirits and liqueurs can be found in bars all over the Twin Cities, but make sure to visit their brick and mortar location to taste some of their more unusual options like grapefruit crema, orange crema, or sour cherry liquors. And Crooked Water, the first certified female-owned spirits company in the country, may not have a public distillery space yet, but you can find its spirits at venues like the Lora Hotel, Day Block Brewing, and Nightingale.
Minnesotans are known for their bold spirit -- after all, who else would take a chainsaw to a frozen lake and create an ice carousel? Minnesota Lottery's new Bold North scratch game channels that adventurous attitude, offering instant fun and, more importantly, instant prizes. Best of all: You don't even have to take off your gloves to play.
Sample a limited-edition winter beer for a good cause
Christmas may be over, but that's no reason to forget about the giving spirit of the season. Finnegans, the local beer brand that changed the game by pledging to donate 100% of its profits to charity, lets you support community food banks as you sip. And just in time for those short winter days, they're introducing "Dark Week," when they'll release one of eight limited-edition dark beers every night for a week, with flavors like a dark chocolate mint stout and oatmeal spruce tip porter. The beers will be available on tap at their new multi-level facility in downtown Minneapolis for a special one week-only event (January 13-19), with select flavors available for sale later on by the bottle.
Attend the world's largest ice fishing contest
Since 1991, the Brainerd Jaycees have spent every winter planning and executing the world's largest ice fishing contest. (Last year's event drew 12,000 anglers.) This year's contest will be held on January 26 on Gull Lake, 10 miles north of Brainerd, and is free for spectators to attend (or $50 if you want to enter), although you can always purchase a raffle ticket to support the Jaycees' charitable causes. If you can't make the one-day tournament or are a first-timer, check out Sportsman's Lodges three Minnesota locations for one-day trips that include a heated fish house and transportation to and from the ice. For a long-weekend experience, the family-run Brindley's Harbor Resort in Walker has ongoing ice fishing operations on Leech Lake (famous for its jumbo perch) through mid-March (with a two-night minimum). Whichever you choose, make sure to watch Grumpy Old Men beforehand to get in the right mindset.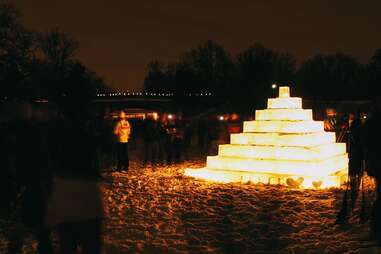 Join the Luminary Loppet
If you're mourning the long darkness that is Minnesota winters, why not make some light yourself? That is exactly the mission of the Luminary Loppet, one of the Twin Cities' most special annual winter events, where attendees take a nighttime walk on top of the frozen Lake of the Isles to enjoy art, performances, and the cozy ambiance of hundreds of glowing luminaries glittering in the snow. Sights include landmarks made of ice (think a frigid replica of Stonehenge), fire dancers, and regular snack stops (including hot cocoa to keep you warm). Registration is capped for the February 2 event, so make sure to reserve your tickets ($28 for adults) ahead of time to guarantee entry to a true winter wonderland.
Indulge in Minnesota-style comfort food
When the temperature drops, you crave dishes that are warm, filling, and maybe a little indulgent (thanks to that forgiving bulky sweater you'll be rocking all season). The comfort food at Hazel's Northeast has made the family restaurant a Minneapolis staple for over 50 years with a menu that is creative without being intimidating. Some of the best current dishes are regional specialties, like gumbo made with wild rice (which is only grown in the state), classic Swedish meatballs (just like those famously made by the local Scandinavian immigrant community), and the ultimate Minnesota culinary invention -- a smoked cheddar-stuffed juicy lucy burger that will knock your socks off. A bit of advice: get to Hazel's earlier than you want to eat, as the wait for a table is often long.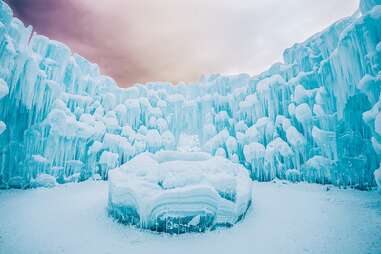 Explore the Excelsior Ice Castles
If you've been there/done that with St. Paul's Winter Carnival, consider venturing further to Excelsior for their even more intense ice castle experience. As opposed to the former's traditional, square-shaped construction with ice bricks, these ice castles are larger, more abstractly shaped, and ever-growing. Each one is created via an elaborate sprinkler system that makes over 20 million pounds of ice and grows an estimated 12,000 new icicles daily. The result is a fanciful, fairy-like design, which features grown-up play areas like caves and slides to explore, as well as entertainment such as fire shows and star-gazing parties. Better yet, ticket prices (you reserve an entrance time in advance) never top $16 on weekends, making this is an affordable date night option. Opening day is expected for January 11 -- dependent on when the weather gets cold enough, so remember to dress warmly. Oh, and build in some time to stroll through quaint downtown Excelsior to enjoy views of Lake Minnetonka while you're there.
Splurge on a foraged tasting menu
Foraging is all the rage on the coasts, but it's always been tough to find foraged foods at Minnesota restaurants (especially at this time of year). That is no longer the case with the chef's tasting menu experience at Cosmos in Minneapolis, where diners can enjoy multiple courses featuring delightfully customized ingredients like maitake mushroom steaks hand-picked by Chef Timothy Fischer from his privately-owned land in Northern Minnesota. Standout dishes from a recent visit included a stunning charcuterie board piled with local meats and cheeses; the aforementioned maitake mushroom, which was smoked in a globe; and some delicate, perfectly fried smelt fished from Lake Superior. Choose from the five-course tasting menu in the dining room for $75 or the seven-course "Chef's Table" menu served right in the kitchen for $150. (The wine and liquor pairing is an additional cost). Sure, it's pricey, but you'll get to chat up some of the smartest culinary staff in town and savor one of the best meals you'll eat all year.
Take a day trip to Duluth
Minnesota's veritable winter wonderland doesn't get better than the gorgeous coastal area around Duluth that abuts Lake Superior. There are plenty of great outdoor experiences available in this city year round, but for winter fun, entrust yourself to the care of experienced professionals to maximize your activities. Day Tripper of Duluth's winter tours include fat tire biking through the steep hills of this area or snowshoeing and cross country skiing. The Duluth Experience also offers those activities plus curling lessons, photography workshops, and a nighttime bike ride that includes a visit to a local brewery. Post-workout, end your day trip with a visit to Vikre Distillery for a cocktail made with liquor utilizing hyper-local ingredients, like sumac and cedar in their Boreal gin.
Cozy up to an outdoor fire
One of the best features of Minneapolis bars and breweries is that plenty have outdoor fire pits at this time of year. Our favorite is the Nomad World Pub, where you can get an affordable local brew and a cozy outdoor fire, plus a poppin' salsa night complete with live music on the first Friday of every month. If that sounds a little too cosmopolitan for you, head across the street to Palmer's Bar, a cash-only hidden gem that doubles as a time machine. The watering hole, which dates back to 1906, offers live music nightly ranging from jazz to hair metal and a large patio with fire pits out back that even (or especially) your grungiest friend will love.