María Jesús Contreras/Thrillist
María Jesús Contreras/Thrillist
Advertiser Content From
Meet the Wellness Influencer Who Started a Mental Health Studio from Her Apartment
Advertiser Content From
When burnout starts to set in, it can be difficult to tackle it on your own. This was the problem Olivia Bowser was grappling with in 2016. "I used to think that health was all fruits, veggies, and running," she says. Straight out of college, she was experiencing intense pressure as employee #1 at a startup. Her solution: run more, and attend spin classes seven days a week. When that didn't work, it became clear that a runner's high wasn't going to solve her stress problems — and that focusing on mental health was critical.
Seeing a therapist and regularly using a meditation app helped her with the stress and anxiety, but introduced a new problem: isolation. By 2019, she was having regular conversations with friends about confidence and stress management, and began thinking about ways to face these problems as a group. "I began to ask myself — why did mental health have to feel so lonely?" she says.
Inspired by her favorite exercise classes with friends, Bowser envisioned a collaborative wellness experience that combined stress management, mindfulness, and community. With those goals in mind, Bowser became certified to teach meditation and yoga, interviewed psychologists and mental performance coaches, and set out to create Liberate, the world's first mental health studio. It launched in May 2020, just in time to help people deal with the isolation and stress of the then-new pandemic.
"I began to ask myself — why did mental health have to feel so lonely?"
Bowser's entry to the world of mental health coaching was hampered, however, by her physical space. Liberate's first "office" was a corner of Bowser's living room, in an apartment she shared with a roommate. She began with a ring light, a yoga mat, and a meditation cushion, and used that bare-bones set up to lead meditation courses, yoga classes, and mindfulness workshops. Luckily, her roommate was accommodating. "Communication was very important to make sure running my business out of our apartment didn't hurt our friendship" she adds, giving a shout-out to her roommate for being understanding of the growing business taking place in their shared space.
As best as she could, Bowser would clear out her digital studio and let the apartment just be an apartment. This, of course, added a new aspect to the challenge: "There was a sense of impermanence that came out of packing and unpacking both my desk space and my studio space every day, as it made my business feel temporary or as [if] it lacked stability."

Starting a business from your home is challenging enough, finding the right apartment shouldn't be. Apartments.com has successfully helped millions of renters sign leases nationwide, so it's likely got the right spot for you, too. The easy-to-use interface helps simplify the process, with features like virtual tours and filters that can pinpoint exactly what you're looking for. Whether you're moving cross-country or just looking for more space in your own city, check Apartments.com to make the process easier.
To counteract this, she created organization systems to speed up the packing and unpacking steps, so she could transform their dining room into a studio on a moment's notice. She gradually came to enjoy running classes and business from home, and began embracing the merging of her two worlds.
Meanwhile, Liberate was taking off, as more people realized the importance of mental health in their lives and took steps to improve their well being. The pandemic sped up the trend of prioritizing mental health, as well: some stats show that rates of anxiety more than quintupled, prompting many to seek out new ways of addressing their stress.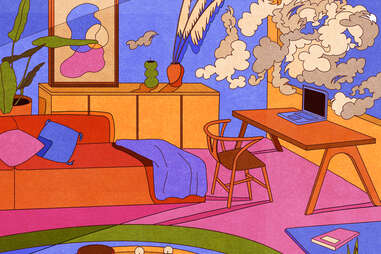 Bowser's goal is to bring her members into an "upward spiral": having a better relationship with themselves, they can bring out more positivity in others and create positive feedback loops of health and success. She's quick to emphasize, however, that her programs are scientifically backed, focusing on well-honed mindfulness exercises rather than the more "woo-woo" elements of the wellness world.
Liberate is constantly pivoting, focusing on new areas of growth. The business originally focused on individuals, but has seen a growth of corporate clients and other large groups who are looking for ways to ease anxiety and get better mental health for their members. Bowser even appeared on Shark Tank to pitch the studio.
Bowser's biggest success stories, however, aren't in the growth of her sales but rather in the stories she hears from Liberate's users. One member, Bowser recalls, said her anxieties were holding her back from her dreams, but she summoned the courage to apply to law school after taking a Liberate class. Moments like these remind her that she's on the right path, and that Liberate is making a positive difference — not only for her customers, but for herself.