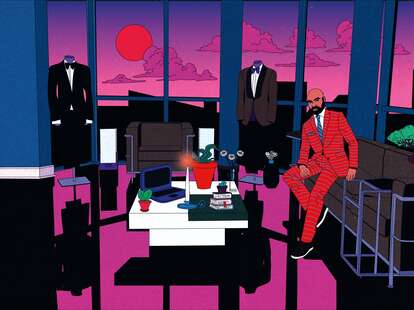 Cosmo Danchin-Hamard/Thrillist
Cosmo Danchin-Hamard/Thrillist
Advertiser Content From
How This Menswear Stylist Built a Custom Suiting Line in His Apartment
Advertiser Content From
Chike Azinge didn't set out to be a menswear designer. As a certified accountant, he spent years focused on finance rather than fashion, bogged down with trade decisions and asset management for major firms. But in 2016, his vision for his career changed. He was introduced to a "celebrity luxury menswear designer" (he's secretive about which one) and the two of them put their heads together to dream up a new business. Combining their skill sets, they created a company focused on groomsmen styling and formalwear for events, only to be hit with unexpected setbacks.
"This venture did not take off as well as we'd hoped," Azinge says. It turns out that spending 60 hours a week at your accounting job is a hindrance to making it big in the menswear world. Meanwhile, his celebrity accomplice was far more focused on their own separate brand to give the joint venture the attention it needed. Nevertheless, Azinge knew the concept had potential. The limiting factor, in his mind, was tech.
"There's a lack of innovation, availability, and affordability in the U.S. formal and semi-formal menswear market," he says. If a design-forward brand could incorporate a solid online shopping experience, they might have a hit on their hands. Azinge's idea was to do design consultation, fittings, and shopping, all with a seamless online experience.
After moving to Atlanta in 2017, Azinge dealt with another setback: space. He settled on a two-bed, two-bath condo in a sleek, modern high-rise, a place he loved until it began serving double duty as the headquarters of his new business: The Bespoke Room.
"The original plan was to downsize my living space, rent out my condo, and lease a commercial retail space to start operations," he explains. However, he began to see the benefits of working out of his home. The minimalist space complemented what he saw as the brand's vision — modern, classy, and stylish. Plus, there are added tax benefits of using your home as your office — "Remember, I'm an accountant!" he quips.
Sharing your living space with a suit showroom and design studio isn't what most people picture when they think of "working from home," but Azinge made it work. "When your work is your passion, a lot of things, in the context of living in the same space that you work from, become inconsequential or at least, much more tolerable," he says. He started enjoying having his work and home spaces intertwined, and soon decided that he would maintain his condo as the Bespoke Room's primary showroom. By December of 2020, he ran the numbers and figured out that he was ready to leave his accounting job and focus on The Bespoke Room full time.
Starting a business from your home is challenging enough, finding the right apartment shouldn't be. Apartments.com has successfully helped over 40 million happy renters sign leases nationwide, so they've likely got the right spot for you, too. Their easy-to-use interface helps simplify the process, with features like virtual tours and filters that can pinpoint exactly what you're looking for. Whether you're moving cross-country or just looking for more space in your own city, check Apartments.com to make the process easier.
"When your work is your passion, a lot of things, in the context of living in the same space that you work from, become much more tolerable."
Despite his career in accounting, Azinge's passion for fashion runs deeper than a mere business interest. Born in Brooklyn but raised in Lagos, Nigeria, he drew inspiration from the bright colors and elaborate textures of his childhood. His biggest style icon? His mom. She blended classic suits, traditional Nigerian outfits, and casual wear to create an eclectic style that always worked. "The best part is that it always looked so effortless when you saw her," he adds.
That history and love for Nigerian styles was a big part of why Azinge is proud to be running a Black-owned menswear brand. He saw how much formalwear mattered to the communities he was a part of in both Lagos and Atlanta, and how representation and ownership in that space could impact them. Azinge points out that there are several Black-owned tailors and designers, but they mostly work locally or within niche communities. His goal is to go national.
As of now, The Bespoke Room offers a full range of suiting options, from custom one-off suits to packages for weddings, proms, and more — plus a range of accessories and stylistic touches. Azinge's vision of integrating modern online shopping experiences was an especially prescient business decision, as the pandemic changed the way people shop for formalwear. He runs style consultations, measurements, and fittings virtually, still operating out of his own apartment and showroom. The brand is growing constantly, with new styles being added to its site and happy customers returning for more.
Azinge's goal of providing access to timeless styles through a modern shopping experience is coming true, and it all started from his own home. He's still learning, though. He gladly points out: "I've been fortunate to service current and retired pro-athletes, doctors, people in the finance sector, blue-collar workers, and much more! Everyday, I learn something new about a culture, society or community, just from one client."