9 Maryland Towns You Should Be Spending More Time In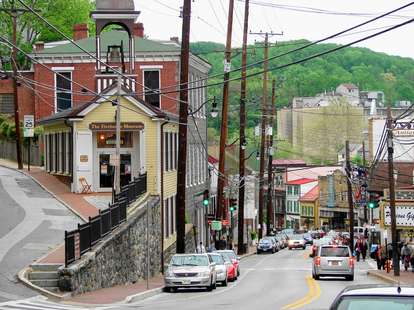 Courtesy of Howard County
Courtesy of Howard County
When you are driving through the state of Maryland, the atmosphere can change on a dime. You can pass through rolling country hills, small Main St gems, huge cityscapes, and waterfront promenades while barely adding to the odometer. And while we often tout the tourist attractions in big cities like Baltimore, Annapolis, and Frederick, these cross-state adventures have made us appreciate the little guy.
Whether it's a hippie town outside of DC, a horse-country haven with amazing artisanal cider, or a teeny waterfront town known as the "crab capital of the world," we've got plenty of small towns to choose from. Here are nine where you should spend more time.
Ellicott City
Why it's so great: Any place that's rumored to be haunted gets definite "must visit" points. And then you throw in beautiful stone mill buildings, vintage-inspired shopping, a brewpub with standout food, and a bar with an unrivaled whiskey selection, and it's on. In between Baltimore and DC is historic Ellicott City, which was the original station of the first 13 miles of commercial railroad in the country. So much of that historic charm remains, and again, because it can't be overstated, you should be imbibing at the venerable Judge's Bench with more than 250 varieties of whiskey.
Must-eat foods: A charcuterie plate at Pure Wine Cafe, wood-fired pizza (try the spring green with pesto) at River House, or go off Main St for amazing Korean barbecue at Shin Chon Garden.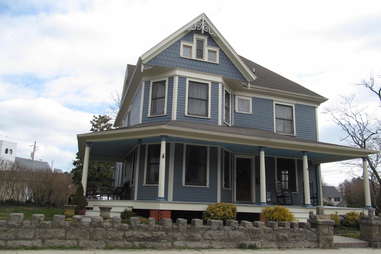 Berlin
Why it's so great: Though markedly different from the German capital, Berlin is still a sight to see. The commonly overlooked small town -- on the way to touristy beach destination Ocean City -- is filled with historic buildings, unique traditions (like bathtub races!), and a generally relaxed vibe. Occupy yourself with eclectic diversions like the BB gun selection at Toy Town Antiques, a pop art exhibit at Art in the Fields, or the old Globe Theater, which began as a movie house in 1917. The town's architecture and natural beauty are stunning. Why else would two undeniable cinematic classics -- Runaway Bride and Tuck Everlasting -- choose to film there?
Must-eat foods: Inside the historic Atlantic Hotel you'll find Drummer's Cafe and their delicious fish tacos. You also can't miss the raw Chincoteague oysters at Leaky Pete's or the Sorry Chicky sour ale at Burley Oak Brewing.
Hampstead
Why it's so great: Taking a trip to Hampstead (just 30 miles northwest of Baltimore) is like traveling back in time. Main St is reminiscent of quintessential small-town America, with gorgeous Colonial homes, an old-time police station, and antiques aplenty. History buffs can also marvel at several Civil War markers throughout town that eventually lead up to Gettysburg (an hour north). There's also a huge water park, Cascade Lake, in town with water slides that drop you right into the spring-fed lake.
Must-eat foods: Sadly, the town's staple, Dean's Restaurant, closed just last month after being in business for 53 years. But, not to fear, there are still plenty of must-have eats, like crab cakes at Fratelli's, pizza at J&P, and red-velvet cupcakes at Snickerdoodles.
Crisfield
Why it's so great: If you went any further south in Maryland you would wind up in the Chesapeake Bay, which is exactly how the town of Crisfield makes you feel. Located off Tangier Sound and bordered by the Pocomoke River, Crisfield is a watermen's town through and through. Referred to as "the crab capital of the world," there's plenty of boat fishing, marsh sanctuaries, maritime museums, and even a hard crab derby every Labor Day where the crustaceans race along in a shallow pool. Take in an unparalleled sunset at Wellington Beach, try a pint of Marsh Mud Oyster Stout at Chesapeake Brewing Co., or kayak through Janes Island State Park.
Must-eat foods: You'd be remiss not to pick hard blue crabs while you're here, and we suggest the dive of Linton's, where you can enjoy them on the deck with a cold beer. For something a bit fancier, hit up Watermen's Inn, and don't forget to get a slice of famed Smith Island cake for dessert.
Eastport
Why it's so great: People love Eastport because, even though it's right over the bridge, it's not Annapolis. The peninsula of a town has a much more laid back vibe (think year-round boat shoes) with all of the beauty and history of its well-known neighbor. Plus you get some of the best views of Annapolis's landmarks (the State House and Naval Academy) from over in Eastport at waterfront dining spots like Carrol's Creek Cafe. The resort-esque town has plenty to do with kayak rentals on Third and Severn, the Annapolis Maritime Museum for outdoor concerts and oyster festivals, and even pirate ship adventures on the water.
Must-eat foods: Where Eastport really excels is its dining options. While it's hard to choose, some musts include flatbreads and wine at fancy Vin 909 and a crab pretzel at Davis' Pub.
Takoma Park
Why it's so great: When you think DC suburbs, you most likely think of a lot of hustle, bumper-to-bumper traffic, and politico-types boarding the Metro. But the Montgomery County town of Takoma Park is more like a hippie enclave, with tons of vegetarian-friendly restaurants, vintage clothing stores, yoga studios, and music shops. With a stroll along Carroll Ave, you'll find places like Pollysue's vintage clothing store, international jewelry shop The Covered Market, a Bikram yoga studio, and Nature Lab, which offers art education classes based from the natural world. If that doesn't sound crunchy enough for you, Takoma Park is also all about music with annual jazz and folk festivals, a space where the Washington Opera rehearses, an instrument repair shop, and the town is even getting its own radio station next year. Pro tip: be sure to check out the wooden sculptures of dragons and Wild Things along Tulip Ave.
Must-eat foods: To coincide with its free-wheelin' vibes, get the All Veggie Everything at Republic, which is its popular rotating vegan entree. If you're craving meat, go to international bistro Mark's Kitchen for the Korean steak burger with two patties and Asian slaw.
Havre de Grace
Why it's so great: A drive up I-95 can be incredibly boring, so next time take a detour to visit Havre de Grace, halfway between Baltimore and Wilmington. Like a mini New England beach town, this enclave has its own boardwalk that runs from Tydings Park to the newly restored Concord Point Lighthouse. Waterway history abounds here, as Havre de Grace is the point where the Susquehanna River joins the Chesapeake Bay, so get an education at the Maritime Museum or Decoy Museum filled with nearly 3,000 wooden decoy ducks. Making your way down St. John Street, there's stores to hunt for pristine sea glass, old comic books, rare cigars, and even a spot to go parasailing and take in the view of this small waterfront town.
Must-eat foods: The much-lauded funky new American Laurrapin has tons of amazing dishes, but stick with its Lowcountry fare like shrimp and grits. And while you peruse the town, sip on a hot caramel cider from Concord Point Coffee.
Monkton
Why it's so great: Just 20 minutes away from the grit of Baltimore's city life is the horse-country haven of Monkton. With old stately homes dating back to the 1800s, plus plenty of horse farms and countryside, it offers a geographically convenient pastoral escape. Visit the picturesque Ladew Topiary Gardens for its landscaping and occasional live music, hike and bike (or even horseback ride!) along 20 miles of the NCR Trail, rent an inner tube and float down the Gunpowder Falls, or take in a romantic dinner by the fire at The Milton Inn. Be sure to also stop by Gunpowder Bison & Trading Co. for its butcher shop of fresh bison meat and jerky, as well as a grocery store of other local, small-batch products.
Must-eat foods: Stop into the Monkton Grille for the Baltimore pit beef or the white sandwich (chicken, bacon, and swiss). Also, visit Millstone Cellars for a tour and tasting of its various ciders, like the current seasonal, the oak-aged and raspberry-flavored Ciderberry.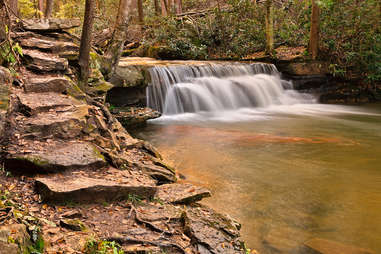 Oakland
Why it's so great: The oh-so-Western Maryland town of Oakland is probably the best place in the state to spend a beautiful fall day. The 54ft waterfalls and gorgeous leaf colors that can be seen inside Swallow Falls State Park is a big draw, as well as Maryland's biggest body of water, Deep Creek Lake, which offers jet skiing, boating, and tubing. There's also the week-long Autumn Glory Festival every year with parades, concerts, and exhibits. Year-round, though, Oakland's downtown offers artwork, books, and even Englander's Antiques & Grill, which is a former pharmacy filled with old treasures that has maintained its original ice cream parlor and old-fashioned milkshakes.
Must-eat foods: There aren't a ton of food options in Oakland (go to nearby McHenry for more choices), but a diamond in the rough is Wendy's Towne Restaurant, a gem of a place that excels at breakfast, like Cap'n Crunch French toast and chocolate-chip pancakes.
Sign up here for our daily DC email and be the first to get all the food/drink/fun in town.
Jess Mayhugh is the digital editor at Baltimore Magazine, who is slowly working her way through the whiskey list at Judge's Bench in Ellicott City. Follow her for all things boozy @jessmayhugh